SocialClimb's healthcare advertising expert shares advice on how to promote your business by running ads. 
Knowing where and how to start with healthcare advertising to promote your business can be overwhelming. Not only do you need to learn the differences between the types of ads you can run, you also have to figure out how much to spend, how to target the right audience, and how to use the right creative for each. 
If you're wondering, "Where do I even start?" you're in the right place. Whether you're an agency, a doctor, or an office manager who's just been tasked with running marketing for your medical practice, SocialClimb is here to help. By the end of this article, you will know about the different ad types, their benefits, and the results you can expect to see. Last, and most importantly, we'll show you how SocialClimb's platform automates the whole process for you so your practice can grow with little to no effort on your end.  
You can run three different types of ads that will drive more patients your way to help build your practice: paid search, display, and paid social campaigns. Running all three ad types together allows you to create brand awareness that ultimately leads to more patients, as well. But these three types of campaigns target, look, and perform very differently, so it's important to have a solid understanding of how they work and how they need to be structured to get the best possible results with your healthcare advertising. 
Paid Search Ads: Google and Microsoft
Paid ads on Google and Microsoft are the very first thing people see on a search results page. For example, if I search for "orthopedics near me," notice how much real estate the first ad takes on the top fold of the page.
Search ads are text-based. These ads will display a few different headlines, descriptions, and extensions (like a phone number or an address) to make the ad stand out. Google will rotate through all the different headline and description options to find out which combination will drive the most clicks and will start to display that ad more often. To see the best performance, it's key to create multiple variations of text ads the search engine can choose from.       
Search ads target keywords. While layering on demographics and audiences is normally an option, in healthcare, it's important to know that you will not be able to do that due to privacy policies and HIPAA regulations. When creating a keyword list, you should target the name of your practice, provider names, and the different services you offer for best results. You can even target the name of your competitors just as long as you don't use their brand in the ad copy. 
Expected Benefits: When you run paid search ads, you will start to get phone calls to your practice right away. The cost per call will be low, and it's the best way to start growing your business quickly.      
Don't have time to research keywords or write ad copy? No problem. With SocialClimb, we've done all that work for you. Simply access our playbooks to get keywords and ads pre-built for you. The best part is, by running your paid search campaigns through our platform, you'll be able to track the cost per appointment and cost per new patient for each campaign. Once you have visibility into which campaigns are the most profitable, you can continue to allocate more of your marketing budget toward what's working.  
One of the biggest questions providers have when it comes to ads is, "How much should I spend?" This really depends on the number of locations and services you offer. We normally recommend a minimum budget of $1,500 per month to make sure you'll be able to show ads throughout the month. 
Paid Social Ads: Facebook & Instagram
Paid social ads are primarily found on Facebook and Instagram. They can appear on the news feed, on video feeds, on the right column, in Stories or Instagram Reels. You have control over where you want ads to appear, who to target, and the creative they'll see.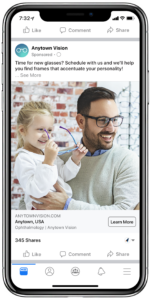 With paid social, you can get more creative with your healthcare advertising. You can still use headlines and descriptions, but you have the added benefit of pairing imagery with the content to make it more visually appealing. It's best to have a mix of static image, video, carousel, and story ads to see which performs the best.     
Paid social ads will target specific audiences. For best results, you can upload a custom list of users you'd like to see the ads. If you don't have a list, you can target by demographics. You have so many options here, but it's best to narrow your audience by targeting through location, age, and gender at a minimum. Best results are seen when you can narrow the audience even further through their interests or the industries they work in. The more you know about your audience, the better you can target them.    
Expected Benefits: In terms of performance, it's important to know that paid social ads are used more for brand awareness than driving direct leads. You will start to see more Google searches for your practice after running ads on Facebook over time.      
In Q1 of 2022, SocialClimb will be able to support paid social ads for Orthopedic practices. This will save you time and money by being able to quickly build an effective campaign, track how many appointments and patients this channel is driving, and adjust budgets accordingly.
Display Ads: Google
Display ads are banner ads that appear across Google feeds such as YouTube Home and Gmail. They help your business scale by reaching new potential patients and re-engaging patients who have already been to your site.     
The benefit of running display ads is that the creative is more visually engaging. Google will use a combination of images, logos, headlines, and description lines. Ads will also be formatted to deliver the most conversions possible based on where it  is showing, who will see it, and other signals.     
With Display ads, you'll be able to target audiences and/or keywords relevant to your services. It's best to target visitors who have been to your site or even your competitor's site along with some of your top performing keywords.    
Expected Benefits: Display can help drive additional traffic and conversions, but it will cost more than a search campaign. With that in mind, adjust your budget so you are maximizing spend on search campaigns first before you allocate some toward display.       
SocialClimb will be able to support Display campaigns in the future, but for now, these ads will need to be managed in the Google Ads UI directly. You can use our call tracking to measure how many calls your campaign is driving and optimize toward a cost per call in the meantime.     
When you engage in healthcare advertising on Search, Social, and Display, you can build brand awareness while acquiring new patients for your practice. Being able to leverage the data SocialClimb provides will help you scale automatically so you can focus on what really matters—providing the best care possible to your patients.