PREDICTIVE PATIENT TARGETING
DATA MODEL LIST
SocialClimb's HIPAA-compliant Predictive Patient Targeting uses 2,000+ data points on over 250,000,000 adults in the U.S. to compare and identify common attributes among patients.
As a result, predictive templates created in the SocialClimb platform allow you to identify and target nearby prospective patients with postcards or social media ads. These targeted lists help you be specific and clear, increase patient conversion, and include built-in campaign tracking.
Reduce postcard budgets, improve campaign conversion, and track it all with predictive patient targeting by SocialClimb.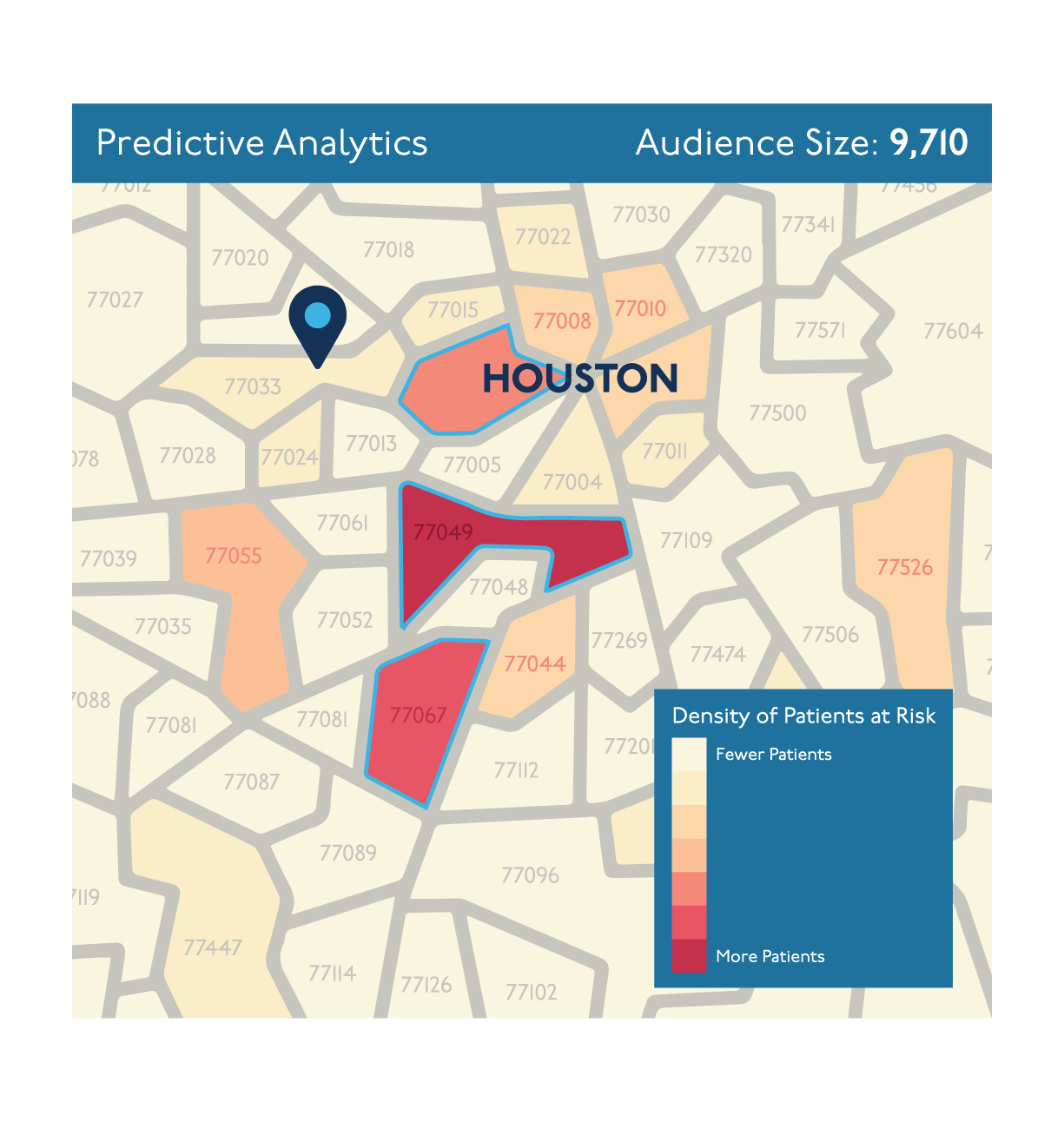 *Combination models include the word 'Any' and are in bold. *Models that are contain 'Any' include every model in that specialty
AUDIOLOGY
CARDIOLOGY
Acute Myocardial Infarction

Angina

Atrial Fibrillation
Congestive Heart Failure

Coronary Artery Disease

High Blood Pressure
High Cholesterol

Hypertension

Irregular Heart Rhythm
COLORECTAL SURGERY
DERMATOLOGY
Any Dermatology

Abscess or Boil

Acne

Acne Inversa

Alopecia

Any Dermatitis

Contact Eczema

Eczema

Itchy Skin

Prurigo

Seborrheic Eczema
Any Nail Disorders

Ingrown Nail 

Nail Dystrophy

Onychogryphosis

Bed Sore

Cellulitis

Chronic Leg Ulcer

Dry Skin

Epidermal Cyst

Erythema

Hirsutism
Hives

Hypertrophic Skin

Impetigo

Keratoderma

Pigmentation Disorders

Psoriasis

Rosacea

Sebaceous Cyst

Senile Wart

Skin Atrophy

Solar Keratosis
ENDOCRINOLOGY
Any Endocrinology

Any Diabetes

Type 1 Diabetes
Type 2 Diabetes

Hyperparathyroidism

Hyperpituitarism
Hypoglycemia

Hypopituitarism

Metabolic Disorders

Obesity

Ovarian Dysfunction

Testicular Dysfunction
Any Thyroid Disorders

Hyperthyroidism

Hypothyroidism

Nontoxic Goiter

Thyroiditis
EAR NOSE AND THROAT
Any ENT 
Any Acute Upper Respiratory Infection

Sinus Infection

Sore Throat

Strep Throat

Tonsillitis

Any Disease Of External Ear

Earwax Blockage

Swimmer's Ear
Any Disease Of Inner Ear

Any Vestibular Balance Disorders

BPPV

Any Disease Of Middle Ear 

Eustachian Tube Dysfunction 

Middle Ear Infection 

Any External Ear Surgery
Any Larynx Surgery
Any Nose Surgery
Any Sinus Surgery
Any Vocal Cord Disorder
Chronic Rhinitis

Chronic Sinusitis

Cough

Deviated Septum

Dysphonia

Ear Pain

Nosebleed

Ringing In Ears

Seasonal Allergies

Sleep Apnea

Swollen Lymph Nodes

Turbinate Hypertrophy
GASTROENTEROLOGY
Any Gastroenterology

Any Abdominal Pain

Lower Abdominal Pain

Upper Abdominal Pain

Acute Pancreatitis

Alcoholic Liver Disease

Anal Fissure or Fistula

Anorectal Hemorrhage

Ascites

Biliary Tract Disease

Chronic Pancreatitis

Colon Polyp
Constipation

Crohn's Disease

Diarrhea

Diverticulosis

Dysphagia

Enlarged Liver

Esophagitis

Fecal Incontinence

Any Gallbladder Disease

Gallstones

Gallbladder Inflammation

Gastritis
GERD

Heartburn

Hemorrhoids

Intestinal Obstruction

Irritable Bowel Syndrome

Nausea & Vomiting

Non-infectious Gastroenteritis

Any Peptic Ulcer

Ulcerative Colitis

Colonoscopy
INSURANCE
Commercial

Medicare Advantage
MENTAL HEALTH
Any Mental Health

ADHD

Adjustment Disorder

Alcoholism

Any Anxiety

Generalized Anxiety Disorder

Panic Disorder

Any Eating Disorder
Any Mood Disorder
Bipolar Disorder

Any Depression

Depressive Episode

Dysthymia

Major Depressive Disorder

Any Psychotherapy

Initial Mental Health Evaluation

Psychotherapy 30 Min
Psychotherapy 45 Min

Psychotherapy 60 Min

Nicotine Dependence

OCD

Opioid Dependence

Phobia

PTSD
NEUROLOGY
Epilepsy

Fibromyalgia

Head Trauma
Migraine

Multiple Sclerosis

Sleep Disorders
Spine Trauma

Stroke

Vertigo
OBGYN
Any OBGYN
Any Complications Of Labor And Delivery
Any Hypertensive Disorder Of Pregnancy
Any Maternal Care

Maternal Care For Abnormality Of Pelvic Organs

Maternal Care For Fetal Abnormality

Maternal Care For Pregnancy Related Conditions
Any Menstrual Disorders
Any Pregnancy Loss

Breast Disorders

C-Section

Endometrial Polyp

Endometriosis

Female Infertility

Gestational Diabetes

Hemorrhage In Early Pregnancy
High Risk Pregnancy

Hysteroscopy

Menopause

Normal Pregnancy

Ovarian Cyst

Pelvic Pain

Prenatal Care

Vaginal Prolapse

Vaginitis
ONCOLOGY
Bladder Cancer

Breast Cancer

Colorectal Cancer
Gynecologic Cancer

Kidney Cancer

Lung Cancer
Non Hodgkin Lymphoma

Prostate Cancer

Skin Cancer
OPHTHALMOLOGY
Any Corneal Disorder

Corneal Dystrophy
Corneal Scars

 Cataracts

Glaucoma
ORTHOPEDICS (General)
Any Orthopedic Surgery

Drainage of Skin Abscess

Sports Medicine
Removal of Support Implant

Any Osteoarthritis
Post-Traumatic Osteoarthritis

Secondary Osteoarthritis
ORTHOPEDICS (Arm/Elbow)
Any Elbow or Humerus Surgery
Elbow or Humerus Fracture Treatment
Elbow or Humerus Repair

Osteoarthritis of Elbow
ORTHOPEDICS (Ankle/Leg)
Any Ankle or Leg Surgery

Achilles Repair

Ankle Arthroscopy

Ankle Fracture Treatment
Ankle or Leg Repair

Valgus or Varus Ankle

Osteoarthritis of Foot and Ankle
Any Foot or Ankle

(includes everything related to foot or ankle)
ORTHOPEDICS (Foot/Toe)
Any Foot or Toe Surgery

Foot or Toe Amputation

Foot or Toe Excision

Foot or Toe Fracture Treatment
Foot or Toe Repair

Foot or Toe Tendon Surgery

Fusion of Foot Bones

Fusion of Toe Bones

Ingrown Toenail
Foot Drop

Any Toe Deformity

Bunion

Stiff Big Toe

Hammer Toe
ORTHOPEDICS (Hand

)
Any Hand or Finger Surgery

Finger Tendon Sheath Incision

Hand or Finger Excision
Hand or Finger Fracture Treatment

Hand or Finger Incision

Hand or Finger Repair

Hand Tendon Lesion Removal
Release Palm Contracture

Carpometacarpal Osteoarthritis

Osteoarthritis of Hand

Finger Deformity
ORTHOPEDICS (Hip

)
Any Hip or Pelvis Surgery

Hip or Pelvis Fracture Treatment
Hip Revision

Injection for Hip X-ray

Sacroiliac Joint Injection
Total Hip Replacement

Osteoarthritis of Hip
ORTHOPEDICS (Knee

)
Any Knee or Thigh Surgery
Knee or Thigh Fracture Treatment

Knee Revision
Total Knee Replacement

Osteoarthritis of Knee

Valgus or Varus Knee
ORTHOPEDICS (Physiatry

)
Facet Joint Injection

Facet Joint Nerve Ablation
Transforaminal Steroid Injection

Ulnar Nerve Transposition
ORTHOPEDICS (Shoulder)
Shoulder Fracture Treatment

Shoulder Joint Reconstruction
Shoulder Repair

Osteoarthritis of Shoulder
ORTHOPEDICS (Spine)
ORTHOPEDICS (Wrist/Forearm)
Any Wrist or Forearm Surgery

Wrist Arthroscopy

Wrist or Forearm Excision
Wrist or Forearm Fracture Treatment

Wrist or Forearm Incision

Wrist or Forearm Repair
Wrist Tendon Lesion Removal

Wrist Tendon Sheath Incision

Osteoarthritis of Wrist
PULMONOLOGY
Emphysema

Pneumonia

Pulmonary Collapse
Pulmonary Edema

Pulmonary Embolism
UROLOGY
Any Urology
Any Bladder Disorder

Overactive Bladder

Urinary Tract Infection

Bladder Surgery

Bloody Urine

Enlarged Prostate
Erectile Dysfunction

Excessive Urination

Kidney Cyst

Kidney Stones

Male Genital System Surgery

Male Infertility

Mixed Incontinence
Painful Urination

Prostatitis

Stress Incontinence

Testicular Inflammation

Testicular Pain

Urge Incontinence

Urinary Retention