Improve Physician and Location Reputations
Make sure your online presence reflects the excellent care you provide.
Our Healthcare Marketing Platform makes it easier for patients to find you.
Most doctor reputation management companies focus only on reviews and hitting the top of organic search results—which are often buried under paid ads. We'll also help you set up search ads to ensure your dominance in Local Search results.
Get great reviews to attract new patients.
Patients looking for a new doctor turn to reviews first to see what other patients think about their experience. Your reviews need to provide an accurate picture of the care you provide.
We automate the process of asking for reviews, giving your patients an easy way to leave that positive feedback.
"Increased positive reviews and occasional private critiques of our service have enabled us to improve our search ranking and our practice."

Melissa Pipkin

Southwestern Eye Center
Secure your brand with cost effective ads.
We can help you show up at the top of paid and organic search results with search ads that showcase your brand. You can use our doctor reputation management platform to easily set up responsive search ads or expanded text ads and track acquisition down to the patient name!
"Despite the unique challenges each of our practices face, SocialClimb has helped us improve across the board."

Julia Falk Mulhern

Lone Peak Dental Group
Manage your GMB listings from our platform.
Managing all your Google My Business (GMB) listings can be a huge time drain. Our healthcare marketing platform solves that by letting you manage all your listings from a single location.
A well-optimized listing with great reviews gets noticed by Google and will hit the top of organic search results.
"Since starting reputation management, our Google listing for our main location went from 2.6 to 4.8."

Andrew Carlson

Bluegrass Orthopaedics
Send surveys to your patients automatically.
No need to contract with a separate survey company. Our platform auto-sends surveys to your patients via text or email, making it easy for them to give you feedback and easy for you to process the information.
You can send patient satisfaction surveys, NPS surveys, and patient-reported outcome surveys.
"We have been pleasantly surprised with SocialClimb's ability to help us better connect with our patients for all types of feedback."

Jennifer Kinman

Texas Orthopedics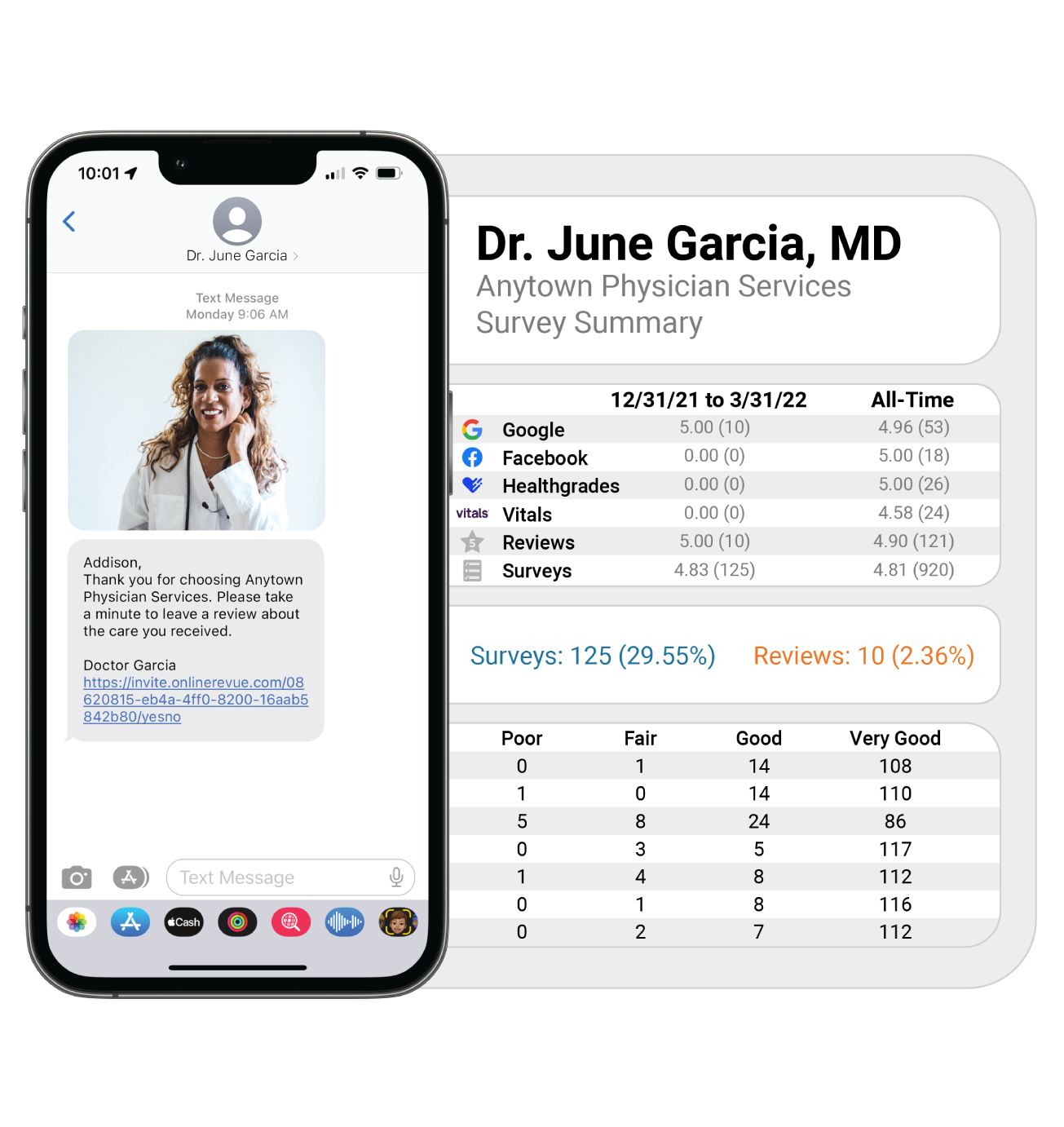 Stay on top of negative reviews.
We make it easy to deal with those occasional negative reviews every doctor receives. You'll receive instant notification when a review three stars or less shows up, and you can respond to the review directly within the SocialClimb platform.
"SocialClimb reporting keeps our surgeons and team informed of all patient-reported issues."

Sheila Kisor

Orthopedic + Fracture Specialists