Showing up at the top of relevant Google searches is everything. If you're investing large sums of money in Search Engine Optimization (SEO) but still aren't showing up in search results when patients use keywords or phrases associated with the care you provide, it's time to rethink your strategy.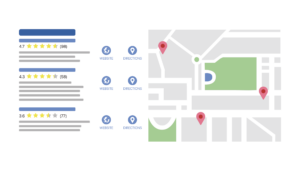 The majority of clicks in Google search results happen in the local map pack section, which often displays 3-4 Google Business Profiles (GBPs) to the left of a map showing the locations of those businesses. If you're consistently spending on advertising but your practice and providers aren't showing up here, it's like advertising for a place that doesn't exist. You need to improve your local SEO and improve how and where you show up in local search rankings. Local SEO for doctors is just as important as it is for your practice locations, too. Here are three easy steps you can take to ensure that you show up when relevant searches are performed.
Step 1: Claim Your Google Business Profiles
The first step to improve local search rankings is to claim your Google Business Profiles (GBPs). By claiming these pages, you'll have control over the information that appears in search results, such as your practice's address, phone number, and hours of operation.
Claiming your pages is relatively simple. For your GBPs, you'll need to verify your business. It's important to also claim the GBPs of your providers so that both they and your locations show up in relevant searches. Once verification has happened, you can update the information, add photos, and respond to reviews. 
Step 2: Configure Your Profiles
Once you've claimed your pages, it's time to configure them. Add your address, contact information, and operating hours. Having your operating hours in your profiles is important  so that patients know when they can visit you. Don't forget to choose a primary category for your business. The more information you can provide, the more you'll improve local SEO for your business.
Make sure that all of the information is up to date and accurate across all your profiles. This includes your address, phone number, and hours of operation. You should also add photos of your practice, including the exterior, interior, and team photos, as they add credibility.
In addition to updating your information, you should also respond to any reviews that you've received. Responding to reviews shows that you value your patients' feedback, and can also help you attract new patients.
Step 3: Build Your Online Reputation
The final step is to connect your healthcare marketing platform to your PM/EHR. This allows you to automate the process of sending review invitations. By collecting more reviews, you'll improve your practice's online reputation, which can help you rank higher in search results. Having a high volume of recent, positive reviews means you'll be more likely to get in front of the right people at the right time and influence them to choose your practice over your competitors.
Depending on your patient volume and the level of competition in your local area, you may see results within weeks or months. By following these three simple steps, you can improve your practice's online reputation, improve local search rankings, and attract more patients.
SocialClimb is a healthcare marketing platform that helps you improve local search rankings by managing GBPs and automating the collection of patient reviews. By claiming  your Google Business Profiles, configuring them with accurate information and photos, and connecting SocialClimb to your PM/EHR, you'll be empowered to improve local SEO for doctors, focus on improving the patient experience, increase patient acquisition efforts, and track (and refine!) their effectiveness along the way.