3 Keys to Healthcare Reputation Management Success
Here at SocialClimb, we frequently talk (and write) about the importance of healthcare reputation management. That's because it is essential for any medical practice, large or small, to incorporate reputation management into your marketing plan. It's an important piece of the strategy that impacts your bottom line, yet many organizations underestimate its value. 
If this topic is new to you, or you simply don't know where to begin, here are three keys to  healthcare reputation management success.
1. Add medical reputation management to your marketing budget.
If you don't make reputation management part of your overall marketing plan, then you simply won't give it the attention it needs. Without planning and budgeting, you most likely won't be consistent with provider and practice review requests. 
When you make reputation management for doctors part of your plan from the beginning (Hint: Now is a great time to refine your marketing strategy so you can be ready for a new year!), your team will not only know which steps to take to improve provider and practice reputation, you'll also know how and when to implement these steps, such as requesting reviews from patients, managing your Google Business Profile, and asking patients for feedback through short surveys. 
Read more about how reputation management impacts your bottom line by bringing you more patients.
2. Get more online reviews to attract ideal patients and boost organic website traffic.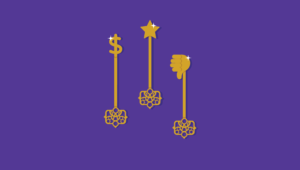 According to reputation management statistics, nearly 75% of all prospective patients read online reviews as their first step in finding a new provider. This is precisely why your practice and provider reputations make a difference in the volume of organic traffic (aka, ideal patients) visiting your website. 
For example, let's say a patient near one of your orthopedics locations decides it's finally time to take care of that painful tennis elbow or old rotator cuff injury. If they've never been to an orthopedic specialist before, chances are high that they will search online for "best orthopedic doctor near me" or "top-rated orthopedic specialist near me" to begin. 
If your office and providers have a great online reputation, and prospective patients like what they see, they'll visit your website to learn more, which means you're driving more organic traffic to your practice website.
Why does this matter? More organic traffic means more of your ideal patients are discovering your healthcare services with an intent to take action, such as scheduling the next available appointment. 
Organic traffic consists of people who are already searching for your services and are therefore more likely to become patients than those who are "just browsing." However, if your reputation isn't stellar, healthcare consumers will quickly move on and consider more highly rated providers.
So, how do you become a top-rated practice and get more reviews to improve your online reputation? 
First, you have to provide a great patient experience to your existing patients, then you have to ask them to review you on all the popular medical sites, like Healthgrades, Google, and ZocDoc. 
The easiest way to request more reviews is through an automated review platform that does the work for you, by sending out review requests after patients visit your office. Using an automated review platform means you request a review via text or email from every patient immediately following their appointment, without adding a bunch of work for your team. 
3. Release your fear of negative reviews.
We understand this is a big one for many healthcare organizations who shy away from asking patients to leave reviews online. So much so, we wrote a blog called, Reputation Management: Fear of Negative Reviews.
It's true that when you open yourself up to reviews, you probably won't receive only positive ones. There's a good chance a patient or two may not have liked the wait time at your office, or noted that the front desk team wasn't as friendly or knowledgeable as they could have been. 
This isn't necessarily a bad thing, as it gives your practice a chance to respond to the reviews publicly and make the situation right, thus showing prospective patients that you care. Negative reviews can help you seem more "real" and show new patients that you truly value the doctor-patient relationship. 
Less-than-wonderful reviews can also help identify weak spots or areas that need attention, especially if you see a pattern in the negative feedback. So, don't let your fear of negative reviews prevent you from taking action to improve your online healthcare reputation. It goes with the territory, and when you handle it well, it holds the potential to make your practice and providers appear even more positive in the eyes of prospective patients. 
Let's recap the three keys that can get you on the right path to reputation management success:
Plan and budget for reputation management as part of a comprehensive marketing plan.

Get more online reviews to help drive ideal patients to your website where they are more likely to schedule appointments.

Release your fear of negative reviews and think of them as a way to show prospective patients how much you care. 
As always, if you need help with reputation management for doctors, or your organization as a whole—or any other aspect of healthcare marketing—SocialClimb is here to help. Give us a call or send us a message to learn more.