The benefits of being a family practice physician are plentiful, as long as you can continue to attract new patients. You have the privilege of offering comprehensive healthcare for your patients over the course of their lifetime. You can treat every member of the family, at just about any age and for nearly any condition. You build lasting relationships with your patients. You know their family history. And, you help improve lives on a holistic level. 
Practicing family medicine is a rewarding medical profession, so how do you continue to help your practice grow? Consider these three simple steps to attract new patients, generate more revenue, and help your practice and the community you serve continue to thrive. 
1. Build your online presence.
Patients who need a new doctor look online, and if you don't show up online when they search, you won't be chosen as their new doctor. A recent BrightLocal study found that 93% of consumers searching for a new business use the internet to do so. So how do you improve your online presence? Start with Google Business Profiles, your website, and online advertising. 
Own and optimize your Google Business Profiles. 
A Google Business Profile (GBP), formerly known as a Google My Business (GMB) listing, is free online advertising. Over 87% of online searches in the U.S. are done on Google, and Google responds by showing searchers a 3-pack of profiles (also called a map pack). The key is to show up in that 3-pack of results. 
Google wants to show profiles that are active, relevant, and will give the best response to searchers. If you want to make their short list, update your information regularly, keep those positive reviews flowing in, add some pictures, and optimize your GBP according to best practices. Of course, once you do show up in the map pack, you'll want to look good—more on that in step 2 below. 
Use the right keywords in your website content. 
Your website is your face to the online world. Make sure it looks good and that the information is accurate. Like with your GBPs, make sure the information is accurate—nothing is worse than double checking an address on a GBP or a website and having it take you to the wrong place because it hasn't been updated. 
It's important to have a great looking website, but it won't matter if that website doesn't show up in search results. It's essential to use keywords in the website that patients will use in their search. For example, if you're a family practice based in San Antonio, make sure your website copy includes keywords such as "family practice," "San Antonio family practice," "primary care physician," "family doctor," etc. Whatever a patient might search to find you should be included on your website somewhere so Google knows your website is relevant to their search. 
Secure your brand. 
When a patient or prospective patient searches for your practice or doctor by name, you need to be the first result that pops up in their search results. Unfortunately, it doesn't always work that way. 
Search results often include ads at the top—before Google's 3-pack and before organic results. If another practice uses your practice name or one of your doctor's names as a keyword in an ad, they may show up at the top of results. But don't worry, this is an easy one to fix. All you need to do is set up ads with those keywords yourself. If you do, you'll ensure that you show up at the top of results instead of your patients seeing an ad for a competitor. 
Get involved on social media. 
Make sure you have a presence on the social platforms your patients frequent. If you see a lot of older patients, that may mean Facebook. If you want to get in front of younger families, Instagram may be the way to go. Your patients are using social media, and you should too. 
Be advised, though, that social media exposure is more of the long game. It's brand exposure rather than showing up at the moment they need healthcare. The more they see you, the more familiar you will become to them, and then when it's time to find a doctor, it's an easy choice for them to choose you. 
The point is, if you want to attract new patients, you need to make sure they can find you online. You need to improve your online presence. And you need to make sure your online presence is an accurate reflection of the excellent care you provide by getting more five-star reviews.
2. Get more five-star reviews.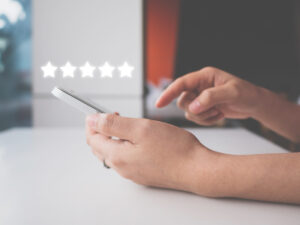 Did you know that nearly 70% of patients who have a positive experience are willing to leave you a review? This is important for getting the word out on Google, Healthgrades, and other healthcare review sites because that's where an overwhelming majority of people in your area are searching for a new family physician. And, 82% of prospective patients who are searching online and reading reviews about your practice consider these reviews as important factors in their decision to contact your office.
How do you ask patients for reviews? 
An easy way to do this without having to remember to ask or to train your office team is to automatically request reviews from patients. You can make it easy for everyone involved by sending an automated text message to each patient within 24 hours of their last appointment. This way, patients can respond quickly and easily with a star rating and an option to leave positive comments about their providers and experiences at your family practice. 
Incidentally, when you respond to reviews, you boost your new patient base even more. Statistics show that 89% of people are likely to use a business that responds to all of its online reviews. So, on the rare occasion that you get a less-than-wonderful review, responding to it in a way that shows others you truly care for your patients goes a long way in attracting new ones. 
Reviews help your practice appear trustworthy. 
Just like word of mouth referrals to family and friends, online reviews are the digital version of recommendations. Prospective patients often trust online reviews about your practice as much as a referral from a friend.
Think about the last time you purchased something online for yourself or as a gift. How many reviews did you read about particular sizes, style, and quality of an item? Or for a new restaurant you've been considering, how many reviews did you read about the food, price, and atmosphere? When you purchased the gift or made a reservation, how much did those reviews influence your decision?  
Online reviews are that powerful. Put them to work to manage your reputation as the best family physician in the area and see how reviews attract new patients to your practice.
3. Identify new patients through predictive targeting.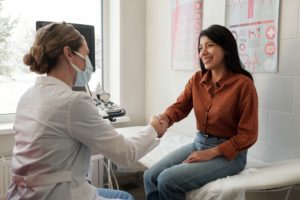 When you want to bring the right patients to your door, it helps to use a predictive analytics tool to analyze consumer behavior online. Predictive analytics can identify high-value patients near you so they can easily find your family practice online. 
Consumers leave a breadcrumb-like trail of information every time they go online. That information is captured and stored in large databases of information. These databases have information about what consumers have purchased, what they've searched for, where they live, and even financial information. Predictive tools can sift through the vast amounts of data to find patterns. 
A customizable predictive targeting feature can be used to attract the patients you need. You can select specific zip codes of your target audience so they're sure to see your paid ads while searching online. You can also target families who live within a particular radius of your practice so when they search for "family practice near me," you appear high on the list.
Attracting a steady flow of new patients to your family practice should be an ongoing part of a comprehensive marketing plan. As all the pieces work together, your bottom line will increase, and you can continue to do what you love—provide top-notch healthcare to your extended practice family. 
Need some help putting the pieces of a healthcare marketing plan together? We'd love to show you how SocialClimb can help practices just like yours improve their visibility, get more reviews, and attract new patients. Get a free Reputation Report to determine how your practice stacks up.