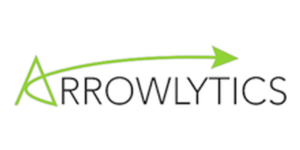 The healthcare landscape is changing at a rapid pace. Now, more than ever, it is important for practices to have insight into all facets of their organization. Arrowlytics, a healthcare analytics and consulting firm, is partnering with SocialClimb to provide full visibility to medical practices. We have proven that the combination of our data analytics product and SocialClimb's existing online reputation and marketing platform gives our clients an edge over their competition.  
Arrowlytics provides actionable insight to our clients by transforming the practice's own data into meaningful Key Performance Indicators (KPIs) that can be used to increase patient volumes, increase revenue and margin per patient, and ultimately, increase physician compensation through growth and optimization. We have 250+ years of hands-on experience with practice operations at some of the nation's leading private practices. Our data and experience, combined with SocialClimb's ability to help practices dominate their online market, create a powerful set of tools for our clients.  
The Arrowlytics dashboard was originally built for one of the nation's leading privately owned medical practices. Using data to identify issues, measure progress, and establish a culture of data-driven decision making helped that practice grow from 50 to 164 surgeons. 
Another customer used our data to identify a higher-than-average number of same-day cancellation and no-show appointments in their practice. After implementing operational procedures to target the issue in the clinic locations where the problem was most prevalent, the practice was able to reduce their same-day cancellations and no shows by over 12%. The impact of addressing this one issue resulted in over $2.1M in revenue from their clinic and ancillary services.
One of the most expensive aspects of running a practice is real estate costs, yet few practices can accurately determine how well or poorly they are using their clinic space. The business impacts of COVID-19 and the future of telehealth will highlight to medical practices the need to understand whether or not they are using their facilities to their best advantage. Arrowlytics data can help with this by showing practices how long their patients are waiting for an appointment with a provider. 
One customer used data from our dashboard to identify instances where they were routinely not filling their clinic space despite appointment wait time metrics which showed they also had patient demand. They focused on solving these issues by improving the way they utilized physician assistants and by providing data back to their physicians so they could self-adjust their schedules and planned work sessions. Monitoring these changes allowed them to increase the use of their space by 11%, yielding over $4M in revenue in one year!
Arrowlytics began collaborating with SocialClimb in 2019 when we implemented a white-label version of the SocialClimb product. SocialClimb had found that few practices understood how Google search and online reputation were impacting consumer choices, a major gap in healthcare marketing. Practices had been focused on optimizing websites and search terms and were missing the opportunity to leverage Google Local Search, ads, and online reputation to increase their online visibility to patients. Their platform is set up to help medical practices and physicians automate their patient acquisition. 
Arrowltyics saw an opportunity to add our services to their online reputation tool in a way that would benefit practices. In addition to helping customers connect with the platform and set up their GMB listings properly, our team will ensure practices are appropriately providing service recovery on all patient complaints. We respond to all online reviews on behalf of our clients. This includes responding to the frequently overlooked positive reviews. Current patients like the online interactions, and the quick responses do not go unnoticed by other prospective patients!   
It became clear that the larger value proposition for both SocialClimb and Arrowlytics customers was in more closely integrating our two tools to provide a more comprehensive view. Arrowlytics CEO, Steve Hendrick noted, "The power of working with SocialClimb is in seeing outside the four walls of the practice. Arrowlytics has always had visibility, through the practice's own data, to see every aspect of a patient encounter. We were blind, however, to what happened before a consumer selected a practice. The two tools combined give us the full picture for the first time." 
Last year, the SocialClimb and Arrowlytics development teams began working on a new tool named Aspire. This will give SocialClimb clients the ability to determine the specific return on investment (ROI) generated by each new customer identified through online reputation or the purchase of online ads. It also means they can begin to see what is occurring inside their practice with nightly data updates from their practice management systems, which flow directly into the same application. 
For Arrowlytics customers it means many of the key performance indicators they are accustomed to seeing now reside in a platform that can also provide online reputation, patient satisfaction, survey instruments, predictive analytics, and Boost Ads.   
We are just beginning to scratch the surface of what our combined offering can do for our customers. "Working with SocialClimb has opened up entirely new avenues of data integration, access to additional public data,  and new ways we can use our operational expertise to help advise our customers. Deploying our key performance indicators inside the existing SocialClimb framework also streamlines the process with new clients," said Patrick Michael, Development Product Owner. 
Our new offering is hosted, requires no additional equipment or hardware, and can be initiated with a simple kick off phone call! For existing SocialClimb customers, we can begin mapping additional practice management data through existing interactions to give them actionable insight into areas such as finance, operations, asset utilization, patient experience, outcomes, and compliance.
Richelle Cox, Arrowlytics Chief Operating Officer—Former Director of Clinical Operations at OrthoCarolina (2011-2014); former Director of Performance Improvement at Piedmont Healthcare (2006-2011); former Director of Clinic Operations at Charlotte Orthopedic (2004-2006) and former IT Project Manager with Medic Computer Systems (Misys). Richelle received her BA degree from UNC-Wilmington.