Orthopedic Marketing Strategy Impact from Market Consolidation 
Acquisitions in the orthopedic market had been increasing steadily since 2017 until the pandemic caused a significant decrease since 2020. While uncertainty, financial pressures, and virtual communication affected the healthcare market, the public health emergency also strengthened the need for strategic initiatives. So, after a brief break in acquisitions among orthopedic companies, market activity is picking back up again. While no major deals are expected any time soon, companies across orthopedics are advising new strategies to improve and expand their businesses.
With major hospitals and health conglomerates expanding, smaller and independent orthopedic practices may become overpowered and outspent, especially when it comes to their marketing efforts. Increased acquisition activity in the orthopedic market makes it harder for independent practices to get new patients, leaving them with smaller resources to build their brand awareness and invest in visibility, reputation, brand recognition, advertising, and scalable growth.
However, while private equity companies do have more space and attention and more money to invest in growth, it appears that the healthcare industry has not yet woken up to the phenomenon of empowered healthcare consumers, forever in search of seamless and individualized experiences. The fact that healthcare marketing still remains at least a decade behind contemporary trends may be an ace up your sleeve and allow you to adapt more easily to the ongoing industry transformation. Regardless of the size or location of your practice, you don't need a massive budget to increase online visibility and build an online image that appeals to your patients. What you do need are carefully crafted marketing strategies for orthopedics.
To boost local SEO rankings, improve provider and practice reputation, attract more patients, and grow your orthopedic practice in a competitive market, a diversified marketing approach is the right answer. Here are some of the marketing strategies for orthopedics you can consider to help you compete with the big names in the healthcare industry while also providing affordable, high quality, and personalized care.
Increase Online Visibility of Your Orthopedic Practice
As hospital systems grow larger and monopolize local markets, they dominate both offline and online space, attain strong domain authority, and affect the visibility of small and independent orthopedic practices. Still, your independence isn't lost if you take the right steps: use your online visibility to get new patients and grow your practice. 
Working on your online visibility helps everyone – you get seen by the right patients and they get to make an informed decision when trying to find an orthopedic. 
Over 90% of consumers use Google search to source information that affects their decision-making process. So to show up where they look, one of the most important marketing strategies for orthopedics is to create and optimize a Google Business Profile for your practice. But your job doesn't end here—to experience the effectiveness of this strategy, you need to regularly maintain your Google Business Profile and update it with relevant information so that Google recognizes your profile as reliable. Creating an additional GBP for each practitioner that joins your practice will boost your visibility even further, as it can help you show up if someone looks for that specific practitioner by name, and it can also help you rank multiple times for local searches. 
Another important step you can take to increase your online visibility and get a chance to take up more space is setting up paid search ads that show up for consumers when they use the right keywords. Targeted digital ads for keyword phrases also help your locations and providers appear at the top of relevant search results to drive local traffic to your website, and help increase your online visibility as a result.
Build Your Reputation and Brand Recognition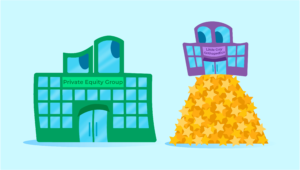 Historically, small and independent orthopedic practices have usually relied on a network of local referring medical practices, and their main marketing strategy aimed to expand this network and get more patients that way. With the increasing number of medical journeys beginning online, it's clear that patients in need of a new doctor turn to reviews to find the most qualified candidate. To level the playing field with private equity companies, independent practices need to build their reputation and brand name in every way possible. While the word of mouth system remains an effective tool, it simply isn't enough anymore.
Proper reputation management helps you level up with the big players and achieve much better results. On the contrary, orthopedic practices that don't actively manage their reputations may miss out on the best market share and fail to get more patients. To prevent this, get your reviews in shape. The most efficient move towards improving your reviews—both in quantity and in quality—is to implement an automated solution that sends review requests to your customers through text or email. This will not only show potential patients that you provide great care but also show Google that people are interacting with your profiles, improving your position in search results. In addition, it's important that your online reputation accurately reflects the high level of care you offer, and the more reviews you get, the more accurate your rating will be.
Marketing strategies for orthopedics should leverage your position as an independent orthopedic practice by creating a carefully crafted narrative on your website and in advertising. An undeniable advantage of a small practice is the privacy and the familiarity it offers to patients when they visit—a feeling that they're not in an unknown territory. This is a crucial part of any treatment experience, as it helps ease the discomfort and vulnerability that come with receiving healthcare. Ultimately, using a well-thought-out narrative to relay that advantage may nudge many patients in your direction. 
Make Most Out of Your Advertising Budget
One of the issues that small and independent orthopedic practices may be presented with even if they seriously approach advertising, is that their budget will always be significantly smaller than that of private equity companies, whereas both usually target the same market. With the expected rise of acquisitions in the orthopedic market, large hospital systems will take a larger market share and gain more financial power over it. 
The fact that advertising efforts will yield much fewer benefits for small practices than for private equity companies may make you feel defeated. But, defeat is not imminent if you use the following advertising strategies for orthopedics:
Implement Predictive Targeting
Every time they go online, consumers leave a trail of information that is captured and stored in large databases of information. Predictive analytics tools often used by large healthcare organizations analyzes this behavior online, but identifying high-value patients based on variables such as age, gender, patient type, and more is not only for big hospitals and medical groups. You can use a customizable predictive targeting feature to attract the patients you need, but also identify who in your area needs care to target them directly. Defining geo targets based on the zip code areas allows your information to show up when people in those areas search for care. As a result, you can use predictive targeting to your advantage and drive strategic growth for your small orthopedic practice with actionable data insights. 
Back Up Your Organic Efforts with Active Search Ads
Online ads are another way to protect your small orthopedic practice allowing you to claim the top search spot when a potential patient searches for your practice or physicians by name. This way you increase the likelihood that your locations, instead of your competitors, show up when prospective patients perform specific search queries. As a result, appearing at the top of relevant search results drives local traffic to your website and helps you increase domain rankings.
Rely on Online Data for Offline Advertising
Investing in offline advertising tends to not yield significant ROI as power has shifted to online advertising, but it still hasn't become a lost cause. To be efficient, offline marketing strategies for orthopedics should rely on data gathered online: this can help you send targeted postcards to those ZIP code areas where they may perform best, or even help you choose the right location for a billboard if you are determined to invest in one.
Optimize for Scalable Growth
Many practices shy away from data analysis because of HIPAA constraints, especially small practices that don't have dedicated marketing teams and budgets. This is where private equity companies can gain an advantage as their marketing teams invest efforts into working with data under the HIPAA umbrella. But, even as a small orthopedic practice, you can also market to and attract patients with full HIPAA compliance—with the help of a healthcare marketing platform relying on HIPAA-compliant patient tracking tools. 
Trying to succeed in the healthcare market and deal with high-profile competitors is challenging and it's easy to feel overwhelmed or even consider merging with a larger healthcare organization. It's well known that an ounce of prevention beats a pound of cure and the same holds true for healthcare marketing. Smart marketing strategies for orthopedics can work wonders even with a small budget: it's not about how much money you can invest, it's about how you spend it. 
With SocialClimb by your side, your small orthopedic practice will not just stay afloat, but thrive. We can help you establish effective marketing strategies for orthopedics, automate marketing processes, and successfully market to your target audience while maintaining HIPAA compliance, and accurately track and report your successes – all to keep your independent practice moving forward.