How to Optimize Your Patient Acquisition Cost
Your number one job as a healthcare provider is taking excellent care of your patients. Your second most important job should be attracting new patients so you can provide them with that same level of care.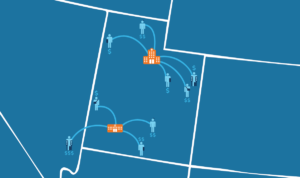 Still, acquiring new patients is more competitive than it used to be. Modern healthcare consumers are more educated and informed than ever and want to control their healthcare journey that begins long before they step into a hospital or start a virtual visit. 
To increase patient acquisition, you must meet your patients where they are. If people haven't heard of you, can't find you online, or don't understand what services you offer or how you can help them, they won't take you into consideration. 
Your goal is to create a steady stream of new patients and try to retain as many loyal patients that add significant revenue to your bottom line. Plus, you need to find a cost-effective way to acquire them. 
If your Patient Acquisition Cost (PAC) is high and your patient retention rate is low, it will reflect poorly on your bottom line. On the other hand, by lowering your PAC, you can significantly increase your profit. The real challenge lies in finding the right balance and choosing patient acquisition strategies that will allow you to grow at a scale.
Balancing PAC with Lifetime Value of a Patient is another way to look at marketing efforts.  Driving higher-value patients with targeted marketing efforts can justify more expensive marketing tactics to acquire patients.  Look for our next blog post on Life Value of a Patient and the Marketing Growth Multiplier to better understand out PAC works with higher valued patients.
What Is Patient Acquisition Cost?
Patient acquisition cost (PAC) is the total cost of finding and acquiring a new patient. In other words, this is the amount of money required to reach someone and persuade (marketing) them to become a patient of your practice.
Traditionally, your patient acquisition cost is your marketing spend divided by the number of patient appointments made from those efforts. But, without a solid understanding of the cost of bringing in each new patient via different channels, it can be difficult to know when and where to invest your time and money.
Following this formula, you may conclude that your overall PAC is too high — but those insights alone won't direct you toward the right optimization opportunities. This is why it's important to track each marketing activity separately as well and define the exact value of each marketing channel you use. 
Well-placed campaign tracking will help you define the drivers of your business and make the right decisions that can secure future growth. For example, you may learn that your offline marketing efforts are a huge money drain, while search advertising brings in new patients at an acceptable cost. From there on, you can seek options to optimize your offline marketing or decide to redirect that budget toward paid search.
Measure Your ROI
Not only does defining and optimizing patient acquisition cost give you the ability to make data-informed decisions — it also allows you to precisely measure your marketing return on investment (ROI) and understand the profitability of your company, ultimately enabling you to run an efficient healthcare business.
Your ROI is your revenue minus the marketing spend that drove that revenue, divided by marketing spend, and multiplied by 100.
A good marketing ROI is considered to be a 5:1 ratio, so your marketing efforts should yield a minimum 3:1 ratio on your marketing spend. Anything below a 2:1 ratio is not considered profitable. This may sound complicated, but as they say — numbers never lie — and not knowing your numbers can make you miss the signs of overspending or unprofitability until it's too late.  
Regularly tracking your PAC and ROI is crucial to healthcare marketing efficiency: these metrics inform you where to invest your efforts and how to grow your practice at a scale.
Strategies to Optimize Patient Acquisition Cost
The average lifetime value of a patient is estimated to be as high as $1.4 million, so it's clear that having a solid patient acquisition strategy is a significant competitive advantage. Meanwhile, if you lack one, your competitors will reap the benefits. 
Here are some of the organic and paid marketing strategies you can use to optimize your patient acquisition cost:
Track Your Performance on Google's Local Search
People tend to search for and visit healthcare providers that are nearby. According to Google, 76% of smartphone users who search for things nearby visit a business within 24 hours. That goes for your prospective patients, too. Do you know how many patients find and contact you via your Google Business Profile? Do you keep track of the resources you invest in managing your GBP? 
If the answers to these questions are — no, then you're missing out on an opportunity to optimize your patient acquisition cost and get more patients via the most lucrative channel, Google search. 
Assuming you manage multiple GBP listings (as you should: for your doctors and for your locations), you need to track each listing's performance and regularly identify optimization opportunities. If your listing isn't ranking well on Google's local search results, you might need to edit or improve your general information, boost patients' reviews and your own activity to increase your listings' relevance, and ensure it's well-optimized to rank for the keywords that match your patient acquisition goals.
Send Automated Review Requests
While different strategies can be useful for reaching new audiences, nothing is more convincing than the words of a reliable, external customer. To achieve optimal patient acquisition cost for this marketing activity, automate review requests via text or email and make it easy for patients to leave you reviews. This will significantly increase your popularity and ratings on Google and other important review platforms while decreasing your review acquisition investments. 
You'll still have to monitor and manage the incoming reviews to engage with the community and prevent any bad reputation from escalating, so centralizing reputation management could help you increase your efficiency and track your reputation management efforts in the most reliable way.
Track Your Website Performance
Do you know what impact your website has on your patient acquisition efforts? Tracking and measuring your website performance is crucial for optimizing both your marketing strategy and your patient acquisition cost. 
To get the most reliable data, monitor your website performance regularly in Google Analytics and use the insights to optimize your web pages for a higher conversion rate. You may be thinking that your website is simply an online business card, but that puts it in a passive position — whereas an interactive, optimized website can pour into your patient acquisition funnels, bringing you a much more significant marketing ROI. 
Optimize and Track Online Appointment Booking
To meet your patients where they are, remember that convenience is a top priority for modern, busy healthcare consumers. 
Do you track the performance of your online appointment booking form? This form should be on your website, so you can track its performance in Google Analytics as well. Pay attention to your metrics: does that page get a lot of visits, but only a few form submissions? This means your conversion rate is low — and the likely way to mend that in this situation is to optimize your form and make it easier to complete. Is your conversion rate high, but you're not getting a lot of visits? In that case, you need to place your calls to action in a more prominent place and increase your form visibility. 
Linking to your online scheduling form from other platforms or enabling scheduling via their tools can help you drive new patient acquisition as well.
The takeaway here is — whatever is wrong, tracking can help you identify it and likely tell you how to fix it too. 
Evaluate Your Social Media Efforts
How much time do you spend managing your social media accounts? Are you present on each platform? Do you use their analytics tools to track your performance and optimize your campaigns?
Insights you get from tracking your social media campaigns can inform your next steps and optimize the amount of time, effort, and money you invest there. Maybe not every platform works well for you — and data can tell you to focus on just Instagram, for example. Maybe your video content is driving engagement and bringing patients your way, while other content you post doesn't get any visibility or interest — this can encourage you to seek optimization opportunities for low-performing content or reallocate those resources to video content.
But there isn't a single approach that's applicable to every business — what works for others may not work for you, and vice versa. Tracking insights will guide you towards optimized campaigns with affordable patient acquisition cost.
Optimize Your Ad Performance
Defining your patient acquisition cost for organic marketing efforts may not always be as straightforward, but with ads, it's pretty simple. You know how much you spent, and you should easily see what's your advertising PAC. 
But do you consider online advertising a money maker or a money drain? If it's the latter, chances are you haven't been using your ad performance analytics to optimize your campaigns.
There's more to an advertising campaign than simply setting it up. Focusing on key metrics can raise insightful questions, such as: did you target the right audience, do they relate with your ad copy, is your ad content actionable and direct… 
To optimize your patient acquisition cost, it's important to optimize your ad performance. Try relying on predictive targeting to direct your spend on at-risk patients who are more likely to interact with your ads, A/B testing your ads to find the winning copy and placement combinations, and tracking your efforts diligently — and you'll see a significant increase in your advertising ROI.
Work Smarter, Not Harder
Tracking each marketing activity's performance will allow you to identify optimization opportunities that improve profitability. In the end, it's all about making strategic decisions that will lead to the highest possible return on your practice's investment.
To optimize patient acquisition cost, you need to measure the success of the strategies you use. In other words, you need to know where your patients are coming from and what made them choose you and your services. With this knowledge, you can recognize which strategies yield the best results and which ones aren't worth the time and money. At the same time, detailed tracking, data analytics, and dealing with hundreds of unknown metrics can feel intimidating. 
SocialClimb's HIPAA-compliant platform helps you track the patient journey from beginning to end. Designed specifically for healthcare marketing purposes, it centralizes your performance tracking efforts and lets you work with the data you need without burdening you with metrics not applicable to your practice. Manage marketing processes across multiple channels automatically, increase your healthcare marketing ROI, and optimize your patient acquisition cost.