Lehi, UT, 10/10/2023 – SocialClimb was recognized in the 2023 KLAS Emerging Solutions Top 20 Report. With the help of KLAS, the top 20 emerging solutions that had the greatest potential to disrupt the healthcare market were selected by healthcare leaders across the country. Solutions were rated by how well they could impact the Quadruple Aim of Healthcare: 1) improve outcomes 2) reduce the cost of care 3)  improve patient experiences, and 4) improve clinician experiences.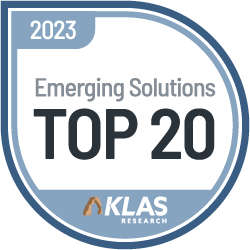 Of the report, Ty Allen, CEO of SocialClimb said, "Being recognized in the KLAS 2023 Emerging Solutions Top 20 Report is not just an accolade for SocialClimb—it's a testament to our team's dedication, our clients' trust, and our collective vision for the future of healthcare. We're not here to merely participate; we're here to lead, innovate, and redefine the boundaries." 
Adam Gale, KLAS CEO, explains further: "KLAS strongly believes in the transformative potential of technology in healthcare. So we take great pride in investigating innovative, emerging technology solutions. Our goal is to help providers navigate the buzz surrounding emerging technology and showcase the solutions that have the greatest potential to truly change healthcare for the better. Our latest Top 20 report underscores these solutions and brings transparency to what's new in the market."
SocialClimb is proud to be recognized in the KLAS 2023 Emerging Solutions Top 20 Report. This accolade speaks to our unwavering commitment to innovation and excellence in healthcare. Join us on our journey to redefine the industry's boundaries. Discover what makes SocialClimb a top-tier solution — [Learn More & Explore Our Features Today!]
To read the full report, visit KLAS Research
About SocialClimb: 
SocialClimb is a transformative healthcare marketing platform, empowering providers to attract, convert, and retain patients in the digital age. By combining advanced marketing tools with data-driven insights, SocialClimb paves the way for healthcare providers to elevate their services and patient experience.
About KLAS: 
KLAS is a research and insights firm on a global mission to improve healthcare. Working with thousands of healthcare professionals and clinicians, KLAS gathers data and insights on software and services to deliver timely reports and performance data that represent provider and payer voices and act as catalysts for improving vendor performance. The KLAS research team publishes reports covering the most pressing questions facing healthcare technology today, including emerging technology insights, that provide early insights on the future of healthcare technology solutions. Follow KLAS on LinkedIn. Learn more at: klasresearch.com.
Press Contact:
Jonathan Reese
[email protected]