According to Benjamin Franklin, "It takes many good deeds to build a good reputation, and only one bad one to lose it." 
While this may be true about one's personal reputation, it doesn't have to be the case when it comes to managing your business reputation—but only if you incorporate a good reputation management strategy into your marketing plan. If you haven't given much thought as to why reputation management is important for your healthcare practice, you may be in danger of letting "one bad deed" have a negative impact on your ability to grow the practice and attract new patients. 
Let's take a look at what reputation management is, why it's so important to your healthcare practice, and what you can do to ensure that positive patient reviews dominate your online approval ratings. 
What is healthcare reputation management?
Think of reputation management as a smart public relations strategy for your healthcare organization. The reputation of individual physicians and providers, plus your practice as a whole, absolutely makes a difference when it comes to attracting new patients. How prospective patients view your organization—as highly skilled, extra friendly, specialists in a particular field, etc.—can help you grow, or leave you wondering why you're not increasing your bottom line as quickly as you'd hoped. 
To gauge the reputation of your providers and practice, start with the following questions:
Do you know if your patients are happy with the care they receive? 

Do they feel like they've had a good experience throughout their interactions with your organization from that first phone call to book an appointment until the last follow-up visit? 

Do patients frequently leave positive reviews of your practice and providers online?

Does your reputation accurately reflect the level of care and services you offer?

Are you known as THE orthopedic surgeon, or premier dental office in your city?
If your perceived reputation doesn't match your actual abilities and offerings, then you have some work to do. Where do you start? Where your patients spend their time—online.
A positive online reputation is essential to your healthcare practice.
According to recent research by Forbes, 81% of patients read reviews before choosing a healthcare provider. And 80% of consumers trust the reviews they read as much as a personal recommendation from a friend. Furthermore, 71% of patients read online reviews as their first step in finding a new physician or specialist. So, you can see why online healthcare reputation management is so important. 
Since so many patients search for new providers online, and reading and trusting the reviews they read, ensuring that your practice has an abundance of positive online reviews is a great place to start your strategy. Simply speaking, online healthcare reputation management starts with these three steps:
Provide excellent care

Request reviews from current patients

Manage negative reviews
If your online approval ratings need some help, you should request input from your silent majority of happy patients to improve your reputation with reviews. Research shows that a majority of consumers who are pleased with their experience will consider leaving a positive review if you simply ask them. The same can be said in healthcare. 
So how do you ask for reviews? 
You can request reviews in a variety of ways:
Ask patients in-person before they leave the office, especially when you know they've had a good experience. 

Ask patients to scan a QR code on a sign at the front desk that takes them to a popular review site, such as Google, Healthgrade, or doctor.com.

Send an automated link via text or email that takes the patient directly to the review site of your choice.
The key is to make it as simple as possible for your happiest patients to leave positive reviews. The more of these you get, the better your online reputation appears to new patients who are searching for practices like yours in the local area. 
What about negative reviews?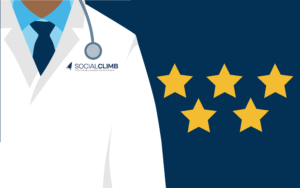 There will always be someone who is less than satisfied with their experience at your practice, and they might express their opinions on one of the popular medical review sites listed above. Don't panic when this happens, but do respond. Responding shows that you care. 
To maintain HIPAA compliance, you cannot mention the issue directly or even acknowledge that the reviewer is a patient. Instead, speak only in general terms, and take the conversation offline. Let them know they can give you a call if they have any concerns. If your organization and providers have enough other positive reviews, then potential patients reading your reviews will see that one or two negative reviews are not indicative of your practice reputation, and that overall, the majority of your patients have had a great experience. 
Additionally, if you find that the negative reviews are similar in nature, or you notice a pattern, send out a survey to your current patients. This helps you identify areas that need improvement so you can address them and, in turn, get more positive reviews. You may even find that people give you a second chance when they see that you've corrected a problem or addressed a concern.
SocialClimb helps you manage your reputation.
If this sounds like a lot to manage, in addition to everything else that goes into running a successful healthcare organization, SocialClimb has the tools to help you improve and manage your reputation. Our platform lets you automate everything so you can easily send HIPAA-compliant email or text requests for patient surveys and online reviews. 
Our marketing reports measure results, collect data, and keep you informed about online provider reputation, how you're attracting new patients, and more. You'll know what's working and where you need to make adjustments. We help you manage your reputation without adding more work to your already full plate, so you can focus on offering outstanding healthcare and a great patient experience. Which, as you may have guessed, ultimately leads to more positive reviews, a better reputation, more new patients, and a better bottom line. 
Ready to grow your practice? Discover more about reputation management and schedule a 15-minute conversation with one of our specialists today.