How happy are your patients? Do you know how to gauge patient satisfaction?
This morning, I bought a new phone case and a brush for my dog on Amazon. Before I actually clicked "Place my order," I read nearly a zillion reviews of each product. Then I read even more reviews about competing products before finalizing my purchase. (I might be exaggerating just a little. In reality, I read 15 or so reviews of each item, but it did take quite a bit of time to conduct this research.)
While I spent less than 20 dollars total, the reviews I read—which clued me in on the level of customer satisfaction for the phone case and the dog brush—greatly influenced my purchase decision. If others were happy with the product, then I decided I would be, too. Customer reviews are that powerful. 
The same goes for doctors' offices and patient satisfaction. You better believe that if I'm spending this much time reviewing a self-cleaning dog brush and a liquid silicone phone case, I'm going to read even more reviews when I'm looking for a new primary care physician, or an orthopedic specialist, or an optometrist. 
My experience is an example of just one of the many reasons practices should be concerned with patient satisfaction. Happier patients also means better outcomes, higher patient retention, more referrals, and increased revenue. 
But, how do you know your patients are satisfied and happy with the care they're receiving? How do you measure their satisfaction with the overall patient experience?
Five easy ways to gauge and improve patient satisfaction:
1. Communicate the way your patients prefer. Today's patients want clear, convenient communication with their healthcare providers in the method they prefer. This means asking patients if they would like a phone call, email, or text. Today, more than ever, the trend is moving toward digital communications. Even before the pandemic launched technology forward faster than anyone could have predicted, people of all ages were comfortable interacting online, via email, and via text messages. 
As a practice, it's important to keep patients informed of upcoming appointments, test results, office closings, or changes in protocol in a way that's convenient for them. Something as simple as noting patient communication preference can improve satisfaction exponentially. 
2. Become a patient-centered practice. Do you offer convenient hours for doctor's appointments? Do you schedule time to really listen and get to know each patient? Each person who visits your practice wants to be treated as an individual with important health concerns. Take the time to understand their needs and make the appointment all about them.
Make sure your office staff is friendly, patient, and sociable so families feel welcomed from the moment they walk in the door. My favorite healthcare teams are the ones who greet me with a smile, have a sense of humor, and make me feel like part of their extended family each time I visit the office for routine care or a specific concern. 
3. Use surveys to understand patient needs and level of satisfaction. After each visit, send a customized patient survey to gather valuable feedback—especially for areas that need improvement. SocialClimb's survey tool makes it easy to create and send surveys that generate real data you can use to assess the trends at your practice. 
Our platform integrates with your practice management system, then automatically delivers surveys directly to specific patients. And it doesn't add extra work to your already busy team. Finally, it's HIPAA-compliant, so you can rest assured data is secure. 
4. Get satisfied patients to leave positive reviews about your practice. More positive reviews mean more new patients for your healthcare clinic and physicians. So, how do you get your happiest patients to leave a review in the first place? 
SocialClimb makes it easy with our Online Review Management system. It's automated and fully integrated with your practice management system, so again, there's no extra effort on your part. Within 24 hours of patients visiting your office, they receive a customized text or email that prompts them to give feedback. These reviews typically take a minute or less to complete, so you don't have to worry about inconveniencing anyone, and you get more positive reviews that post to Google, Facebook, Healthgrades, and other review sites.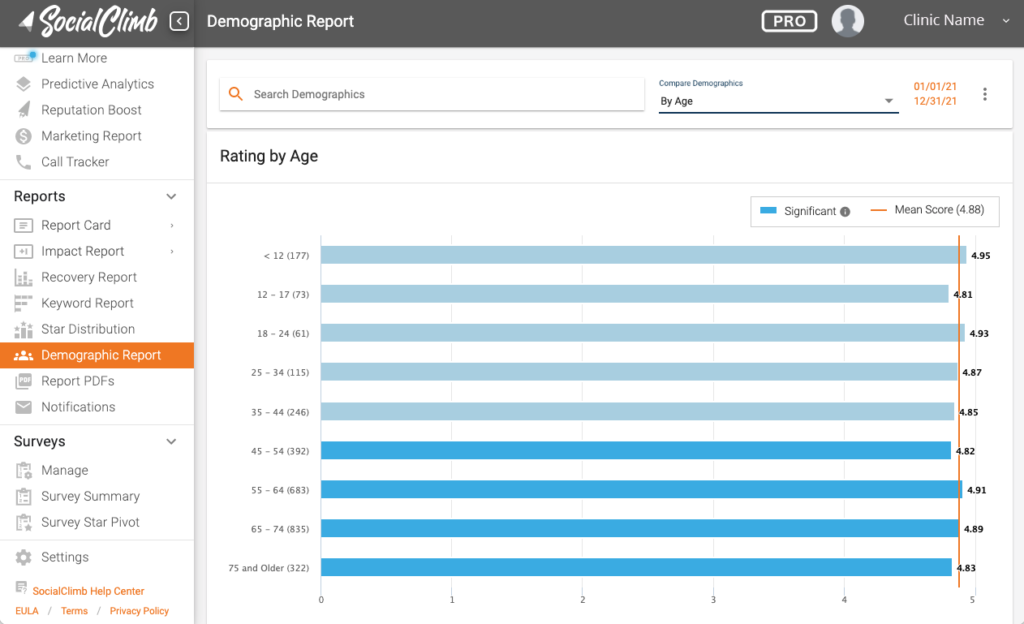 5. Better understand the patient experience through demographics. Once you've implemented patient reviews and surveys, and you're making an effort to improve patient satisfaction, gather more insight beyond the data. SocialClimb's Demographic Insights let you filter feedback from diverse patient groups, individually, or in combinations that include age, gender, race, language preference, and other criteria. Gaining a better understanding of the human experience at your practice helps you tailor communications to improve patient satisfaction even further. 
Becoming a top-rated healthcare practice starts when you decide to make patient satisfaction a priority. We can help you take that first step and support your efforts as you move forward. Give us a call at 866-338-8270 or click the button to set up a demo today. Then, get ready for your current happy patients to bring their friends and family right to your door.