You can rank higher in Local Search when consumers search for medical care online by implementing SEO techniques in your GMB listing. 
Google Business Profile SEO plays a big role in ranking higher in Local Search results. For healthcare, that means doctors and practices who want to attract new patients need to make sure their Google listing is well optimized so they show up online. 
Patients in need of medical care use the internet to find a new doctor. According to a BrightLocal survey, 93% of consumers used the internet to find a local business in 2020. Patients looking for a new doctor focus specifically on reviews, with 71% of patients using online reviews as a first step in their process and 94% including online reviews at some point in their process. If you do not show up online when patients are searching for medical care, you won't be that new doctor for them. 
A 2020 survey of SEO experts found that the most important factor in improving Local Search rankings is your Google Business Profile listing. Google algorithms decide which Google listings show up in search results, and they pay attention to proximity and relevance, but that's not all. They also prioritize listings that are active and have high quality information. Use these Google Business Profile SEO techniques to boost your visibility and get chosen by patients looking online for medical care. 
1. Claim your Google listing. 
You'd be surprised how many healthcare professionals don't take this first step to claim and verify their GBP listing. If you haven't done so already, please start the process today. It's simple, but it can take a little time. 
Read Claim Your Business on Google in 5 Simple Steps if you'd like an easy-to-follow guide. 
2. Fill out everything on your listing. 
Once you've claimed your Google listing, make sure it's fully optimized with everything a medical consumer is looking for (and everything Google algorithms are paying attention to), starting with your NAP. As a consumer, there is nothing more annoying than trying to contact a business and NOT being able to find the right information. Make sure your Name, Address, and Phone number are accurate so your patients can reach you easily.
We've put together a Listing Scorecard for our customers, so they can see how their GBP listings are doing as far as optimization goes. If you'd like to see how your listing scores, read How Does Your Google Business Listing Score? The article goes through our scorecard so you can calculate your own score. 
3. Ask for reviews and respond to them. 
Asking your patients to leave a review will get you more reviews, and that's good for two reasons: 1) It shows Google that your listing is active and relevant. 2) It will likely improve your star rating. 
Remember that survey of SEO experts I mentioned above, where the most important factor for local pack rankings was found to be GBP listings? The second factor they listed was reviews. Having a high number of reviews signals to Google that your business is relevant and will help you get seen in Local Search results. 
The added benefit of increasing the number of reviews you have by asking for them is that your star rating will also likely improve. When left to chance, patients generally leave a review if they feel strongly about the care they received. No patient feels more strongly than one who is unhappy with their experience.
Unfortunately, many doctors and medical practices have a low star rating that does not accurately reflect the high level of care they provide. Asking patients to leave a review via text or email gives them an easy way to leave feedback and gives voice to your silent majority of happy patients. 
Read How Important Are Online Reviews for Doctors? to learn more. 
4. Use the new insurance attribute
You can now add insurance information to your Google listing. Read Google's instructions on how to do that here. Once you have added the insurance you accept, visitors to your listing will see a link that says "Check insurance info" under your business hours. If you don't have any insurance carriers listed, the link will not display. 
The downside of this is that you have to select from insurers that are already submitted to Google by the insurance companies themselves. You can't add an insurer not on the list. If you take insurance that is not on the list, you can cover that in the Q&A section on your listing (see #6 below). 
5. List the services you offer. 
Take a minute to improve your Google Business Profile SEO by updating your services. Once you've added in the procedures you offer, the tab will show up on your mobile phone listing with a Services tab on the top menu bar. 
Listing your services helps you provide all the information medical consumers need as they look for a new doctor. You'll also get important terms on your listing that can help Google provide more accurate search results when a medical consumer is looking for very specific care. 
Read more about the GBP Services Editor here. 
6. Don't leave any questions unanswered.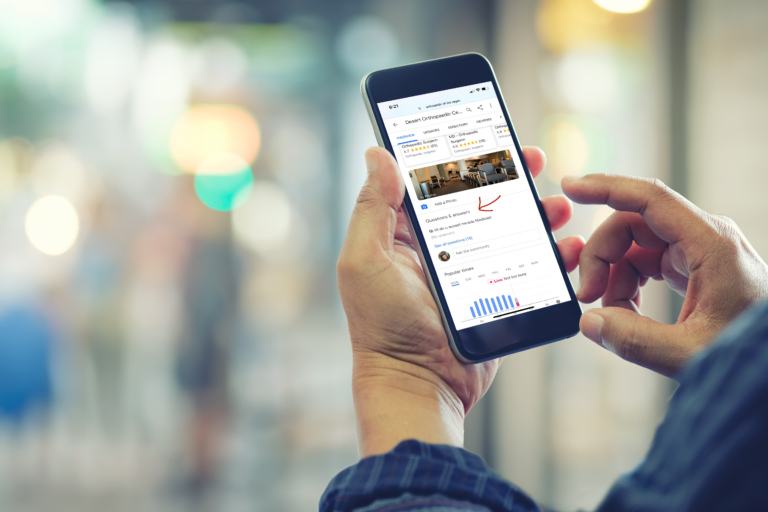 Your GBP listing has a Questions & Answers feature you should put to use in two ways: 1) Answer any questions asked. 2) Pose frequently asked questions and provide the answer. 
A few months back, I did a little search of 30 random GBP listings across the U.S. I found that 76 questions had be asked, spread among 21 of the listings. The interesting thing was that most of the questions were unanswered, and the majority of those answered were NOT answered by someone associated with the practice. 
Someone needs to be monitoring your listings to make sure no question asked goes unanswered. Not answering runs the risk of letting someone else provide a wrong or unhelpful answer. (Read some funny examples here.)  
You can also use the feature to pose a frequently asked question so you can get the answer to the public. Feel free to use any of the examples below and then provide your own answers: 
What COVID procedures do you have in place to keep your patients safe? 
Do I need a referral to see one of your doctors? 
Are you accepting new patients? 
What type of insurance do you accept? 
Do you have any other locations? 
You get the idea. Whatever questions you get, whether on the phone, in person, or online, you can use the Q&Q feature to get your information out there. 
7. Add keywords to your description.
You should provide a description on your Google listing that lets patients know what you do or where you can share your philosophy on the care you provide. Patients find it by selecting the About tab from the top menu on your mobile listing. 
When you put together your description, make sure to use words patients are searching for that would bring them to you. List the procedures or services you specialize in and/or the symptoms you treat. Use the terms your patients use to search for care. 
Take a few minutes to optimize your GBP listing with these seven quick tips. Improving your Google Business Profile SEO will help you come up in Google Local Search results so your listing will get seen by more patients seeking care. 
Please give us a call at 866-338-8270 to set up a demo and see how we can help you build your practice by improving your reputation, sending ads targeted to your ideal patients, and measuring the results of your marketing spend.