It's time to claim your business on Google and put it to work for you in today's digital market. 
Have you ever searched for a business near you? If so, you're not alone. According to a 2019 Bright Local survey, 90% of consumers reported using Google's Local Search to find businesses last year. With all that searching going on, it's more important than ever to claim your business on Google and step into the digital market so you can attract the attention of today's tech-savvy consumers. 
Your Google Business Profile (GBP) may already be out there waiting for you to claim it, or perhaps you will need to create it. Either way, we can walk you through the process. We've broken it down into 5 simple steps so you can easily claim your business on Google: 
Step 1: Visit business.google.com. 
Once you're there, you'll see two options, one to Sign in and the other to Manage now. 
Step 2: Sign in. 
You'll need to sign in with the G Suite email you want the listing to be associated with. If you're already signed in to the right G Suite, you can click Manage now. 
For medical practices and physicians, we recommend that you set up a GBP listing for each physician AND each location. 
Step 3: Find and manage your business.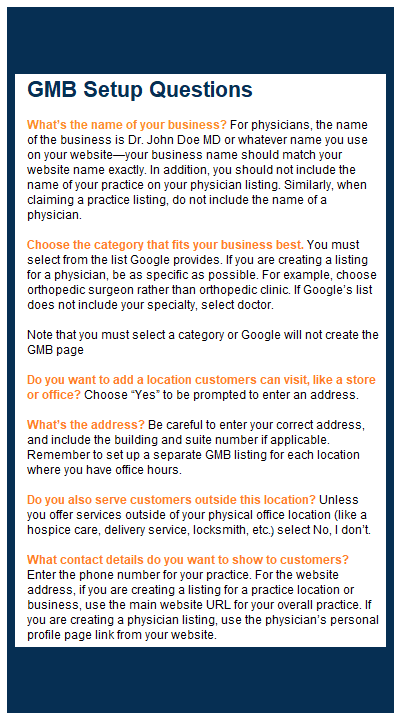 Next you will need to type the name of the business you want to claim or create a listing for. For a physician listing, the name of the business should be the name of the physician. See the sidebar for more information.
If your business pops up, you need to claim it. Click on your business to claim it.
If it has never been claimed, move on to Step 4, which is the beginning of the verification process required by Google. 
If the listing has already been claimed by someone else, request access to the page. Once you receive access, move on to Step 4.  
If your business is not listed, you need to first create your GBP page as part of the claiming process. Click on Add my business to Google and fill in the required information. We've included some tips on how to answer the questions to claim your business on Google in case you are unsure. See the sidebar, GBP Setup Questions.
Step 4: Confirm your information.
The listing you have claimed or created will now show up in your account. 
Click on the listing and then click on the info tab on the left. You need to make sure the information on the listing is accurate and complete.*
The two pieces of information that can cause the most trouble are the address and the hours:
Address—It's important that you provide a physical address for your GBP listing because Google may send you a postcard in the mail as part of the verification process. Make sure your address is correct so you can receive the postcard containing the verification code. A correct address also helps you show up in Google's Local Search.  
Hours—Including accurate hours of operation is frequently missed by those claiming a business on Google, but those hours are important to ensure your GBP listing shows up properly. 
Read Best Practices for Medical GBP Listings for detailed advice on optimizing your GBP page as you go through the process to claim your business on Google.
Step 5: Verify your GBP listing. 
Google will send you a 5-digit code for you to enter to verify your listing. You may get the code in one of several ways: 
Postcard—Most businesses, including physicians and medical practices, receive a postcard for verification. It can take anywhere from 5 days to 2 weeks to receive this postcard. 
Phone—Google may occasionally call to verify your GBP listing. If they do call, they will never use robocalls, ask for money, or ask you to "claim your free website." If you have call routing on your phone system, this option won't work well for you.
Email—Select businesses will have the option to verify via email. 
Once you get the code, log in to your GBP listing and enter it.
Following these five steps will help you claim your business on Google, but if you don't have time, we'd love to help. We will happily claim or create GBP listings for our clients. We can help streamline the process and verify the page quickly. Give us a call at 866-338-8270 to get started today.