Google has updated their Google My Business (GMB) guidelines for healthcare, including medical practice and physician listings. 
Our healthcare system is on the front lines of our battle with COVID-19, and Google has stepped up with some important GMB guidelines for healthcare to support their efforts. In a help document released March 25, they urge providers to update their business information and list services they provide on Google Search and Maps. Specifically, patients need to know how to access telemedicine opportunities during the pandemic.  
Due to the COVID-19 pandemic, Google has recently made some operational changes. In order to reduce their workforce and keep their own employees safe, they have stopped posting reviews and disabled the Q&A feature. They will also have slower response times when businesses want to make changes that need to be approved. However, healthcare organizations will take priority during their slow down due to the critical nature of their services at this time. 
Google's guidelines couldn't come at a better time. 
GMB Guidelines for Healthcare 
Medical practices, hospitals, and physicians are advised to approach setting up their GMB listing in a way that provides the best information for their patients, and that means GMB guidelines for healthcare are different than those for other types of businesses. 
A regular business, for example, will likely only have one GMB listing for their business, but a medical practice could have dozens—or even hundreds—depending on the size of the practice. The practice needs a GMB listing, and each physician should also have their own listing. If a provider keeps office hours in more than one location, he or she should have a GMB listing for each location.
We've highlighted a few of our favorite guidelines below. 
Update Your Business Profile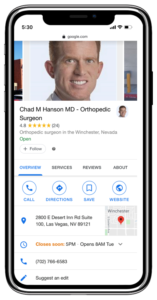 When medical consumers search for medical care online, they expect to be able to see office hours, phone numbers, address, directions, websites, reviews and other information for a specific doctor as well as the practice. It's critical to keep office hours up-to-date and contact information current when any changes occur. Make sure you have information on telemedicine, video visits, or virtual consultation services you offer in your business profile as well, especially during the current COVID-19 pandemic. 
Your business profile should include high-quality photos of the facility your patients are going to, so they know it when they see it. For a specific provider listing, you should include a picture of the physician. You can also add educational pictures to show patients something about the type of care you provide. 
Add Posts to Communicate Critical Information
The COVID-19 pandemic necessitates frequent information updates as guidelines change to deal with the situation appropriately. You can use Google posts to keep your patient base informed on how to use your telemedicine services, community updates, practice guidelines for when to come in and when to stay away, and more. 
Many in your community are understandably nervous about the current situation, and a word from their medical provider can go a long way toward calming their fears. For those uncertain how seriously to take the guidelines they're hearing, statements of authority from a trusted physician could help convince them to adhere to social distancing and quarantine protocols. 
Manage the Information on Your Practice
As you optimize your GMB listing, you should include a description of who you are, what you specialize in, your credentials and education, and any other information your patients would find helpful. 
Google also offers the ability to set up scheduling links through your GMB listing. And if you don't have telemedicine set up already, they suggest looking into Google Hangouts Meet as a possibility. 
Google Maps may include a summary of who you are (note that this is not the same thing as the description). If you find this information to be incorrect, it needs to be changed through Google. You will need to reach out to Google to request this change. As one of our customers, we can do this for you at your request. 
Add Location Groups
You can manage who has access to your GMB listing with location groups (previously known as business accounts). Location groups make it easy to add and remove managers as your practice requires personnel changes. In addition, SocialClimb can be included in the location group, enabling us to be able to create or verify your listings for you. If you don't need us to do that, we can easily optimize, manage, and update your GMB listings from our platform.
Keeping your GMB listing optimized and current is an important part of being seen and chosen as medical consumers search for healthcare options. If you have any questions or concerns, please reach out to our team. We can manage your GMB listings for you as part of our service, and with our platform, all of your GMB listings can be managed from a single location. 
You can read Google's GMB guidelines for healthcare here.
Call us at 866-338-8270 to learn more about what we can do for you.