Part 2 – PE Investment & Healthcare Brand Consolidation: Overcoming the Inevitable Impact
If you've recently consolidated brands into a private equity owned healthcare organization, perhaps our blog about the costly mistakes of brand consolidation puts you in a bit of a marketing panic, especially if you're losing patients. Now what? Is it possible to market for a house of healthcare brands after you've consolidated?
The short answer is, yes. No need to panic. With thoughtfully planned healthcare branding and diversified marketing strategy, you can boost your local SEO rankings, appeal to more patients, plus improve provider and practice reputation. 
In some cases, private equity consolidation means that your healthcare organization now has a national presence. With this newfound growth, you have the best of both worlds when it comes to marketing: national healthcare branding combined with local branding and recognition. Use this combination to your advantage to build your brand to compete with larger brands in the healthcare industry. 
Refine your online branding and marketing strategy
Whether your locations occupy large cities, small towns, or a mixture of both, your main objective is attracting new patients. So, how are you going to do that? While a one-size marketing plan may seem like a good idea, we recommend tailoring the content and messaging to each specific locale as a more effective approach. You may consider consolidating websites, but your marketing strategy should leverage the established brands of your acquisitions to drive online searches and lead interested patients to the location or provider closest to them.
Invest in digital ads
Since the vast majority of healthcare consumers begin their search for new providers online, your strategy should attract more traffic to practice websites in each market. One of the easiests ways to do this is to implement digital search ads for your brands, along with ads for relevant key terms and phrases. Brand ads increase the likelihood that your locations – instead of competitors – show up when prospective patients perform specific search queries for your brands and providers. Digital ads for keyword phrases also help your locations and providers appear at the top of relevant search results to drive local traffic to your website, and help increase domain rankings as a result.
Why should you care so much about digital ads? 
To explore this question, let's look at patient intent. Patients who are searching for a specific doctor or specific practice name represent individuals who are shopping around, but have a high intent. Your doctors and brand are top of mind for them as they're performing research. Your providers and practices should absolutely be appearing in search results for these types of queries. 
Let's use Nike as an example outside of the healthcare industry. Nike is a globally recognized brand, and yet, if you perform a Google search for "Nike" (their brand name), the top results are brand ads. Why would a globally recognized company even bother with brand ads? Because they recognize the value the ads provide, and the control it gives the company over search results.
What about digital ads for keywords and phrases? 
Why are keywords and phrases so important? Look again at intent: Patients will at least know the type of care they need, even if they don't know which providers or locations offer those services. Prospective patient queries might read, "spine doctor near me", or "knee pain doctor", but if your ads don't account for things like "spine" or "knee pain", you're less likely to rank high enough in the search results. 
Compiling a list of the best keywords and phrases takes time and understanding of how these phrases work. Look for healthcare marketing solutions that provide you with playbooks of these key terms to help get your marketing up and running more efficiently.
Highlight your specialty
In addition to digital ads, you should create branding and content that reflects what makes your organization and providers unique. What do you offer that nobody else in the area offers? Should you promote state-of-the-art technology or an exceptional patient experience? Perhaps your providers have unique training and credentials that you can leverage to make them stand out from competitors in the same field. Whatever it is that makes your healthcare brand special, it should be part of your overarching marketing strategy to refine or build your branding and attract new patients.
Optimize your Google Business Profiles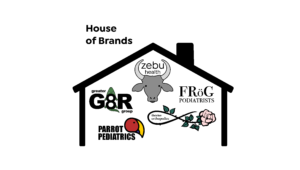 Another part of your marketing strategy should include managing your Google Business Profiles (GBPs), formerly known as Google My Business (GMB) profiles. Optimizing these profiles helps each of your locations and providers rank higher in relevant, location-based searches. Similar to the importance of using key terms and phrases in digital ads, these principles apply when adding them to your GBPs. When a prospective patient searches online for, "orthopedic care near me", or "joint pain in Lehi, Utah", an optimized Google Business Profile page can make a significant difference to the practice ranking in those search results. 
Optimized Google Business Profiles, combined with a strong marketing and (re)branding plan, means your house of healthcare brands will rank higher on a local level to attract nearby patients. That, of course, benefits your organization as a whole.
Leverage the consolidation to boost your reputation
While you may have some ground to cover to reestablish your position in the digital market after an acquisition, you can also use the consolidation to leverage provider and organization reputation. One advantage of a PE acquisition usually means that physicians require less involvement in the daily operations and management of the practice, leaving them free to focus on improving patient care and creating a positive patient experience. More positive patient experiences mean more opportunities to receive positive reviews to boost your online reputation. 
To maintain the reputation momentum some of your acquisitions may already have, or to bolster those that need help, automating the review solicitation process is a fast way to accomplish both of these tasks. It frees up team members from sending review invitations manually, and allows you to improve reputation across all locations and providers at scale.
More positive reviews often mean more traffic to your website, since it's typical for healthcare consumers to visit provider websites after reading positive reviews during their research. Make sure the website is optimized for computer and mobile search platforms so patients can begin having a great experience from their very first contact with your organization. 
Whether leveraging your reputation, GBPs, or digital marketing efforts to increase your digital marketing footprint, a diversified healthcare branding and marketing strategy is critical after a PE consolidation. Partner with SocialClimb for our expertise in helping organizations of all sizes develop and implement multi-faceted digital marketing plans. Our automated platform makes it easy to track your return on investment as you attract new patients and make the most of your marketing spend across all brands. Get in touch with us today.