Medical PPC Marketing: What You Need To Know
Before the internet, healthcare providers who were looking to acquire new patients had only a few tools at their disposal. They could build relationships with other providers to get referrals for treatment, place ads on billboards or in phone books, or rely on their own patients to provide word of mouth referrals. Now, just about everyone has access to the internet right from their phone, and it has become the preferred communication tool. 
The problem encountered by healthcare organizations who still rely on the old methods mentioned above is that, besides being difficult to track, these marketing activities don't take into account the online activity each of us participate in daily. Additionally, these previous marketing methods are more of a "hit or miss" approach, rather than a conscious effort in reaching your target audience.
With a wealth of healthcare information available online, it's crucial for organizations to ensure that they use every means possible to get relevant information in front of patients searching for care. This includes information about doctors, the services they provide, and locations where these services are offered. Optimizing your Google Business Profiles (GBPs) is a great place to start, but if you feel you've gotten these profiles to the point where they require minimal upkeep, you might be thinking, "Now what?" 
That's where proactive digital marketing comes into play, specifically with PPC campaigns. 
What is PPC?
Pay-per-click (PPC) marketing is an advertising model in which companies only pay for their advertising when internet users click one of their ads. Search Engine Marketing (SEM), Display Advertising, Paid Social, and Retargeting are all forms and PPC or Pay Per Click and can vary is cost and scope. When creating PPC ads, specific keywords or phrases are selected, and when those words or phrases are used by someone performing an online search, the ad you've created is displayed front and center. This model is often cost-effective and scales well for both organizations and marketing budgets of any size. 
PPC ads are typically used on search engines like Google, Bing, and Youtube. To the untrained eye, they may appear as part of your search results, but these PPC ads are distinguishable by the small "Ad" text above a search result. These ads are normally displayed at the top of search engine results, as shown below: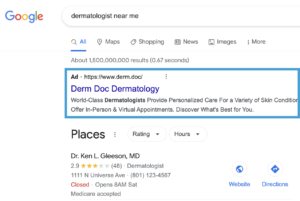 Benefits of Medical PPC for Healthcare Providers
While search behavior between typical online consumers and those looking for healthcare is similar, individuals performing searches with healthcare-specific keywords are more likely to take some sort of immediate action after performing a search. For example, someone searching for running shoes online is likely to shop around for a while as they look for that perfect pair that fits their price range, looks good, and has great reviews. These types of consumers will search for items and browse with no intention of taking an immediate action or making a purchase. 
On the other hand, if a healthcare consumer is experiencing some type of pain or discomfort or knows they need a specific type of care, they're likely to search for a highly rated healthcare provider close by, then contact that provider's office to schedule an appointment. These consumers often have clear intent and are more likely to take predictable and immediate action. With this knowledge in hand, organizations can leverage PPC ads to ensure they appear when healthcare consumers perform relevant searches. 
PPC ads benefit providers by allowing them to more accurately target individuals by the specific types of care or services they're looking for. If a provider wants to drive more new patients who need a specific procedure, they can adjust their PPC spend and keywords so their ads appear more frequently when searches for those types of procedures occur. This added visibility provides some benefits of its own.
Appearing more frequently in relevant search results helps create a broader online presence for organizations using medical PPC ads. Providers no longer have to rely solely upon their reputation. Not only does this increased visibility affect brand awareness, but it also increases the likelihood that an interested online consumer converts from a prospective patient into a new patient.
Cost is often another concern when it comes to marketing of any kind, and PPC ads are quite accommodating in this regard. As mentioned before, PPC ads afford you the opportunity to occupy some of the real estate at the top of search results with relevant information about your services. This information may be the first thing prospective patients see in the search results, which makes it easy for them to determine whether it's relevant to their search. However, if healthcare consumers decide to scroll past these ads, there's no cost to you since you only pay for clicks your ads receive.
Getting Started With Medical PPC Campaigns
Before creating a PPC campaign, it's important to perform a few essential actions. Here are some tips to get your PPC campaign off the ground:
Choose the right platform

– There are numerous PPC providers, from search engines, to social media platforms. However, if you're just starting with a PPC campaign, we recommend using Google Ads. Aside from being the most popular option, Google receives the highest search traffic of all search engines and is the ideal place to ensure your ads are seen by as many interested people as possible.

Use the most relevant keywords

– It's important to invest time into this section of the campaign to determine the most cost-effective keywords that will attract your ideal audience of prospective patients. Many providers and organizations get this step wrong because they assume words that they, as professionals in the industry, use every day are the same words their patients use when performing a search. 
In many cases, patients aren't using the same technical language when looking for care. While "​​Anterior cruciate ligament surgery" may seem like an ideal phrase, full of great keywords, patients might just be searching for "ACL surgery" or "ACL repair." This is why keyword research is so crucial and is the foundation of any PPC campaign. 
Create and optimize landing pages

– When a prospective patient clicks one of your ads, it's important to consider where you want them to end up. Your website home page is rarely the best option. You may want to consider creating additional pages on your website, known as landing pages, where you can provide the most relevant information for the individual who has clicked on your ad. 
It's also important to determine the Call to Action (CTA) on these landing pages. A CTA represents the next action you want your audience to take. These are often buttons that reside at the top of the page and specifically prompt a visitor to perform an action, such as "Book an Appointment". 
If your CTA is a button that prompts users to book an appointment, the button should take them to a page that allows them to do so. This makes it easier to convert prospects into new patients and helps prevent them from aimlessly exploring your website without taking the desired action. We recommend testing different landing pages and CTAs to see which options provide the best outcomes. 
SocialClimb's Solution to Medical PPC
PPC can help healthcare providers reach their target audience while reducing advertising costs, but the setup process can be difficult and must be done right for optimal results. With SocialClimb, our streamlined platform allows you to get PPC campaigns up and running in no time. Through this and other unique features, we help you acquire high-value patients by improving your online reputation, delivering targeted ads to the right audience, and measuring the effectiveness of your marketing dollars. 
Your practice could benefit from pay-per-click marketing. Schedule a demo today!