Your healthcare digital marketing strategy can change the landscape for your patient acquisition and give your independent practice the power to compete and win.
Hospital systems have been dominating the healthcare market for some time, but their reign may be more tenuous than it looks at first glance. Healthcare digital marketing strategy is changing in response to medical consumer behavior as people in need of care turn to online search in increasing numbers. Take a look at these stats compiled by BrightLocal: 
90% of consumers used the internet to find local businesses in 2019
82% of consumers read online reviews for local businesses
91% of consumers say positive reviews make them more likely to use a business
Medical is the #3 industry for online reviews
As consumers use social media to find a medical provider, they look at local search results to view online ratings and read reviews, using crowdsourced information to find a provider they can trust. With this growing paradigm, your healthcare digital marketing strategy needs to keep up so you can get seen and chosen by medical consumers.
Walk with me down memory lane for a moment as we examine the implications of today's digital environment on finding a specialist, making use of big data and AI, and building trust with savvy medical consumers. 
How to Find a Specialist 101
It used to be that we would visit our primary care provider to get a referral for a specialist. And we trusted our PCP to guide us to the best doctor available. There weren't many other options available to us, after all, and we had built a relationship of trust with our doctor. 
These days, we have all the information we need at our fingertips. Cell phones make our lives more convenient than we could ever have imagined only a few years ago. We literally have yesterday's super computer in the palm of our hand, and we use it well. What used to work is outdated, as these everyday examples illustrate:
Let's face facts, digital technology has completely changed the way we interact with the world around us, and independent practices have the flexibility to capitalize on that environment. With the right healthcare digital marketing strategy in place, you can dominate local search and attract the patients you want. 
Medical practices that set up Google My Business (GMB) listings for their physicians and their practice have an advantage over hospital systems that focus on brand marketing. (More on that later.) When a medical consumer searches for care, an optimized GMB listing with good reviews will be seen in Google Local Search results. 
Big Data and AI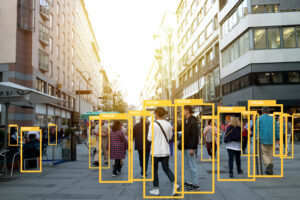 So . . . we use our phones to search for information—including healthcare information. That's not really news to anyone. We've been deep into technology for a while now. As a result, we have all been putting information about ourselves out there for some time. There's a lot of it, and we can see that it's used to inform everything from the ads that pop up on our screen to weekly Spotify playlists and Netflix suggestions. 
For years, hospitals have been using big data and artificial intelligence (AI) as part of their healthcare digital marketing plan to attract patients. They use it to predict who needs what care so they can target those individuals with their ads. Until now, it has been cost prohibitive for small practices to use big data and AI to the same advantage. 
That is no longer the case. 
At SocialClimb, we have integrated the same big data hospitals use into our platform. What does that mean for your independent practice? We can predict who needs specific medical care so you can send ads directly to them. Our patient acquisition technology will maximize your marketing dollar and leverage your good reputation so you can bring in the best patients for your doctors and your practice. 
Our customers currently using Boost Ads report that their doctors are filling their schedules with the patient mix they want. And since they can turn their targeted ads on and off according to need, track their patient acquisition cost, and measure their ROI, they aren't shooting into the dark hoping their marketing efforts pay off. They're making the best use of their marketing spend. 
The ability to capitalize on big data and AI puts you on par with hospitals, with the power to bring in profitable patients your physicians want to see. 
"You Say Goodbye, While I Say Hello"
One more difference worth mentioning is the way hospitals advertise. They frequently use emotional advertising to connect with their patients and build their trust. That's a great strategy, but they are marketing their brand not their doctors. They rely on a marketing funnel based on medical consumers' brand loyalty. 
Brand marketing is huge in business and has been proven effective. But how well does that translate to healthcare, where patients want a human connection? When medical consumers are looking for care, will they be more loyal to their hospital or to a doctor they trust? 
Boom. There's the catch-22 for hospital systems. 
Hospitals often feel they can't afford to market their doctors who, arguably, could pick up and leave the hospital once they have a solid patient base. Don't get me wrong, hospitals are successful with brand marketing in many respects. Their funnel works well, but only to a point. As much as hospitals would like it to be different, it just makes sense that consumers feel a greater emotional connection to a doctor they trust over a hospital. 
With the change in how consumers are searching for care, physicians with good reputations are drawing away patients after hospitals have gone through the effort of reeling them in. While hospitals are busily dominating the market on the one hand, the nature of their marketing leaves them vulnerable as patients rely more heavily on their own research.
Medical consumers aren't completely buying those pull-on-your-heartstrings marketing campaigns any more. They're too media savvy for that. Instead, they want to do their own research, find a provider that best suits their needs, and vet them through reviews. 
Shifting trends in digital marketing, access to big data and AI technology, and inflexible marketing plans put in place by hospitals create the perfect environment for independent medical practices. With the right healthcare digital marketing strategy, practices can get patients to say goodbye to hospitals and hello to a doctor they trust. 
Consider that playing field leveled.