If you want to be seen in Google's Local Search results, you need to make sure your Google Business listings are in shape.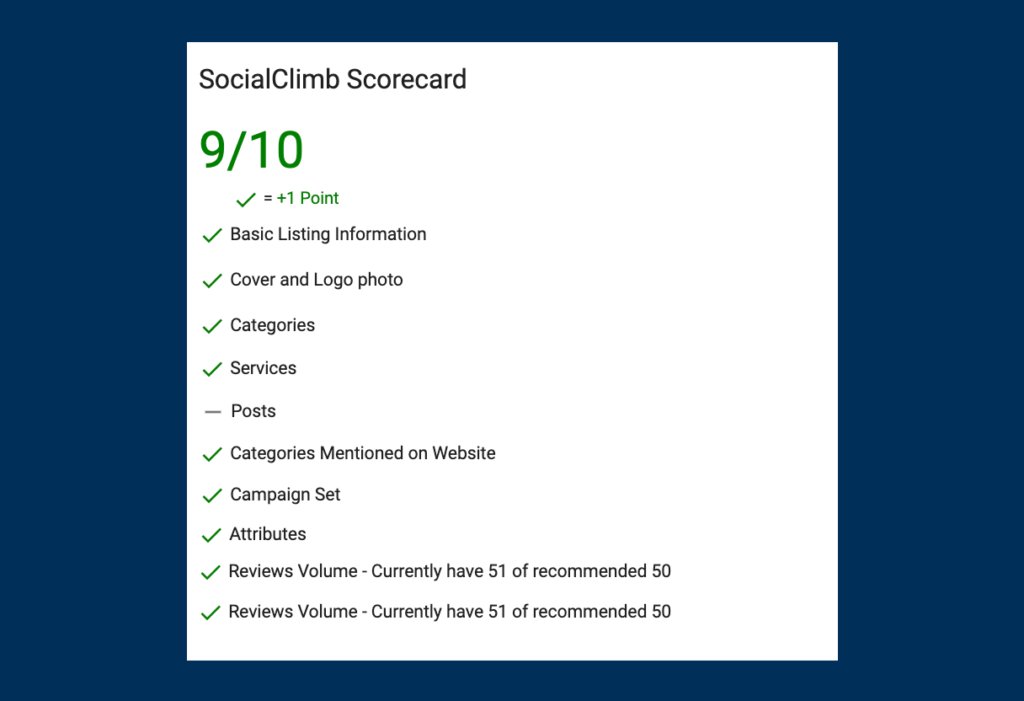 Consumers who search online for medical care will often see your Google Business listing before they see your website. In many cases, your GMB listing may be all they see. It is in your best interest to make sure each of your listings is well optimized to show up in search results and meet the needs of your future patients who are looking for information. 
A 2020 survey of SEO experts found that your Google Business listing is the most important factor in improving your local search rankings. And if you don't show up online when patients search for care, you miss out on the most effective and most economical way to attract patients and fill your schedule. 
More Than Just Curb Appeal
Two years ago my husband and I bought a new house and needed to sell our old one. We worked on the yard and got the old house looking nice on the outside. I knew that "curb appeal" could attract home buyers, and I wanted to make a good first impression. 
Our realtor liked what we had done on the outside of the house. Then he suggested several things to do on the inside of our house to make it more attractive to buyers. We painted the whole interior and fixed a few small things. We made sure to make improvements beyond the curb appeal mentality that would draw but not hook buyers, and we ended up selling rather quickly. 
Your Google Business listings are prime real estate on the internet. When you own and optimize your listing, it will improve your probability of getting chosen by Google crawlers to get picked up and displayed in Google's Local 3-Pack of search results. And if you give searchers the information  they're looking for, you'll attract and retain patients that will grow your practice. 
Google My Business Scorecard
Our Google My Business Scorecard gives our clients an auto-generated score from 1 to 10 so they know how each of their listings rate. The higher the score, the better shape a listing is in. I'll break down the 10 key points on our rating scale and talk about how to score well. 
Basic Listing Information
Full credit if you have filled out your phone number, website, and the hours you're open. 
Website tips: If you're a provider, you should link to the specific provider page on your website. If the Google Business listing is for a practice location, link to the specific location page on your website. If you don't have those specific pages, just link to the homepage of your website. 
Hours: You would be surprised by how often hours are listed wrong. Doctors who work at different locations should have a separate listing for each location, so make sure your hours are correct for the location. (The only reason NOT to have a separate Google Business listing for each location is if the two locations are less than 10 miles apart. Read more.) If you have rotating hours, you should pick one week's schedule and list that. 
Cover and Logo Photo
Use a nice photo of the provider for a provider listing or the building for a location listing. Photos should be JPG or PNG format and 720 x 720 px if possible. Minimum recommended size is 250 x 250 px. You can also add photos of your waiting room, staff, or other images that help patients get to know more about you. Read Google's guidelines here. 
Include your logo. Your logo makes your brand recognizable, and as the face of your company, it builds trust and credibility with the community.
Categories
Selecting a category can be frustrating if your specialty is not listed as an option. For example, if you're an ENT, there is no ENT category. You will have to use otolaryngology as your category. 
DO select the category option that best fits your specialty, even if it doesn't fit exactly. 
DON'T use multiple categories. Just choose one or maybe two. You want to use as few relevant categories as possible. If you select orthopedic surgeon, don't also select orthopedic clinic and sports doctor. If you do, you will dilute your potency in the category you want to show up in. 
Doctors should choose doctor-specific or surgeon-specific options. Practices should choose a center or a clinic. Some clinics may need to list two categories to get the best coverage, but limit it to as few as possible. 
When you write your business description, include the category or categories you selected if at all possible. It will improve your validity to Google that you are who you say you are. 
Services
You can now add services to your healthcare Google Business listing—and you should. The GMB services editor gives you a way to list and describe the services you offer. It's been around for a while for other sectors but was launched for healthcare in 2019. 
When you list your services, they will show up on your mobile GMB listing in the menu bar with the Overview, Updates, Reviews, and About tabs. Medical consumers can click on the Services tab to see a list of the services you offer as well as a short description of each service. Read more about Google's services editor. 
Posts
You get a point on our scorecard if you use Google Posts. With a Google Post you can share information with the community and potential patients, improve your online visibility, and remain relevant as Google and GMB listings continue to increase in importance. 
Read more about the importance of Google Posts. 
Categories Mentioned on Website
This can be tricky if you don't like the category you have had to choose. However, you need to mention the category somewhere on your website so you look relevant to Google crawlers. Google will rank your Google Business listing higher if it points to the website page that contains the same category. 
Campaign Set
You should place a UTM (a short code) to the end of your website URL link on your Google Business listing. This allows you to track when anyone clicks through to your website from your listing. Tracking this behavior will show you the effectiveness of your GMB listing. 
Attributes
As with everything on your Google Business listing, attributes will help with SEO. Make sure you add relevant attributes. And you may be interested to know that Google added several attribute options earlier this year:
Mask required
Staff get temperature checks
Temperature check required 
Online care
And more 
Reviews Volume
You need to collect enough reviews on your Google Business listing to be seen as relevant both by Google and by prospective patients. 
A high number of reviews will improve your local search rankings. According to a 2020 survey, reviews are the second most important factor in local search ranking. You need a good number of reviews to improve your ranking and a steady stream of reviews to hold onto your standing. 
If you only have a couple of reviews, start with a target goal of 10 to 15 at minimum and grow from there. The best way to attract a steady stream of reviews? Ask. We've found that 10% of patients will leave a review when asked. 
Patients searching for a new doctor use online reviews as a factor 90% of the time. And for 71% of these patients, looking at reviews is their first step to finding a new care provider. They need to see several reviews, and they need to be fairly current. (A review from 2 years ago is ancient history these days.) 
Read more about the importance of online reviews for doctors. 
Reviews Rating
With reviews being the second most important factor in improving your local rankings, they carry a lot of weight. But it's not just the number of reviews that is important, you also need to have a high rating. Google defaults their local search to only show 4.0+ ratings in most local markets. Patients also like to see a high rating for the doctors they choose. 
The best way to improve your rating is also the best way to increase your review volume: ask for reviews. Our customers have found that their rating increases by 1.3 stars on average when they begin asking for reviews through our system. You need to get your happy, silent majority of patients talking. 
Optimize Your Google Business Listing
So how does your Google Business listing score? If you already hit 10/10, good for you! If you have not scored that high, you now know what to do. Most of the optimizations I've mentioned above take only minutes to implement, but the payoff is excellent. 
If you need help getting started, give us a call at 801-998-2830 or set up a demo. We will help you build your online reputation and start attracting new patients with very little effort on your part.