Improve your visibility in online search results by making sure your Medical GMB listing is properly optimized. 
When was the last time you searched for something online? If it was today, you're not alone. Roughly 3.5 billion Google searches occur every day around the world. The trend is increasing, with the volume of searches growing by 10% annually.
When it comes to finding a doctor, 71% of patients use online reviews as their first step. If you want to tap into those majority of patients who go online to search for care, you need to make sure your online presence is in good shape. And since Google is the search engine of choice for 92% of searchers, GMB optimization is where your efforts will make the most difference. 
Online Visibility
When a patient uses Google's search engine to find a doctor online, they are presented with the top three Google My Business (GMB) listings that match their search criteria. They may also see a paid ad or two at the top of the list, and you can read more about that here. But for now, let's talk about how to best show up in Google's Local 3-Pack, those top three listings that present to consumers.
It's all about GMB optimization. 
Google presents the top three GMB listings that match search results. That means your listing needs to contain all the information Google is looking for to meet those criteria. Not to blow our own horn, be we're Google experts (seriously, scroll down to the bottom of the page to see our Google Partner badge). Over the years, we've picked up on a few best practices that will help your medical GMB listing stand out from the crowd and get seen in search results. 
Top 7 Elements of Medical GMB Optimization
Google may have already provided a GMB page for you. If this is the case, you need to claim and verify that listing so you can take charge of the information presented. If you don't already have a GMB listing, you'll need to create one. 
Once you have verified your listing, it's time to make it shine. Make sure your GMB listing is optimized well so your listing will show up at the top of search results. After all, you have to be seen before you can be chosen.
Focusing on these seven elements will get Google to sit up and take notice of you. 
1. Set up your NAP
I know you're tired, but no, I'm not talking about that kind of nap. I'm talking about your name, address, and phone number (NAP). Google will verify whether your NAP is consistent wherever it shows up on the internet. You'll look more like a legit business if your information is accurate. So make sure you use the same name on both your website and your GMB listing, for example. 
It's important to note that for healthcare, Google does allow for multiple doctor GMB listings to share the same address. They know that the healthcare industry is different from other industries and have made some helpful accommodations specific to the industry.
2. Choose your categories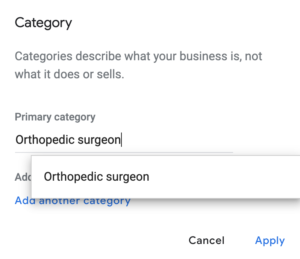 You'll need to select a category for your listing from a drop-down list. Google can't list every possible category, and your ideal category may not be there. Just do the best you can. Don't overload by choosing too many options, that will only confuse things. Instead, choose one primary category that fits you best and then one or maybe two secondary categories. 
Make sure that whatever categories you select also show up in your business description and on the page you link to. And remember that consistency thing I mentioned with your NAP? Be consistent here as well.
  3. Add photos
Make sure you have a good cover photo on your GMB listing. For a practice listing, use a picture of the building or your staff. You can also use photos of the inside of your building, including your waiting room and treatment rooms. For nervous patients, this can go a long way toward easing their discomfort.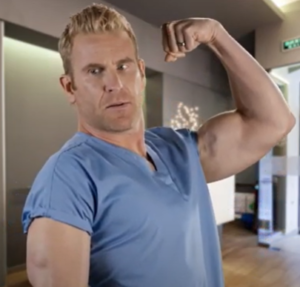 For a physician GMB listing, you should use a nice photo of the physician. I don't recommend following after Dr. Mitch in this instance. Photos of flexing are probably not the best choice. 
If you have photos that aren't showing up on your GMB listing, that is a known problem with Google that happens on rare occasions. Read Photos Not Showing Up Correctly on Your GMB Listing to see if you can fix the issue, or reach out your customer success representative. 
4. Provide access to virtual visits and online scheduling
Patients searching online for care want to be able to do everything in one place—usually on their phones. We've become an information-at-your-fingertips generation, and if expectations are not met, we will simply scroll on. It's important, for example, to have information available on your GMB listing about COVID-19 modifications and virtual visits.
You can also set up online scheduling if you want an extra layer of convenience for your patient base. Pay attention to who your patients are, however. Using an online scheduler may be great for young, busy moms but confusing for their grandparents. If you see mostly older patients, it may be in their best interest to stick with a phone number they can click to call.
5. Create Google posts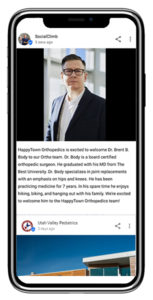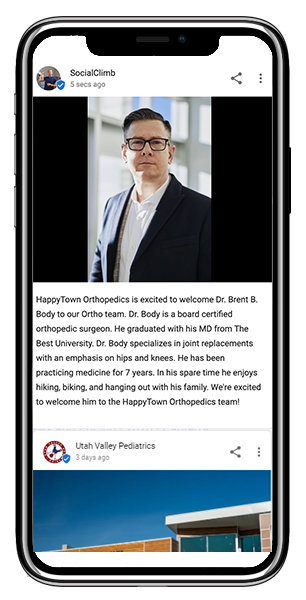 Did you know you can create posts on your GMB listing?
Google posts are a great way to let the community know important information and to share upcoming events. You'll also improve your online visibility as you add important keywords to your listing through a Google post. 
Here's a hint. SocialClimb customers can use our platform to create Google posts. (Be patient, that's not the bombshell.) Because medical practices generally have multiple GMB listings—some medical groups have upwards of 100—they have a lot to manage. With our platform you can schedule Google posts on multiple listings at the same time. You can also set an end time for your post to quit running. 
Trust me, these are huge benefits for those working on GMB optimization for multiple listings at the same time. If you are not a SocialClimb customer, you can manage your Google posts on your individual GMB listings. Read more in our article, Google Posts for Healthcare.
6. List your services
You should list the services you offer on your GMB listing. This is a great GMB optimization trick because you can use all the happy little keywords you want here. If you're a doctor, and you want to specialize in minimally invasive bunion surgery, list that as a service. Then list all the associated words, including the complaints patients have when they have bunions but don't know what to call them. 
Let me show you what I'm talking about: 
Minimally invasive bunion surgery
Bunionectomy
Osteotomy 
Exostectomy
Arthrodesis
Toe pain
Big toe swelling
Foot pain
Metatarsalgia
Bunion treatment
Each of the services listed should have a short description attached to it. That way, patients can explore your GMB listing and see what you specialize in. Read more about Google services here.
7. Build your reviews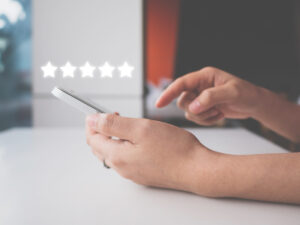 I've saved the best for last, in part because it kind of goes without saying that you need to be continually receiving reviews to be relevant to Google. But also because the reviews are kind of like the dessert of GMB optimization. 
Reviews are a triple play for your listing. First, a continual influx of reviews shows Google that you are one of the popular kids. That means your listing has a better chance of showing up in search results. 
Second, the more reviews you have, the more likely you are to have a high star review. If you rely on patients to leave reviews organically, without asking them, they will most likely leave a review when their emotions are engaged. That's a pretty hot/cold way to gather reviews. When you ask for reviews, however, about 10% of patients will leave you a review, and your rating will reflect the true nature of your care. 
Third, let's be honest, potential patients want to check out your doctoring skills to see if you are a good fit for them. And the way they do that is by reading reviews. According to Software Advice, 90% of patients use online reviews to evaluate doctors and 71% use reviews as their first step in finding a new provider. That's pretty significant. 
Your online reputation should accurately reflect the level of expertise and care you provide your patients. And it's a great way to continually improve your GMB optimization. Read more about the importance of online reviews for doctors. 
The Colossal Payoff
Patients look to your GMB listing as an all-important source of information. Many don't even know the difference between your GMB listing and your website; they just want to find what they need. Investing your time and energy into GMB optimization will pay off as potential patients find your listings online when they search for care and choose you as their provider. 
Here's a bit of good news. If you are a SocialClimb customer, we will handle your medical GMB optimization for you. Yep, you just read that right. Our dirty little secret, and the reason we will do it for you, is that reputation management, targeted marketing, and other services we offer work better if your listings are well optimized. 
So bring us your tired, invisible, listings yearning to be seen. We will "lift the lamp" on your GMB listings, send them out into the internet, and put them to work to bring you new patients.