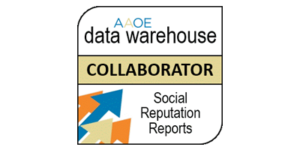 We are excited to announce that SocialClimb has become the official reputation services collaborator to the American Association of Orthopaedic Executives (AAOE) Data Warehouse.
Through this agreement, the AAOE Data Warehouse now provides its users access to detailed Social Reputation Reports that include physician ratings, practice location ratings, local competitive rankings and benchmarking vs. national data.
"Partnering with the AAOE to bring our Practice Reputation Reporting tools into the Data Warehouse is an exciting opportunity," said Ty Allen, CEO of SocialClimb. "Orthopedic groups understand that 'Reputation Marketing' is an aspect of their practice they can no longer ignore. This integration gives each AAOE Data Warehouse participant access to their social media Reputation Report, and the local trends data and analysis they need."
SocialClimb provides two key services to the orthopedic community. Its Reputation Reporting service tracks more than 12,000 surgeons in more than 1,100 practices on Google, Facebook, Healthgrades, Vitals and many other platforms, and reports that data weekly. SocialClimb's Reputation Marketing service is used by more than 2,000 surgeons in the United States to proactively improve their reputations, dominate local search results and grow revenue. Its Reputation Marketing service is a proven system used by medical marketers in hundreds of markets to leverage their physician reputations and grow patient acquisition opportunities. The SocialClimb Reputation Marketing service is provided to Data Warehouse participants at significantly discounted pricing.
"The Reputation Reporting and Marketing services are key components every practice needs. As a marketer, you rarely find vendors or solutions that really deliver more than what they promise, but SocialClimb has done just that. With very little effort from our staff, they have truly helped us transform our social media reputation," said Blair Primus, CMO at OrthoCarolina.
"It is wonderful to have SocialClimb's Reputation Reporting service integrated into the AAOE Data Warehouse," said Vicki Sprague, Director of Data Solutions at the AAOE. "Using the tools and infrastructure of the Data Warehouse, AAOE members are able to collect and analyze their performance data, informing operational and clinical improvement. With the addition of free social reputation reports from SocialClimb, our Data Warehouse participants will be able to better understand how they are viewed on social media, how they benchmark locally and nationally, and what they can do to improve. Each of our 850-member practices could potentially benefit from this actionable data."