---
The Strategic Alliance of SocialClimb & Arbor Associates
In a world where patient feedback is not just essential but foundational to shaping healthcare experiences, understanding and leveraging CAHPS survey data is pivotal. We're thrilled to spotlight the latest press release highlighting the strategic partnership between SocialClimb and Arbor Associates. This collaboration is set to redefine how healthcare organizations interpret and utilize CAHPS, and other surveys, in their marketing initiatives.
The alliance between SocialClimb and Arbor Associates will not only streamline the process of capturing, submitting, and reporting on CAHPS surveys but also offer actionable insights. For the uninitiated, CAHPS surveys are more than mere feedback forms—they're powerful tools that, when effectively incorporated into marketing strategies, can bolster reputation, foster trust, and attract new patients. By providing a clearer understanding of patient sentiments, preferences, and pain points, these surveys become instrumental in crafting targeted, resonant marketing campaigns.
So, as you delve into the details of this partnership, envision a future where patient feedback doesn't just inform care but also drives impactful, patient-centric marketing narratives.
See the press release here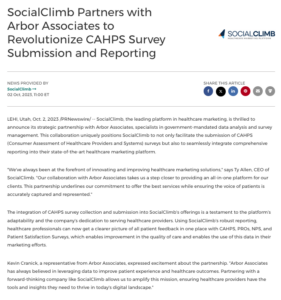 SocialClimb Partners with Arbor Associates to Revolutionize CAHPS Survey Submission and Reporting
[Lehi, UT 9/20/2023] — SocialClimb, the leading platform in healthcare marketing, is thrilled to announce its strategic partnership with Arbor Associates, specialists in government-mandated data analysis and survey management. This collaboration uniquely positions SocialClimb to not only facilitate the submission of CAHPS (Consumer Assessment of Healthcare Providers and Systems) surveys but also to seamlessly integrate comprehensive reporting into their state-of-the-art healthcare marketing platform.
"We've always been at the forefront of innovating and improving healthcare marketing solutions," says Ty Allen, CEO of SocialClimb. "Our collaboration with Arbor Associates takes us a step closer to providing an all-in-one platform for our clients. This partnership underlines our commitment to offer the best services while ensuring the voice of patients is accurately captured and represented."
The integration of CAHPS survey collection and submission into SocialClimb's offerings is a testament to the platform's adaptability and the company's dedication to serving healthcare providers. Using SocialClimb's robust reporting, healthcare professionals can now get a clearer picture of all patient feedback in one place with CAHPS, PROs, NPS, and Patient Satisfaction Surveys, which enables improvement in the quality of care and enables the use of this data in  their marketing efforts.
Kevin Cranick, a representative from Arbor Associates, expressed excitement about the partnership. "Arbor Associates has always believed in leveraging data to improve patient experience and healthcare outcomes. Partnering with a forward-thinking company like SocialClimb allows us to amplify this mission, ensuring healthcare providers have the tools and insights they need to thrive in today's digital landscape."
This partnership allows SocialClimb customers to enjoy simplified data integration solutions to their practice management systems as well as consistent and compliant data collection and submission per the CMS mandates. Taking on the burden for all types of patient feedback collection and reporting in a single platform frees up SocialClimb's healthcare customers to focus on providing the best care possible. 
For more information about the partnership or to learn how SocialClimb's integrated platform can help your healthcare organization, contact Jonathan Reese at [email protected].
About SocialClimb
SocialClimb is a transformative healthcare marketing platform, empowering providers to attract, convert, and retain patients in the digital age. By combining advanced marketing tools with data-driven insights, SocialClimb paves the way for healthcare providers to elevate their services and patient experience.
About Arbor Associates
Arbor Associates specializes in data collection, analysis, and survey management, providing comprehensive solutions to capture and interpret patient feedback. Their expertise and authorization to handle CAHPS surveys makes them an invaluable partner in the healthcare sector, ensuring patient voices are heard and acted upon.
Press Contact:
Jonathan Reese