In the past year, over 98% of consumers used online reviews to find information about a local business before visiting. At the same time, 71% of them relied on customer feedback as the first step in finding a new healthcare provider. Clearly, online reviews aren't just a fleeting trend but an important tool in the patient journey toward choosing a healthcare provider.
However, this tool comes with risks. While positive reviews help build your reputation and attract new patients, negative online reviews in healthcare, or no reviews at all, can cause serious damage to your practice. So, it's critical to encourage patients to leave you reviews, prevent negative reviews when possible, and have a strategy in place to address reviews as they roll in.
Effects of Negative Online Reviews in Healthcare
According to a 2022 statistic, 94% of customers have avoided a business after reading a bad review, this includes your patients too. Negative online reviews in healthcare significantly decrease patient confidence in your practice. A review claiming that a physician didn't listen to their patient or showed a lack of expertise can result in patients looking elsewhere for care. Because of this, it's important to take steps to maintain and improve your reputation by consistently providing excellent care and addressing any concerns that patients may have.
In reality, patients who have had a poor experience with a healthcare provider are more likely to leave negative feedback than those who have had a positive experience, and a single negative review holds more power than a handful of positive ones. In fact, one study found that it takes 40 positive reviews to make up for a single negative review.
But the implications of negative online reviews in healthcare don't end here — there are legal concerns too. The Health Information Portability Accountability Act (HIPAA) demands the protection of patient information. Any online content that hints at a violation of this act can damage your reputation and expose you to potential legal challenges. That's why it's crucial to handle all online feedback, whether positive or negative, with utmost care and ensure patient privacy is never at risk.
Master Your Responses to Negative Reviews
Navigating online feedback, especially in the sensitive area of healthcare, requires careful consideration, understanding, and swift action. Whether negative online reviews in healthcare are displayed for the world to see or shared privately, each one offers an opportunity to learn, grow, and improve your practice's reputation.
Publicly Posted Negative Reviews
Publicly posted negative online reviews need to be addressed publicly. Showing your responsiveness goes a long way for not only the frustrated patient but also for potential patients reading your reviews on Google, Facebook, Yelp, HealthGrades, etc.
While public acknowledgment is essential, shifting the conversation to a more private setting soon after is also important. It's crucial that you don't stray away from HIPAA regulations and keep the details of the appointment private while replying to negative feedback. So, instead of making a public discussion out of it, provide your contact details in your online response, signaling an open door to further private discussion. This remains true even if you intend to proactively contact the patient.
Once you've moved the conversation offline, take the time to understand the patient's concerns. Being heard can often transform a dissatisfied patient into a loyal advocate for your practice. Speed is crucial here — patients need to know they're being taken seriously.
Privately Posted Negative Reviews
Just as with public feedback, a swift response to private negative online reviews in healthcare can leave a lasting impression. If you reach out quickly, within minutes or hours of the review being posted, the patient is more likely to feel valued.
Minimize the Impact of Negative Online Reviews in Healthcare
To strengthen your practice's reputation, improve care quality, and build enduring relationships with your patients, you need to actively ask for and embrace feedback. At the same time, this is the best way to soften the impact of any negative online reviews in healthcare.
Encourage patients to share their experiences by sending them automated review requests within a day of their appointment. This proactive approach will reveal the true quality of your care. Don't leave your review sections to be dominated by a few angry patients—get the typically silent, but happy majority to leave their feedback.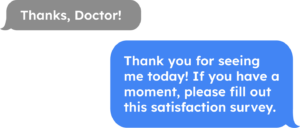 Also, implementing patient satisfaction surveys is another powerful way to understand patient concerns. Collecting this feedback offers a clear view of what you're doing right and what areas might need a bit more attention, ensuring your practice consistently delivers high-quality care.
Finally, negative online reviews in healthcare are damaging, but with the right healthcare marketing platform, you can prevent and drown out negative reviews. SocialClimb helps you monitor and respond to patient feedback, manage negative reviews and ratings, implement patient surveys, and encourage patient feedback. In turn, you can establish and maintain a positive online presence, leading to increased client trust, business growth, and success.
Even the best doctors can't escape negative online reviews, but our platform simplifies the service recovery process, ensuring you can respond, resolve, and refine your service. With SocialClimb, you're immediately notified of any negative feedback, allowing for swift action and service recovery. All your reviews, from multiple platforms, are consolidated into one accessible dashboard. This eliminates the hassle of jumping between sites and ensures you never miss a review. The platform also filters and highlights negative reviews, so you can address them promptly and effectively.
Beyond reputation management, SocialClimb provides you with a comprehensive range of features that help you measure and understand essential marketing metrics, so you can optimize your strategies for the best outcomes. You can also use data-driven insights to reach out to patients who represent higher revenue procedures and achieve a higher ROI on your advertising efforts. If you feel like a second opinion would be helpful as you figure out what to do next, click here, and we'll have on of our consultants reach out right away.