Artificial intelligence and machine learning for healthcare marketing revolutionize the way medical practices attract patients. Are you capitalizing on this new trend? 
AI and machine learning have made great strides in healthcare in recent years. Electronic health records change the game in information exchange and storage, but that's just the tip of the iceberg. Advanced analytics can sort through large amounts of information, increasing the accuracy and speed of both diagnoses and treatments. Machine learning identifies abnormalities such as cancerous tumors and heart disease. Robot-assisted surgeries anyone? The possibilities are endless. 
Cutting edge healthcare marketers also make use of machine learning and AI technology, leaving old strategies on the shelf to embrace methods they could never have conceived of 10 years ago. Machine learning for healthcare marketing opens new frontiers in healthcare digital marketing, increasing efficiency in attracting new patients and making it possible to measure the effectiveness of your marketing spend.
Our machine learning and AI technology will transform your plan to build your practice, but before we take a closer look at what we can accomplish with this new wave of technology, let's take a minute to talk about patient privacy. At SocialClimb, our platform integrates seamlessly with most patient management systems. Our engineering team has extensive experience in security and compliance, making sure our service is delivered securely and with HIPAA compliance fully guaranteed. We are regularly audited by third parties and frequently assessed by white hat security penetration tests. 
With that out of the way, we can dive into what our AI and machine learning can do for your medical practice. 
Patient Analytics
Our patient analytics feature uses the same big data hospital systems use in their marketing efforts. We have data sets on over 250 million people living in the U.S. across 200 data points. This ever-changing data pool feeds our predictive analytics and AI tools to identify potential patients at risk for specific medical conditions. 
The 230+ care models we've set up allow us to identify patients ideal for your specific needs. You may have a doctor at your practice who wants to specialize in shoulder replacement, spine surgery, foot and ankle, or joint pain, for example. Simply select that care model, and our patient analytics tool will identify your target patients, showing you hot spots of risk in your area by zip code. 
The screenshot shows color-coded zip code areas at high risk for joint pain in Las Vegas. The darker the red, the higher proportion of people in that area are at risk. The areas boxed in yellow/orange have been selected to create the Geo Target. People living in these zip code areas will see Dr. Hanson's joint pain ads when they search for care. 
Diving deeper
Our Patient Analytics tools don't only deal with health risk. Let's get real for a minute. You get a higher reimbursement from some private insurance than from others. You also have to factor in Medicare payments and individuals with no insurance. Your return for the same procedure can vary wildly. When identifying your ideal patients, it's important to find those that are the best fit for your practice as a benefit both for you and them. 
The type of procedure you want to bring in, paired with the type of coverage that's best for your practice, will give you a patient ideal for your needs. Our predictive analytics can sort that out for you. 
Read more about our Patient Analytics feature. 
Looking to the future
If I were to consult my crystal ball—if I actually had one—I'd say we're just cracking the door on where we can go with predictive analytics and machine learning for healthcare marketing. The technology is in place to start layering in more information regarding consumer behaviors on an individual level. Greater patient-level insight allows you to fine-tune precisely who you want to target and what type of marketing they respond best to. 
It's exciting to see the continual growth in this area. The question is, are you poised to use machine learning to your advantage when it comes to big data and healthcare marketing? 
Boost Ads
Boost Ads are targeted ads designed to give your patient acquisition a needed boost.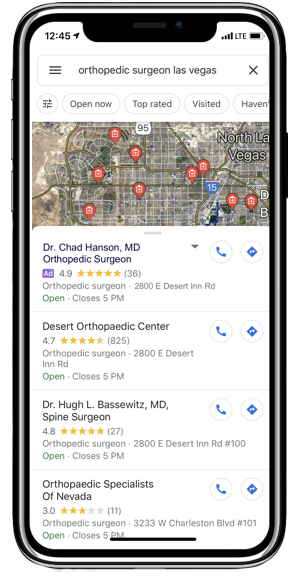 It may be helpful here to step back and talk about how medical consumers find a doctor these days. Medical consumers turn increasingly to online search to find care. They read reviews to crowdsource their information and find the best doctor for their situation. 
According to Software Advice, 90% of patients use online reviews to evaluate physicians when they are searching for a new doctor. In addition, 71% use online reviews as their first step in finding a doctor. With yesterday's supercomputers in the palm of their hands, medical consumers have grown accustomed to having the world at their fingertips, and they search for what they need accordingly. 
This is where Boost Ads come in. These targeted ads are the next step after you've identified your ideal patients with our Patient Analytics. They show up at the top of search results, using predictive analytics and machine learning to target the patients you want. They leverage your good reputation to be seen by patients searching for care right at their decision making moments. 
You can get started with your ads by selecting the proper "Playbook" for your situation. Our playbooks will set up your ads with the right keywords, negative keywords, copy, and structure to show up for your ideal patients.  
Read more about our Boost Ads. 
Diving deeper
Before Boost Ads will work for your medical practice, you need to make sure your reputation is solidly in place. Done right, your well-optimized GMB listing will begin to show up in Google's Local 3-Pack. At that point, initiating Boost Ads, where you target the patients that fit well with your practice, puts you in an ideal situation. These targeted ads will bring in patients in addition to those you're already bringing in and allow you to fill your schedule with patients you need to grow your practice. 
Looking to the future
As predictive analytics and AI become more sophisticated, allowing us to get to know consumers on a deeper level, healthcare marketers will be able to provide a more personalized experience. As we track how consumers respond to marketing channels, we will be able to tailor their ad experience to meet their individual needs. And that means building trust and responding to their needs with pinpoint accuracy. 
Marketing Metrics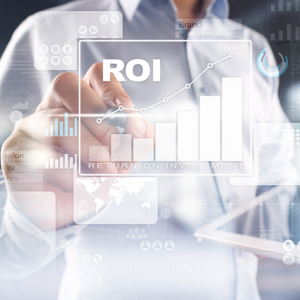 AI and machine learning for healthcare marketing have upped the game in measurement. We can track your individual patients as they call in to schedule appointments, and the implications are remarkable. Our marketing report shows individual patients and whether they have called in from your GMB listing (Reputation) or your Boost Ad. 
With that information, we can easily calculate your patient acquisition cost (PAC). The metrics are in place for you to calculate your return on investment (ROI) as well. Our HIPAA-compliant technology can track the patient journey from start to finish and give you an accurate picture of what works to bring in those patients you need. And with that information in hand, you'll be able to modify your marketing spend and be more efficient in your efforts. 
Read more about measuring your ROI and PAC.
Diving deeper
With healthcare marketing, one of the most elusive aspects has been the ability to track which efforts bring in patients. If you put out a print ad, you only know if a patient came in from that ad if they tell you. And THEY may not even know the influence it had. But with digital marketing, patients will often click directly into the ad they are looking at to schedule an appointment. That makes it easy for our analytics to track where they're coming from. 
And once they're in your system, they are tagged with a unique identifier so you can track them all the way through the process. 
Looking to the future
As AI and machine learning for healthcare marketing become more widely adopted, accurate measurement will become an expectation rather than an unexpected bonus. And that's a good thing. Medical consumer expectations in advertising are maturing right along with technical innovation, and our need to market with individual patient-level data insight will only increase. 
Accurate measurement of ROI and PAC makes that possible. 
Welcome to the Future of Healthcare Marketing
I keep hearing that song in my head from Aladdin where Genie sings, "Can your friends do this? Can your friends do that? Can your friends pull this out their little hat?" 
I would love to be able to point to another company that is jumping into the future with machine learning for healthcare marketing, but I can't. I can find other reputation management companies, but they all stop there, with reputation. And admittedly, reputation management is crucial for all of this to work. It lays the groundwork so that we can use all this fancy schmancy tech stuff. But if you want to see healthcare marketing work the way it should, you need to be accessing all the AI and predictive analytics available to you. It simply works better. 
SocialClimb is where machine learning meets patient acquisition. My friends, we are just scratching the surface. Welcome to the future of healthcare marketing.