If you aren't paying attention to your online reputation, you may be making these reputation management mistakes commonly made by doctors. 
I have an excellent doctor. Since I work for a company that wants to help doctors NOT make reputation management mistakes, I decided to go take a peek at Dr. J's online reputation. I was shocked to see that she had a string of negative reviews. I read through them—there were only 17 total reviews—and could see that the majority of negative reviews were left by unreasonable people. 
You know the type. One patient had been happily going to see Dr. J for years, but this one time they had to wait a really long time in the waiting room. No excuse was good enough (tough crowd). They left a scathing, one-star review. Another was upset that Dr. J was not an expert on her daughter's obscure condition. (That's what specialists are for, right?)
It's really too bad. I know she's a fantastic doctor, but I also know that unhappy people are much more likely to feel the need to leave a review than happy people. My doctor is making some pretty common reputation management mistakes. Happily, these mistakes are easy to fix. 
Here's a list of the top 10 reputation management mistakes you may be making and how to go about remedying the situation: 
1. Doctors don't think online reviews make an impact. 
We know you're great. You know you're great. Your patients know you're great—right? It's tempting to believe that your online presence isn't important, but it is. A recent study from Software Advice found that 71% of patients check out a doctor's reviews as a first step in finding care.
It's a digital age, and we all hold more information in the palm of our hand than could fit in most libraries. We've grown used to finding (and trusting) information online. It's no wonder that medical consumers search for care online. And when patients want to find a doctor they can trust, they read through reviews to get objective opinions. 
The problem is, if you don't have enough reviews, and if your Google My Business page isn't optimized properly, you won't even show up when patients search for care. When Google's bots search for and reveal search results, a good number of current reviews plays a role. You need to be getting reviews to show Google you're relevant and worthy to show up in their search results. 
If you haven't paid much attention to your online presence, go out and search your name. Look through the reviews you're getting on Google, Facebook, Healthgrades and other review sites. See if you're comfortable with what your patients are saying about you. It may be very eye opening. 
Read more about the importance of online reviews for doctors. 
2. They don't claim their listing.
Your Google My Business (GBP) listing is one of your best marketing tools out there, and it's free. 
When you search for a business near you, whether it's a restaurant, lawn care, or a healthcare provider, your search results will likely pop up as a Google local 3-pack of GBP listings. Many consumers don't even realize that the page they're looking at isn't the company's website. 
Patients trust the information they find on your GBP listing, so it's in your best interest to manage the information. Unless you have claimed the listing, you don't have the power to control the information searchers see. You're at the mercy of Google's bots and helpful people (and on occasion not-so-helpful people) who try to make sure it's all in order. 
Claiming your GBP listing allows you to update your information, include relevant pictures, and keep someone else from spreading false information on your listing. It's also a great way to keep your patients informed and attract new patients. 
A well optimized GBP listing with a good rating and current reviews will show up at the top of Google search results, allowing potential patients to find you when they search for care. 
Learn how to claim your GBP listing in 5 simple steps. 
3. They don't keep their information updated.
This one's kind of a no brainer, but once you've claimed your GBP listing, you need to keep your information updated. Make sure your name, address, and phone number (NAP) are correct, and then make sure you keep your hours updated. 
You'd think this one doesn't even need a mention, but you may be surprised by how many doctors have a bad address or incorrect hours on their GBP listing. It's also a great place to let patients know the safety measures you have in place when they come in for an appointment. 
4. They don't ask for reviews.
Patients who leave reviews without being asked are a bit of a wild card. If you do nothing, only those patients who feel strongly will leave a review, making your online reputation vulnerable to those few angry patients all doctors deal with. 
Asking for reviews gives voice to your silent majority of happy patients and leaves you with a more accurate snapshot of patient experience. We've found that about 10% of patients are happy to leave reviews when asked. And as an added bonus, you can give those angry patients an option to give you a private review rather than public. 
When our customers begin asking for reviews, their online star rating goes up by about 1.3 stars on average and they experience a dramatic increase in their number of reviews. Asking for reviews is a valuable strategy to improve your online visibility and begin attracting new patients. 
5. They don't monitor review sites.
Monitoring review sites allows you to use patient feedback to improve your medical practice. Reviews often contain information patients would never feel comfortable saying to a doctor's face and can give you an accurate and objective picture of how your practice is being run from the outside.  
Checking in regularly with the major review sites (Google, Facebook, Healthgrades, Vitals, and RateMDs) allows you to stay on top of any issues that come up and handle them quickly. With our platform, you can even set up notification to let you know immediately if any negative reviews come up. If you address concerns quickly and to your patient's satisfaction, you may be able to keep a bad situation from escalating. 
6. They don't respond to negative reviews.
It can be daunting responding to negative reviews—especially reviews left by angry patients. Because of HIPAA laws, you can't bring up or even respond to specifics of care. But you can respond. And you should. Because other potential patients are reading through your reviews, and they want to see your responses. 
According to a BrightLocal survey in 2019, 97% of customers who look at reviews also look at review responses. Customers want to see that you're listening to them and responding to their concerns. They need to see that you're empathetic and that you treat your patients with compassion. Even if the complaints in the review are unfounded or due to miscommunication, use your response as an opportunity to show your compassion, to educate the public, and to repair damage done. 
Read more about how to respond to upset customers. 
7. They don't respond to reviews at all. 
Patients check online reviews to get a taste of the experience they will have with a specific doctor. Seeing that the doctor (or their staff) listens to and responds to patient concerns goes a long way toward building trust. 
Responding to reviews shows that you value your patients and that you're listening to their feedback. Patients who read reviews are taking a step to get a feel for how their medical experience will be with you as their doctor. It's a good idea to do all you can to make that initial connection positive. 
8. They gate their reviews.
Gating or "cherry-picking" reviews means only asking happy patients to leave a review. Doctors who gate their reviews first ask their patients if they had a good experience and then ask them to leave a review. 
Google and other review sites prohibit review gating. Google's policy states, "Don't discourage or prohibit negative reviews or selectively solicit positive reviews from customers." If you do choose to gate your reviews, you run the risk of Google taking action against you.  
Most practices that filter their reviews are afraid of negative reviews. However, if you are actively asking for reviews, we have found that your reviews will show your practice in a good light. Most practices that work with SocialClimb to manage their reputation improve their star rating. And when the occasional negative review comes through, how you respond will go a long way toward reassuring your patients. 
9. They have friends and family post fake reviews.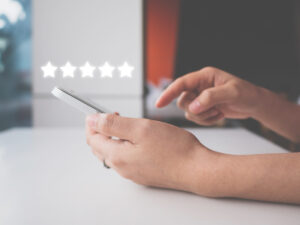 Asking friends and family to leave you a review moves beyond the fearful gating of reviews into the murky waters of directly misleading your patients. Savvy medical consumers don't want to see your family members gush about what a great guy you are, they're looking for objective reviews. 
Asking your loved ones to boost your rating with positive reviews just makes you look bad.
Please don't fall into this trap. 
10. They don't use a reputation management platform to manage everything in a single location.
It can be overwhelming to think of all you should be doing to manage your reputation that you're not. It doesn't have to be. 
You need a platform where you can manage everything in a single location. We integrate seamlessly with most practice management systems, eliminating the busywork and giving you more time instead of less. Here's a short list of what you can do with our dashboard: 
Monitor your reviews and star rating and watch your numbers rise. 
Automatically send review and survey requests to your patients within 24 hours of care. 
Set up notifications so you'll know immediately when you receive a negative review. 
Respond to reviews across social platforms. 
Claim and optimize your GBP listings. (We'll even do it for you.)
Manage and update all your GBP listings from a single location. 
Receive reports on every doctor and every practice location. 
Identify and target your ideal patients. 
Track your marketing spend to see your patient acquisition cost. 
And more. 
If you'd like to see how we can help you manage your reputation and go beyond to attract your ideal patients, set up a demo today.