SocialClimb's healthcare marketing solution will transform your patient acquisition and help your practice grow. 
Imagine for a moment what your life would look like if you could remove just one thing from your plate. And then remove a couple more. Our turnkey marketing solution will do just that. We work with thousands of doctors throughout the U.S. to help them improve their reputation and leverage it to automatically achieve patient acquisition and retention. When it comes to patient marketing and patient acquisition, your marketing efforts to convince the patient to choose to be seen at your practice is the end goal. 
Our all-in-one marketing solution will get your practice and physicians noticed by today's computer-savvy medical consumers who search online for care and want a doctor they can trust. We'll improve your online visibility and help you identify and target the patients you want with your marketing efforts so you'll have one less thing to worry about. 
Learn more about why HIPAA-Compliant Integration Is Key to Automating Your Patient Acquisition. 
Integration with your patient management system
Our platform integrates with most patient management systems. That means we can easily automate your patient acquisition and still be fully HIPAA compliant. Our API access lets you report raw data, makes it easy to publish ratings and reviews on marketing websites, and allows permitted access to all data for internal reporting and system integration. 
You can grant role-based access and configure the dashboard appropriately for team members throughout the practice and at various locations. We also support Single Sign-On (SSO) integrations for those practices that use it. Our integration capabilities lay the groundwork for taking all the busywork out of your hands and simplifying your life. 
Learn more about how SocialClimb's proven solution will help you keep your schedule full even in difficult times. 
Automated review and survey invitations
One of the best ways to improve your practice reputation and the reputations' of your physicians is to send out review requests. Our data shows that about 10% of patients who receive a review request will leave a review. Because of the integration mentioned above, we can fully automate that process for you. 
When our customers begin sending out automated review requests, they see a 1.3 star increase in their online rating on average. They also experience an increase in the number of reviews they receive, as you can imagine. 
Here's how it works. A patient comes in for an appointment, and within 24 hours of being seen, they receive a personalized text message asking them for a review. Your team doesn't do a thing; the text (or email if you prefer) is auto-generated and triggered by the patient's visit. 
You can send out surveys the same way. Our tools make it easy to customize and deliver surveys to your patients and receive reports back on how they responded. 
Single-location access to manage your listings and reviews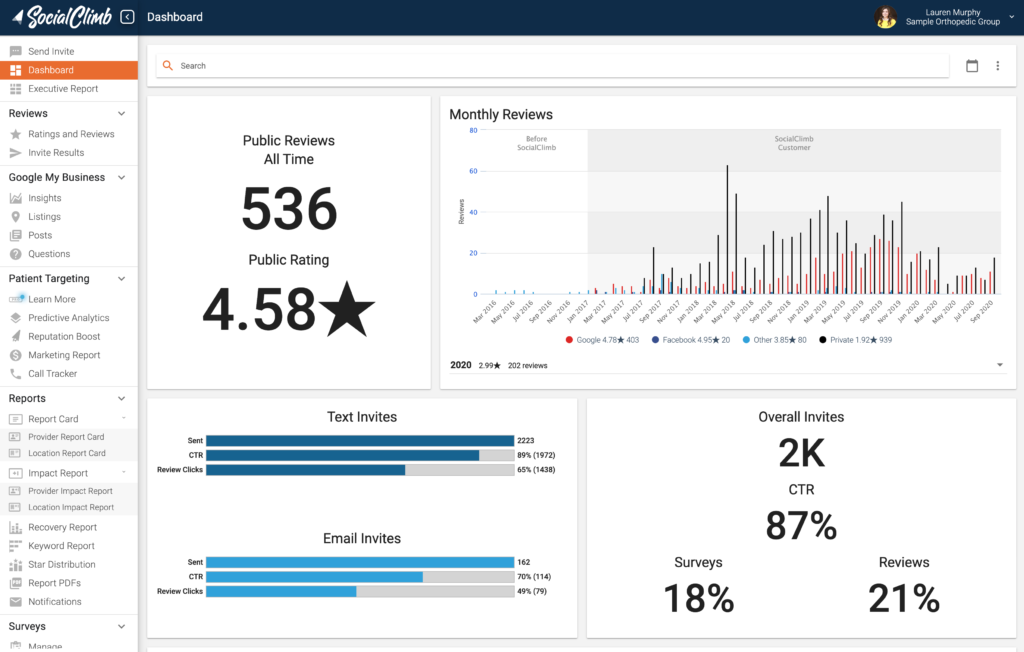 Once those reviews start coming in—and they will come in—you'll need to monitor the reviews so you can respond. It's especially important to respond quickly to any negative reviews you may receive. Our platform makes it easy to log in once and access your reviews across all social media platforms from a single location. No need to log in to Facebook, Google, or other review sites. 
You can also manage the Google My Business (GMB) listings for all of your practices and providers from our one-stop dashboard, including updating information, adding posts and services, tracking, and viewing the listings. From the dashboard you can view your reports, set up your targeted ads, and keep track of your growing reputation. 
Boost Ads powered by predictive analytics
As a turnkey marketing solution, our platform moves beyond how you manage your account to being proactive in leveraging your reputation to attract the patients you want. We provide access to data on over 250 million people in the U.S. across 200 data points that our AI tools use to predict risk for specific health conditions. You can choose the patients you want to attract, and our tools will find them for you. 
Read more about our patient analytics feature: Patient Analytics: Turning Data Into Actionable Insight. 
Once we've identified the patients you want based on their health concerns, the type of insurance they carry, and other factors, we'll use that information to create Boost Ads targeted directly to those specific patients. Those ads, which can go out through Google, Facebook, and Instagram, will be seen by patients at risk for specific medical concerns in the zip code areas you've selected to send ads to. 
Read more about our Boost Ads feature: Start Up Your Boost Ads
The reputation management portion of our healthcare marketing strategy will drive your automated patient acquisition, and our predictive analytics and Boost Ads improve your patient mix with the patients you want. 
A full suite of reports to track your metrics
When implementing your healthcare marketing strategy, it is critical to measure results. Our reports will show you the state of your reputation and the impact of your efforts. 
One of the most important metrics to track is your patient acquisition cost. The patient acquisition cost is the total marketing spend needed to attract each patient. Our Marketing Report Card shows the patient acquisition cost for your listing, your Boost Ads, and your combined efforts. From the same report, you'll also see how many calls and clicks you receive as well as the names of individual patients who were attracted by your efforts. 
Many of our customers have chosen to work with us because of the reports we provide to show them actual measurable results from their marketing spend. You can configure the reports to show the specific data you want, so you don't need to spend time aggregating, interpreting, and summarizing the information on your own. 
Browse through our reports: Marketing Metrics for Medical Practices
Our marketing solution is an all-in-one software package that gives you the power to attract the patients you want with little effort on your part. We provide the least expensive, most effective healthcare marketing solution you can find. 
Let us help you take something off your plate. Set up your demo today so you can see the SocialClimb difference for yourself.