Healthcare providers who take steps to improve their online visibility will get seen by medical consumers looking for care.
My husband found an upright exercise bike at a big warehouse store shortly before Christmas. He wanted to switch out the reclining bike he'd gotten from a friend for one that would give him a better workout. The price was good, but he needed to think about it. 
When he went back a few weeks later, the bike was still on sale, so he decided to make the purchase. He didn't have the right transportation at the time, so he and I went back to get it a few hours later. Unfortunately, the bikes were gone. 
A store employee happily told us that after weeks of languishing at the back of the store and receiving very little interest, the bikes had been moved that morning to a prime spot. The price had not changed, but the change in location did the trick. The bikes sold out very quickly—before we made it back to pick one up. 
What made the difference? Visibility. 
Retailers go to great lengths to determine the location of premium shelf space because they know that consumers have to see a product in order to buy it. And those products relegated to the bottom of the shelf—or hidden away at the back of the store—remain on the shelves much longer. After all, eye-level is buy-level. 
A similar issue exists in healthcare. When medical consumers go online to find a new healthcare provider, they choose from among those they see. If you do not show up in an online search—if you don't have premium shelf space so to speak—you won't be seen by patients who need the care you provide. 
This article breaks down three ways you can improve your online visibility as a healthcare professional: show up in Google's Local 3-Packs, send ads targeted to at-risk patients, and make sure you're hitting the right platforms. 
1. Hit the 3-Packs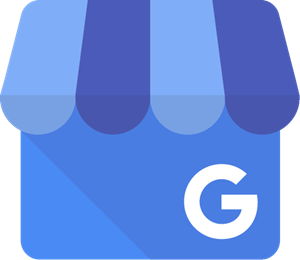 As a medical professional you should have a Google-created Google My Business (GMB) listing. Or more than one. It's appropriate for a doctor to have a separate GMB listing for each of their practice locations. Medical practices should also have a GMB listing. For more on this read Should Doctors Create a Unique Google My Business Listing for Each Practice Location?
When consumers use Google Search, results often pull up GMB listings in response to their query. When someone types in, "orthopedic surgeon near me" for example, a Google Local Search 3-Pack will come up at the top of search results. Google puts three GMB listings in the 3-pack that best fit the query—according to Google. 
You need to be showing up in that 3-pack when healthcare consumers search for care online. Doing so will improve your online visibility, which translates to more calls and clicks on your GMB listing and more patients filling your schedule. 
So how do you show up in the 3-pack? 
Optimize your GMB listings. That means updating your information, selecting the right category, and including some good images on the listing. An accurate NAP (name, address, and phone number) and up-to-date hours are essential. 
Get your reviews in shape. Google looks at your number of reviews and your star rating in determining whether you deserve to be in their 3-pack. You can take care of both by asking your patients to leave you a review. We've found that when patients receive an automated, personalized text asking for a review within 24 hours of care, around 10% will leave one. Our clients who send out automated review requests experience a 1.2 star increase in their rating on average as well as a huge increase in their number of reviews. Asking for a review with a link gives your silent majority of happy patients an easy way to let others know about the excellent care they received. It also provides a more accurate picture of the care you provide. 
Stay relevant. Make sure you continue to pull in reviews so they are current—no one cares about two-year-old reviews. And make sure you update your services and use Google posts to keep your patients informed. 
Showing up in organic search results is a great first step in improving your online visibility. It's a good idea to take advantage of this advertising opportunity Google offers for free. Yes, they do it for their own purposes, but it's a win-win if you play the game by their rules. It also sets the stage for improving your online visibility in other ways, like targeted ads. 
2. Use Targeted Advertising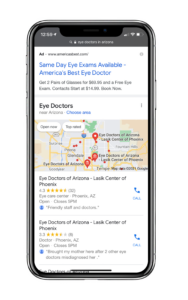 You can set up a reputation ad and send it to people at high risk for specific medical conditions using predictive analytics and big data. And it's easier than you think. 
You know your information is collected every time you use the internet, right? It's collected to improve your experience. It's also collected to boost marketing efficiency. Tapping into that data allows you to identify people at high risk for the conditions you want to treat. Then you can set up your ad and make sure it gets seen by those individuals, which improves your online visibility directly to those who need your services. 
You can send these targeted ads through Google, Facebook, and Instagram. With Google, a targeted ad shows up in search results at the top of the 3-pack when someone searches for medical care near them. You will be seen by the right person at the right moment. 
Related articles:
Our AI Technology Will Identify and Attract Your Best Patients
Attract High-Value Patients with Predictive Analytics
3. Appear on Multiple Review Platforms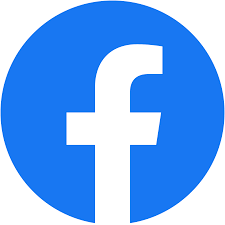 People looking for a new doctor use reviews as a first step in the process 71% of the time. And 90% of patients use reviews to evaluate doctors they've seen. Doctor reviews are an important part of your online presence that should not be neglected. 
People come across reviews on your GMB listing as they search on Google, but many turn to other doctor review platforms as well. So as important as Google is, you do need to make sure you show up in all the places patients are looking at reviews. Make sure you have some reviews on Healthgrades, Facebook, Vitals, RateMDs, and even Yext.
Make it a Priority to Improve Your Online Visibility
Take these three simple steps to improve your online visibility and help you get seen by patients. You can make these changes on your own, or you can let our team help, but don't hide away in the back of the store where you'll get overlooked. Make it a priority to put yourself in a prime online location. 
Set up a demo today to see how our platform will improve your visibility and automate your patient acquisition process.