SocialClimb has changed the game in targeted patient acquisition. We are the only company using predictive analytics, artificial intelligence, and big data to help medical practices precisely identify and attract high-value patients and track ROI to the individual patient level. 
What do predictive analytics and artificial intelligence (AI) have to do with your medical practice? A lot, if you partner with SocialClimb. 
When you use SocialClimb to build your reputation and automate your patient acquisition, you'll also have access to predictive analytics that will identify high-value patients. With those ideal patients in sight, we will send targeted reputation ads to get your highly rated physicians and practice locations on their screens and in front of their eyes at their crucial decision-making moments. It doesn't get any better than that . . . or does it?
The big data we use to predict where to find your ideal patients has historically been cost prohibitive for independent practices and so was typically only available to large hospital systems. However, at SocialClimb you'll have the benefit of that data at no additional charge. Adding this layer of AI-driven data to your growth initiative gives you the power to increase your profit margins without cutting costs. In addition, you'll be able to calculate your ROI and prove the value of your marketing spend.
Our integrated approach incorporates reputation management, predictive analytics, targeted ads, and incredible metrics that let you calculate your ROI down to the individual Patient Acquisition Cost (PAC). And you can manage it all from a single location with our dashboard. 
That's the big picture, but let's dig into the weeds a bit. (Or skip the explanation and ask for a demo.)
Step 1: Build Your Reputation 
A good reputation management company will help you build and capitalize on your reputation. This is an essential first step to using digital marketing to automate your patient acquisition. With SocialClimb, that part of the process looks like this: 
We help you verify and optimize your GMB listings. If you have not done so already, your GMB listings need to be verified and optimized. All of them. No worries, we can help with this critical step. When a medical consumer searches on Google for medical care near them, they are presented with the top three options that best fit their search. Let me clarify. They are presented with the top three options Google has determined best fit their search criteria. In order for Google to choose to list your practice or physician, your Google My Business (GMB) listing must be well optimized and have a good rating.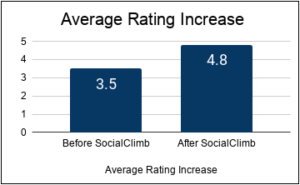 Our platform sends out review and/or survey requests via text or email to your patients automatically. When your happy but silent majority of patients receive a request to leave a review, we have found that approximately 10% will respond, and the results are game changing! But if you leave it up to their whim, and don't ask, you're more likely to get a higher percentage of emotionally driven poor reviews. By simply asking for reviews, our customers experience a 1.3 star increase in their rating on average. They also increase their number of reviews, another stat that has weight with Google.
You will begin to dominate Google's Local Search results. Simply optimizing your GMB listings and improving your star rating will be enough to drive you to the top of Local Search. The result? Phone calls and website clicks from those who see your GMB listings will rise, following a similar growth curve as the increase in reviews. Being seen by potential patients will help you fill your schedule. And since the whole process is automated, your staff won't be doing all the heavy lifting. We will.
This is where most reputation management companies stop. They help you gather reviews and (sometimes) suggest that you claim and optimize your GMB listings. We take it a step further and will optimize your GMB listings for you as part of our service—and if you have a lot of GMB listings, our help will save you quite a bit of time and money. We like to see our customers succeed, and our white-glove service ensures that you will gain the maximum benefit. 
Managing your reputation is a critical first step and foundational prerequisite to enable and enhance the next steps of our integrated model. With an excellent reputation and optimized GMB listing in hand, you'll be well positioned to dominate Local Search and fill your schedules with profitable patients. 
Step 2: Identify High-Value Patients 
Our system uses the same big data hospitals use and includes information on over 250 million people in the United States across 200 data points. These data sets allow our AI tools to analyze and predict where your high-value patients live based on an aggregate of health-related variables such as the following: 
Age
Gender
Ability to pay (financial information)
Occupation 
Patient type
Top risk factors
Social IQ
CPT and ICD-10 codes
Top 10 MS-DRGs 
Self-reported health concerns
Sports participation
OTC drug use
Web search on health-related purchases
Prescription medication use
This robust consumer database provides a 360-degree view of medical consumers, giving our AI tools the information needed to predict individuals at risk for specific medical conditions. The bottom line is, we can show you areas with a high concentration of people who are currently at extreme, high, or elevated risk for procedures your doctors want to fill their schedules with. Those metrics are layered with information that identifies patients who will give you the best profit margin. 
Our predictive analytics provide actionable data insights that will drive strategic growth for your practice. With this data you can increase the revenue, profit margins, and overall profitability of your doctors and your medical practice. 
Step 3: Attract Your Ideal Patients 
When our system's predictive analytics find a growth opportunity for your practice or one of your doctors, a message will pop up on your integrated dashboard. Clicking the message will turn on our Boost feature to send targeted reputation ads designed to attract the best patients for your practice. 
Our system sends these low-cost, highly effective ads to the zip codes identified by our predictive analytics to have a high concentration of your ideal patients. 
We also have an "Ads Playbooks" feature that delivers the best ads results per speciality via keywords, negative keywords, ad copy, and ad structure. With Playbooks you can fine-tune your target audience as needed using keyword marketing. Our Boost interface allows you to easily confirm all your GO decisions including daily budget (we recommend the budget), target area, and playbook choices. It's all very easy, and our team has the expertise and time to walk you through it.
Those of our customers who have implemented this Boost feature have achieved an improved patient mix with a greater number of high-value patients at a reasonable Patient Acquisition Cost. 
Step 4: Measure Your ROI 
If you can't accurately measure the return on your marketing spend, you're not making an investment, you're taking a gamble with your hard-earned money. Optimizing your marketing spend by executing targeted reputation ads will give you measurable results and a substantiated ROI. 
Our call tracker will identify new calls that come in from your Google Ads and track those patients to show the projected revenue they will bring in. Our Marketing Report brings all that data together so you can see the numbers, including the estimated revenue from your reputation and your ads, how much you've spent on your marketing efforts, and your Patient Acquisition Cost (PAC).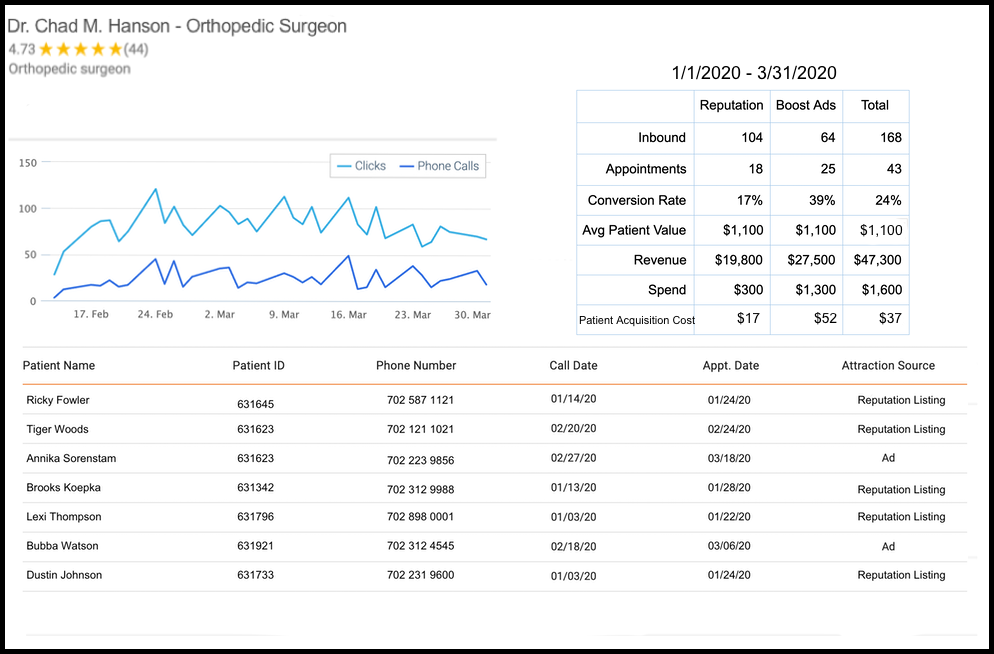 When your results are backed with hard data, you'll be able to prove the value of every marketing dollar you spend and show stakeholders that your efforts are having a direct positive impact on the bottom line. 
Predictive Analytics at Work
How would it look to put predictive analytics to work for your practice? These three examples highlight some typical use cases. 
Example 1: A doctor wants a better patient mix and a higher profit margin.
Dr. Hansen, an orthopedic surgeon, has a full schedule, but he has too many patients that don't improve his profit margin. In addition, he would like to spend more time performing outpatient knee surgeries, but instead, because he is so skilled, he keeps getting called on to fix mistakes made by other doctors. His practice manager notices a GO opportunity pop up on Dr. Hansen's dashboard, and she decides to turn it on. She sets the budget at $22 a day, confirms a target area with a high concentration of people currently at high risk for knee surgeries, and chooses a playbook that will target that demographic. 
Within a month, Dr. Hansen's schedule looks different. He's seeing more patients in need of knee surgeries. Within two months, the data begins to come in, and his profit margin starts to rise. 
Example 2: A doctor new to the practice needs to fill his schedule. 
Dr. Smith, an ophthalmologist, was just brought into an existing practice, and he frequently has holes in his schedule. His practice manager wants to fill it up with the best patient mix from the start. She turns on SocialClimb's Boost Ad feature to target patients with macular degeneration for appointments with Dr. Smith. His schedule quickly fills up with the type of patients he prefers to see. 
Example 3: You want to expand your practice. 
Your medical group plans to expand to another location. The board decides to use the predictive analytics tool to see where the highest concentration of at-risk patients are living. They find two great locations and select one of them. The new practice gets the new location to budget neutral in half the time required on their last expansion as they use reputation building and Boost Ads from SocialClimb to attract patients.
Take a Closer Look
Our predictive models will allow your medical practice to achieve strategic growth with verifiable ROI. At SocialClimb, we are unique in our ability to offer each of these best-in-class capabilities in a seamless and integrated solution. Putting them all together into a single platform that allows you to coordinate and harmonize these efforts yields much better results and does so at a lower price than piecing together a fragmented offering from other vendors. 
We would love to give you a demo so you can see how our platform will help your doctors and your practice use predictive analytics to attract profitable patients and achieve substantiated growth.