Do you have any idea how many of your patients have missed their annual exams this year and have expiring benefits? What about the ones who needed follow-up care, but never actually scheduled the appointments? Or the ones who put off non urgent care because their doctors didn't engage patients? How about the no-shows? 
While 2020 was an anomaly, thanks to a worldwide pandemic that had everyone skipping annual exams, checkups, and nonemergency treatments, recent studies indicate that the average no-show rate is still something every practice should be concerned about. Depending on the type of healthcare setting, patient no-show rates range from 12% to 80%. As an orthopedics, vision, dental, or other wellness provider, those stats should disturb you, especially as the end of the year rapidly approaches. 
In an effort to help you and your patients finish the year strong, both physically and financially, we put together some tips for getting patients to use their end-of-year benefits and get back into the office for missed healthcare appointments. Not only will finishing the year strong help your practice this year, it will also set you up for success in 2022.
Educate patients about their health benefits.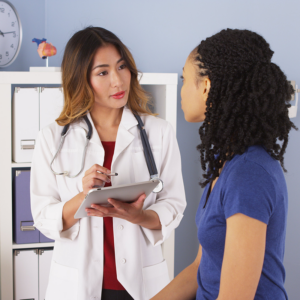 It's probably not that surprising to learn that many patients are unaware of their benefits and what they should use before the year ends. As a healthcare practice who cares and connects with your patients on a regular basis, you may be in a good position to alert those who have expiring benefits. 
Your office team can start this today by alerting every patient on the schedule about benefits that may be expiring. As patients check in, your staff can say something like, "Hi Mr. Smith, I see that you have six more physical therapy sessions covered by insurance before the end of the year. Let's get those scheduled so you don't lose your benefits."
Not only will you be helping patients make the most of their insurance before it resets for the upcoming year, but most importantly, you'll be helping them achieve their best health. As an added bonus, you'll be generating more revenue for your practice by keeping the schedule full with follow-up care.
Connect with missing patients.
You know the ones—they were no-shows and they just kind of fell off the radar. Whether it was six months ago or six days ago, give those patients a call, or send a text reminder letting them know that you have openings on the schedule so they can come in and get seen. 
Connecting with missing patients is just good practice, anyway, especially when you are trying to grow your healthcare business, improve your reputation, and provide an exceptional patient experience. 
Send a patient-appreciation, end-of-year benefit letter or email.
It should be part of your patient satisfaction protocol to thank patients for choosing your practice. Sending a patient-appreciation, end-of-year benefit letter—either in the mail or through an email newsletter—can help your practice twofold. 
First, patient appreciation lets people know they are a valued part of your orthopedics, optometry, or dental practice, which helps boost patient referrals and potentially gets you more five-star reviews. 
Second, sending an email or newsletter alerting patients to their end-of-year medical benefits is another nice gesture that lets people know you care. It's also a great opportunity for mentioning unused Health Savings Accounts (HSAs) and Flex Spending Accounts (FSAs). 
Personalize the sentiment with a follow-up call or email to each patient saying, "Hi Mrs. Jones, our records indicate that you discussed scheduling Treatment X that could greatly benefit your health. Now is a great time to get that taken care of, especially if you still have unused funds in your FSA."
Emphasize the fact that you want to help each patient maximize the financial and insurance resources available to them, some of which they may not even be aware of. 
Send an end-of-year survey.
Like an end-of-year letter, a survey requesting feedback on how your practice did this year is a great way to gain valuable insight into the patient experience. Automated surveys sent to patients via text or email can give you instant feedback about how your patients feel and what they are saying to others about the level of care they've received from your providers. 
Data from surveys is something you can use as a guideline in the coming year, as well, focusing on areas that need improvement and continuing to do more of what your team is getting right.
Need some help getting started? You've still got time. Give us a call or click "Schedule a Demo" to learn how to improve your reputation and attract more high-value patients with SocialClimb.