According to Alfred Hitchcock, one of the world's greatest filmmakers and Master of Suspense, you should "always make the audience suffer as much as possible."
While that clearly served Sir Hitchcock well in his six-decade career creating some of the most spine-tingling thrillers, it's not the best approach for an orthopedics practice, a dental office, or any other healthcare facility when it comes to connecting with your audience. In fact, from a marketing perspective, you don't want your audience to suffer at all. You want to make it easy for them to understand your message.
So, how do you do that in today's digital landscape? One way is to connect with your audience in ways that best align with their particular demographic through social media marketing. In other words, what you say, how you say it, and where you say it should apply to the age group of your ideal target audience. 
Who is your target audience?
First, before you can effectively market to your audience, you must define who it is you'd like to reach. In the healthcare field—or any field for that matter—a one-size-fits-all target audience does not exist. The high-value patients your practice wants to reach are people unique to the services and care you provide. 
For example, if you are an orthopedic surgeon specializing in sports medicine for high school athletes, your target audience is boys and girls ages 13–18. But your target audience is also the parents of these kids. Parents are the ones who have the insurance, make the appointments, and provide the rides to your office, among other important aspects of their children's care. 
Or maybe you are a dental practice specializing in same-day dentures and dental implants. In that case, your target audience would most likely be adults ages 40–65. Once you identify the age group you want to reach through your marketing efforts, you can then determine the best platforms on which to reach them, the best way to deliver the message, and the content of the messaging. These components will make it easy for your audience to receive the information they need to schedule an appointment, visit your website, or take any other action you'd like. 
Use social media marketing platforms to target specific age groups.
Advertising on social media is one way to reach your target age group of potential patients.
Let's go back to our example of the orthopedist who specializes in rehabilitating teenage athletes to help determine that particular target audience. 
The parents of those teens are likely on Facebook and Instagram. Facebook is the social network with the highest number of active users in the world (nearly 3 billion), and 69% of adults in the U.S. are Facebook users. Additionally, Instagram has 500 million daily active users globally. If you want to reach your target audience—parents of teens—you would do well to advertise on Facebook and Instagram. Boosting posts on your social pages (or paying for ads) can get your practice's name and message in front of thousands of potential new patients. 
As far as the teens themselves, you probably already know that Tiktok and Instagram are two apps on which they spend most of their social time. TikTok has 1 billion active users around the world, and in the United States, the average user spends 33 minutes per day using the app. Twenty-five percent of these users are between the ages of 10 and 19. 
Surprisingly, the parents of these kids aren't far behind! Twenty-two percent of TikTok's daily users in the U.S. are between the ages of 30 and 49. I'm not saying you have to put all your marketing spend into the TikTok platform, but it certainly helps to know where your target demographic is spending their social media time so you can make an informed decision about marketing your healthcare services to them.
Facebook is a great place to start with social media marketing.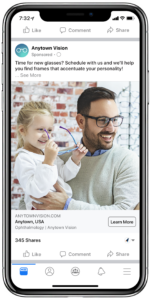 Social media is just one example of how to reach an age-based demographic. It isn't the only way to reach your target audience, so don't be overwhelmed by the data and trying to figure out where to start, or how to advertise on TikTok, Facebook, and Instagram. However, if that's where your target demographic spends most of their time looking at news, businesses, trends, events, and other areas of interest, it's a great place to start.
If you want to keep it simple and get your marketing feet wet on social media, and you only ever advertise on Facebook, you have a great chance of reaching your target audience. Americans ranging from 18 to 65 years old comprise 95% of Facebook users in the country. Facebook paid ads platform lets you select your target demographics using age ranges, location, proximity to your office, interests, and other pertinent information.
Consider other ways to reach your target audience by age.
In addition to social media, you can also reach your target audience through a variety of other media: 
Google paid search ads 

Informative blog posts

A user-friendly website

Display ads

Email marketing

Text messages
In addition, a great way to learn more about what your patients want from their healthcare provider is to ask them with a quick survey. When you know what's important to current patients, you can then create a marketing plan to attract new patients who want the same things. 
Marketing to any age demographic is about building relationships. With consistency in advertising your services where your target audience will most likely see it, you'll establish trust, gain a following, and build your business more quickly. Ultimately, you'll then generate more revenue and be in a position to help as many people as possible in your area of expertise—without making your audience, or your marketing budget, suffer (no offense Sir Hitchcock). 
Need some help taking the first step toward identifying and reaching your target demographic? We'd love to show you around. Give us a call or click the button to learn more.