Most orthopedic practices know that they need to do something on social media in order to attract new patients and maintain a good presence online, but most don't know where to get started. Facebook, Google, Instagram, Twitter, you name it. And although the name of the game IS social media, it's not social media in the way that most practices now use it.  Learn what the power of social media for medical practices really looks like and how to utilize it most effectively for your practice.
Most advice out there for practices online says to "share content, maintain ongoing relationships with clients," "be active," and show that you're a fun and a "likable bunch." (BrightLocal)  We're not saying any of those things are bad, we're just saying they're insufficient and don't have the best ROI for your time.  
While you should have social media sites that show your practice has a pulse, the real way to harness the power of social media is to get your customers to do the social "media-ing" for you.  Stated plainly: stop worrying so much about what YOU'RE posting and start getting your CUSTOMERS talking and posting about you on their social media accounts. A recent study by PwC shows that 32% of consumers viewing health information through social media do so through the experiences of their family and friends.  This is second only to direct searches for consumer reviews.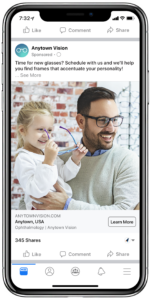 In light of Facebook's new recommendation feature, this statistic is now even more relevant and likely higher than the PwC study shows.  The new feature allows for individuals to ask their friends for recommendations and automatically pulls in the Facebook business page for the options that friends recommend, all within the Facebook platform.  Talk about harnessing the power of social media!  This has major potential for medical practices like orthopedics who need a continuous flow of new patients.  
The other main social media platform that communicates recommendations socially is Google.  Although often written by the hands of strangers, Google reviews are an important social communication piece of a business and hold a lot of weight.  People who hold a Google Local Guide status are the main influencers on these Google My Business, with their reviews holding more weight with Google and often with potential customers. 
So how do you TRULY harness the power of social media?  You build accounts with Facebook and Google that also have the capability for them to link back to you. For both Facebook and Google make sure your business pages are set up well. Encourage your patients to leave reviews for you by first providing them with the fantastic service they deserve and second, sending them easily accessible links after their appointments so talking about you becomes so easy, they actually do it.  
For Google, the more reviews you have, the better your practice will appear in searches.  Facebook is similar. When your current or previous customers recommend your business to their friends, new potential customers will click through and see your well-configured page and the good reviews.  This makes them more likely to choose you.
Social media can be a powerful tool when used correctly.  Remember, your patients have the credibility and reach to promote your practice and harness the power social media for you. They are the key to increasing your online practice reputation and connecting with more potential patients.