Why Reviews?
Reviews are one of the key things you as a practice manager or digital marketing head of a medical practice or group can do to attract more patients.  Reviews are patient-generated content; they hold significant weight to both other potential patients and to Google's SEO machines.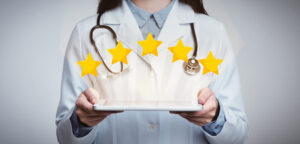 From a potential customer standpoint, one recent study found, 56% of online searchers picked a business because of their positive ranking and reviews.
  From the Digital Marketing perspective, Local SEO Guide found that better reviews equaled better standing in both the local pack
and organic local search results. 
Between the two studies, the results are basically this: more reviews = better ranking + your doctors show up higher and more frequently in local search results = more exposure to potential customers = more actual customers.  In plain English: reviews are the fuel that makes a Reputation Marketing engine run. If you can get your customers to positively review your doctors and practice at a higher rate than they currently are, your doctors will move up in local search results which will provide them free marketing any time someone searches for your practice specialty in your area.  This will increase your customer base and revenue as a result.
So how do you get the most reviews possible from your patients?  
As the majority of customers leaving a doctor's office are happy but just don't consider or have time to leave a review, the most effective way to bump up patient reviews in both quality and quantity is to send an immediate text message with links to your patients as they are leaving your practice.  The quick links instantly refer that patient to your specific Google My Business and Facebook pages, giving the patient options so they can leave a review.
Patients are more likely to leave a review because all of the work has been done for them and because they are on their own device (with accounts and passwords already entered and in place).  This makes leaving a review easier and less intrusive to a patient than say, a tablet in the lobby or verbal requests and flyer prompts asking them to leave reviews. When this message is automated, human error is removed and the text message will reach every patient.  Social Climb has found that around 10% of patients will leave a review as a result. This rate is significantly higher than natural review rates and results in a much more positive review rate.
The easiest way to reach every customer through an automated text message is to sign up with a company like SocialCimb that can manage everything for you.  SocialClimb's system is set up to be completely automated and integrated into the EMR system that you already use so that nobody in your practice has to worry about managing text alerts or increasing reviews.  This leaves the marketing team free to manage other aspects of their Online and Reputation Marketing (like making sure your GMBs are all configured correctly).
Interested in improving your practice's online reputation and review rate?  Contact SocialClimb today for a free 20-minute demo.