The nature of online searches has continually evolved over the years. The advent of mobile search introduced us to the idea of "near me" results, while the launch of digital assistants like Siri, Google Assistant, and Alexa has made voice search increasingly common. The fact that 15% of the search queries Google sees every day are brand new to the the search engine  is a testament to the constant changes happening in the online search world.
Recently, the world has been caught up in the rapid advancements of generative artificial intelligence. ChatGPT became the fastest-growing consumer application in history, gaining more than 1 million users in less than a week, after launching last November. This unparalleled success has set off a fast-paced AI race among the major technology companies. At the recently held Google I/O 2023, Google underscored its commitment to AI, announcing that the way we discover and access information online is set to fundamentally change.
Google's Search Generative Experience (SGE) is a new feature, currently in beta, that represents the most substantial shift in Google search results since it was first introduced, using generative AI to offer more detailed and insightful search results. Given that Google handles over 8.5 billion queries daily, with more than a billion being health-related, it's inevitable that recent changes will reflect on different types of businesses, including healthcare organizations.
How AI Search Affects Healthcare Businesses?
The latest developments related to AI search, including SGE, are set to deeply influence patient behavior. With AI-generated snapshot responses replacing traditional search methods, patients no longer need to sift through snippets, FAQs, and links. Instead, SGE leverages Google's vast search results to generate more comprehensive responses to user queries, presenting them in an organized, accessible format.
This is an example of the AI snapshot. Google scrapes search results to answer questions like "best coffee in NYC," eliminating the need for users to visit different links and websites, or comb through comments for a suitable answer. 
Users still have the opportunity to ask follow-up questions or select from a range of suggested prompts. Choosing any of these options will transition them from the standard search results page to a more conversational mode — much like interacting with ChatGPT. 
Search Generative Experience and Local SEO
It's evident that Google's SGE tends to fundamentally transform the traditional online search approach we've grown accustomed to over the past two decades. Among others, this raises the question of its impact on local SEO — an essential aspect for every healthcare organization.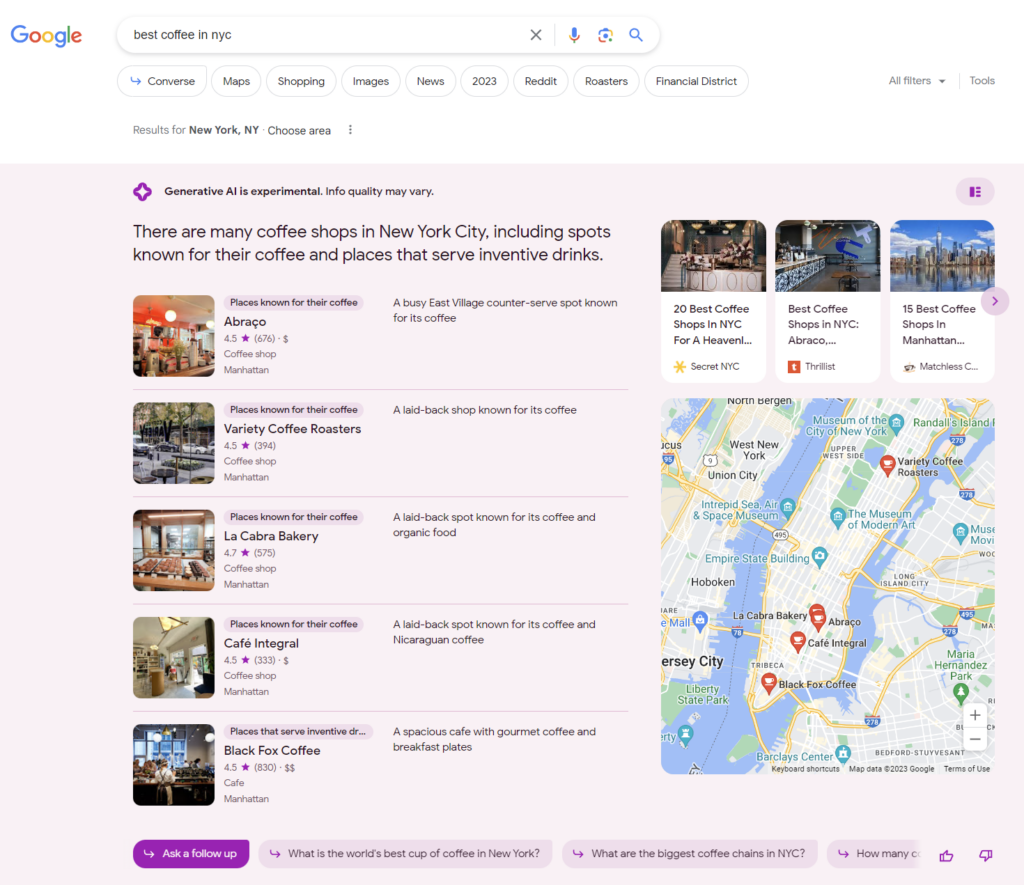 However, SGE represents more of an opportunity than a threat. As shown in the example above, SGE increases business visibility in local pack results, highlighting five Google Business Profiles instead of three, and positioning the Local Pack more prominently at the top of the search results. Therefore, if you work on optimizing your healthcare organization's online presence, via GBP in particular, you should still find yourself in the front row.
Google's AI search includes business descriptions, photos, and reviews in its responses. The key is to ensure that all these elements are complete, up to date, and relevant, in order to appear in the SGE. Also, Google recently announced that it updated SGE capabilities for local and travel searches. Now, users can see an AI-powered snapshot that brings together the most helpful information available — not only from across the web but also from the reviews, photos, and GBP details that people have submitted. 
In the healthcare industry, reviews carry significant weight, and new AI search developments heighten their importance even more, as SGE gathers and presents review content in AI snapshots. A healthy volume of detailed and comprehensive reviews can influence patients' decision-making and directly affect your visibility and ranking in AI-driven search results. So, it's crucial to encourage patients to leave detailed reviews, outlining specific services or aspects of their experience, and to address every type of feedback promptly. Active engagement and review management ensure that information presented to patients is not just accurate but also reflects the quality of care you provide.
Healthcare-Specific Queries
When it comes to healthcare, SGE still isn't available for healthcare-related queries. For example, if beta users search for "What are good options for a pediatrician in NYC," they'll notice the message, "An AI-powered overview is not available for this search."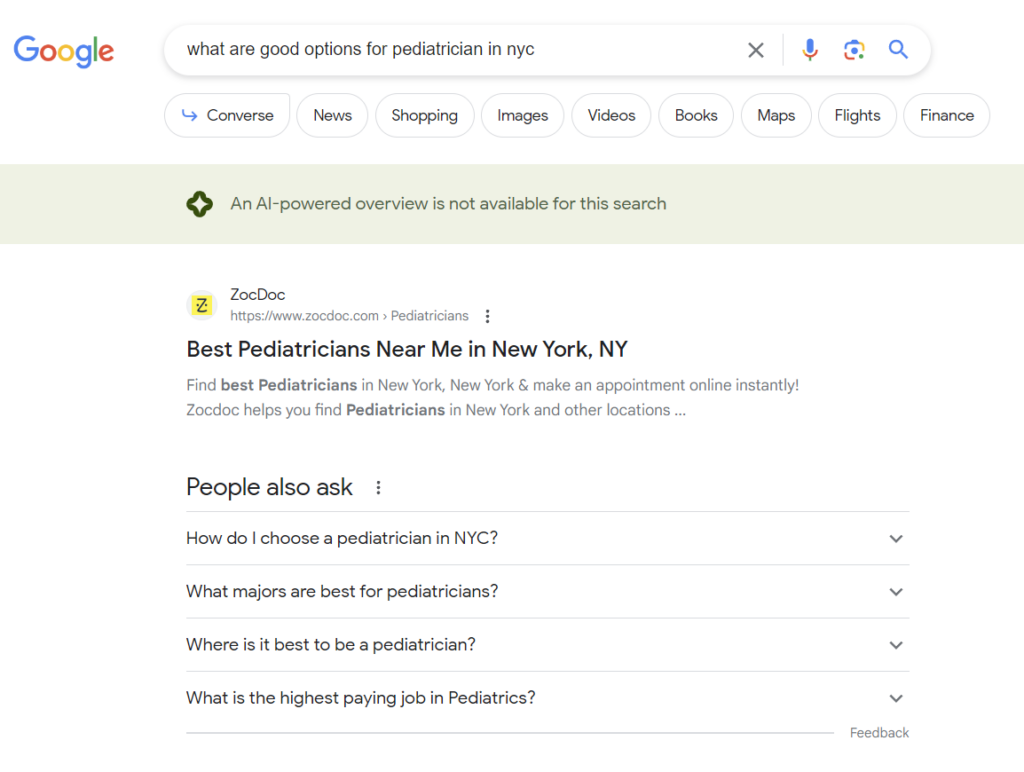 What this means is that Google's SGE doesn't treat all searches the same way. Along with topics like finance and civic information, healthcare falls under a category called "Your Money Your Life." Google repeatedly emphasizes its responsible approach to AI, suggesting that healthcare content in AI search would be subject to higher regulation because of its sensitive nature. So, while the SGE is set to revolutionize the way we search, its application in healthcare may be more carefully controlled.
Potential Loss of Organic Traffic
Another significant impact of the SGE might be reduced organic search traffic for healthcare providers. Putting a more robust, visual, interactive display at the top of the SERP is bound to make patients less likely to click down the page. What's more, websites shown in the AI Snapshot are not the same links as shown in the classic search results. You would think Google forms AI answers out of the top search results, but that's not the case.
While it remains to be seen what signals Google uses to put the AI snapshot together, let's not forget that Google's search engine rankings now consider four pillars of content evaluation: Experience, Expertise, Authoritativeness, and Trustworthiness (E-E-A-T). This implies that your content must be reliable, reflect firsthand knowledge and practical insights, and provide secure and accurate information. To achieve this, focus on what your patients need and want, make sure your content addresses those needs, and that it's consistent across all your digital platforms. This consistency can help you build trust, show Google's AI that you're an expert in the field, and make your healthcare organization more visible online.
The Age of AI Search Is Here
There are still many questions about AI search, but it's evident that Google's SGE and other generative AI technologies will reshape the search landscape and with it, patient behavior. Hence, as a healthcare provider, you need to monitor these developments, understand their implications, and strategically plan for a future where AI search is integrated into every patient's journey. 
Making sure that your services align with this new AI-enhanced search landscape will not only improve your visibility but also improve the patient experience by making relevant health information more accessible and understandable. 
While embracing these changes will be challenging, with SocialClimb, you'll be better positioned to succeed in this new digital landscape. With our platform, you can proactively request reviews from patients, manage feedback, address any negative experiences promptly, and make sure that the information about your healthcare organization is updated and consistent across all platforms. 
In addition to this, SocialClimb offers robust analytics and reporting tools to help you understand how your patients are finding you online and how they're interacting with your content. By monitoring these metrics, you can adjust your strategies to align with the latest trends and stay ahead of the AI search curve. 
So, don't let this revolution pass you by — let's transform the patient experience together in this brave new world powered by AI search.