Get Your Medical Practice More Visibility with SEO
Are you happy with how many patients your medical practice is attracting through your website? Do you want your online presence to be more robust and visible to those searching for healthcare in your area?
There's a way to show up in the search engine results and get in front of your potential patients. Search engine optimization (SEO) for medical practice websites can help you gain visibility, get people clicking through to your website, and ultimately increase the number of patients coming through your practice's doors.
Just like having a physical storefront that is attractive, well-maintained, and easily accessible, a well-optimized medical practice website makes it easier for patients to find and engage with you. It's a way to showcase your services, expertise, and credentials to patients who are looking for healthcare providers online. Without it, reaching these patients who are increasingly relying on online resources to make healthcare decisions can be significantly more difficult.
But, to optimize your medical practice website, it's important to understand different strategies you can use and how you can effectively reach your patients. So, let's explore what works (and what doesn't) when it comes to SEO for medical practice websites, so you can improve your online presence, attract more patients, and improve your results.
If You're Not Visible Online, Do You Even Exist?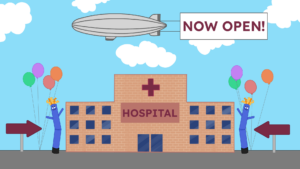 This question may sound like an overreaction, but it's not without merit. If you lack an online presence, you won't appear in search engine results. If your website doesn't rank high, the chances are that you'll be buried by your competitors. Also, a small number of potential patients will search past the first two pages of search results, and almost none will click past the third page. So, if you're not there, front and center, it's as if you don't exist.
On the other hand, if you make sure that your medical practice website is found at the top of search results pages, you'll help patients easily locate and engage with you, improve opportunities to grow your business in a cost-effective way, and outrank your competition. 
Let's get into more detail about the benefits of SEO for medical practice websites:
Improved Visibility on Search Engine Results
Search engines like Google use algorithms to determine the most relevant and useful websites for specific search queries. When you optimize your medical practice website for relevant keywords and improve its overall structure and content, you increase the chances of appearing at the top of the search results page for those specific queries.
For example, if someone in your area searches for "family doctor in New York," and your medical practice website is optimized for that search term, it's more likely that it will rank higher in the search results. This increased visibility leads to more website traffic, more patient inquiries, and more patients coming through your door.
Better User Experience
SEO can help improve the structure and organization of your medical practice website, making it easier for patients to navigate and find the information they need. This can lead to a better overall user experience and increased patient satisfaction.
If your medical practice website provides a poor user experience, it can create a negative impression in the minds of potential patients, leading them to seek care from your competitors. On the other hand, a website that is easy to navigate, loads quickly, and provides high-quality, relevant content can help build trust and establish your medical practice as a credible source of information and care. Furthermore, a positive user experience can help build patient loyalty, attract more patients, and result in increased revenue.
Long-Term Value
SEO helps your medical practice website appear higher in search results for specific queries that potential patients are searching for. This means that people who visit your website are more likely to be interested in your services and more likely to become patients. This leads to a higher conversion rate, meaning that more of the people who visit your website become patients at your practice. In other words, once your website is optimized, it can continue to attract patients over time with an affordable maintenance fee and a high ROI.
Competitive Advantage
In a competitive healthcare market, patients have more options to choose from. When you stay ahead of other healthcare providers, you attract more patients to your medical practice and differentiate yourself from others in the area. In addition, as you grow your patient base, you can increase your revenue and invest in new technologies, treatments, and services that can further distinguish your medical practice and attract even more patients.
Best Practices for a Well-Optimized Medical Practice Website
Now that you understand why SEO for medical practice websites matters, it's time to explore some of the best practices that you should implement to get the results you want:
Identify Areas for Improvement
Before implementing any SEO strategies, you need to perform an audit of your medical practice website. This way, instead of having a hunch that something may work, you can actually identify any technical issues or areas of improvement that may be hindering your website's search engine rankings. Here are some of the things your audit can cover:
The structure and navigation of your website can impact how search engines crawl and index your pages. With an audit, you can identify any issues with website hierarchy, URLs, and internal linking.

Broken links, duplicate content, and mobile responsiveness can negatively affect your website's search engine rankings, so it's important to pay attention to any technical issues.

On-page SEO involves optimizing individual pages on your website for specific keywords and an audit can help you find opportunities to improve your page titles, meta descriptions, header tags, and other on-page elements.

With an audit, you can also assess the quality of the content on your website. Is it informative, engaging, and relevant to your audience? Are there opportunities to improve any thin content or create a new one?

Finally, a backlink profile audit can identify any low-quality backlinks that may be harming your search engine rankings.
Use the Right Keywords
One of the most important steps in optimizing and increasing your medical practice website's visibility is using the right keywords. You want to make sure that the words and phrases throughout your website are relevant to the medical services you provide, as that's what most searchers will be looking for.
At the same time, it's important to use keywords in a natural and meaningful way because Google can quickly catch any spammy tactics and penalize your website. So, make sure to place specific, long-tail keywords into your content in a relevant and readable way.
This will not only help you stay in Google's good graces, but also separate you from other medical practice websites, and attract the patients you want — those who live in your geographic area and are looking for the specialized expertise you offer.
Create Quality Content
When creating content for your medical practice website, always think of your target audience — What are they searching for? What information will help them the most in that search?
Whether it's a detailed description of your services or blog posts targeting their specific search query, focus on providing value to your patients. 
Also, don't forget that Google places a much higher standard on medical practice websites because these pages have the potential to impact the health, happiness, or financial stability of searchers. Meanwhile, low-quality content can result in dangerous or unintended medical consequences. 
Once you start providing long-form educational content, Google will recognize you as an authoritative figure within the industry, thus increasing your rank. 
Provide Different Content Types
In addition to writing informative and engaging content, try to incorporate different content types. While some patients may prefer to read written content, others may rather watch a video or view an infographic. When you provide different forms of content, you can cater to different learning preferences and engage with a wider range of patients. 
Also, using different content types makes your website more engaging and visually appealing. Videos, infographics, and photos can all help break up the text on your website and make it more visually interesting. This keeps your patients there for longer and reduces bounce rates or the number of visitors who leave your website without taking any action.
Improve Website Speed and Overall Functionality
Your site speed, security, and mobile friendliness are all ranking factors. On the other hand, slow-loading websites and websites with poor functionality can negatively impact the user experience, which can further lead to higher bounce rates, smaller engagement, and lower search engine rankings. 
Having said that, it's important to note that Google won't penalize an otherwise perfect site just because it's a bit slower. But, optimizing your speed certainly can't hurt the overall user experience. In fact, if your website takes longer than three seconds to load, the majority of your patients will turn to your competitors. 
Get Found Locally
Your patients are likely within your local area, so you want to make sure you're targeting these specific groups and getting found by local patients with local SEO tactics. By doing so, you can increase visibility in local search results, attract more local patients, and establish credibility in the local healthcare industry.
Local SEO involves optimizing your medical practice website and online presence to rank higher in location-based searches. To improve it, you should focus on optimizing your website for local keywords, creating local content, earning local backlinks, but also optimizing your Google Business Profile (GBP). 
For patients who want local services to find you, your business needs to show up in Google's Local Pack. The information contained in these listings comes primarily from your GBP, so you should ensure the following information is accurate and available:
The business categories.

Your primary phone number.

The business description.

Your hours of operation (and any seasonal hours).

Your address or service area.

Google reviews of your business.
Another important factor for local SEO is local citations or online mentions of your business that display your essential NAP (name, address, phone) information. Local citations can be from business directories, social profiles, blog posts, newspaper websites, and other sources.
Monitor and Respond to Reviews
Your medical practice will get reviews, and how you respond to them can help you establish your voice and will speak volumes about how you interact with patients. By managing your online reputation and encouraging reviews from satisfied patients, you can improve your visibility and increase the likelihood that potential patients will choose your practice over competitors. 
Also, Google takes into account your online reputation when determining search rankings, so strong reputation management can help you rank higher and attract more traffic to your website. Finally, reputation management can help healthcare providers improve the patient experience. When you actively solicit feedback from patients and respond to their concerns, you improve patient satisfaction and encourage patients to return to your practice in the future.
Implement Highest Priority Changes First and Track Results
It's important to note that not all SEO activities are going to help your website in the same way. For example, adding internal links to a blog post from 2015 won't have as much of an impact as improving the content on your homepage.
You should be targeting the low-hanging opportunities first — You don't have a Services page? You should probably build that first before worrying about the images on your About page.
It's equally important to meticulously track different metrics to ensure that your SEO efforts are effective. For example, by tracking website traffic, you can get a better understanding of how people are finding your website, which pages are most popular, and how visitors are interacting with your content. As a result, you can make data-driven decisions and further improve website performance, increase engagement, and attract more visitors to your medical practice website.
At the same time, you may find it difficult to balance patient care responsibilities with the time required to improve the visibility of your medical practice website with SEO, especially if you operate with limited resources. You may also be afraid of breaking some of the regulations regarding patient privacy, but don't worry. There are ways to successfully navigate different challenges you may encounter down the road.
SocialClimb's platform saves your time by automating your healthcare marketing tasks, allowing you to focus on patient care while still improving the visibility of your medical practice. The platform also ensures that all online marketing efforts are HIPAA-compliant without violating any regulatory guidelines. Finally, we understand that no medical practice is the same. That's why we provide you with personalized recommendations and strategies, based on your specific needs and target audience to help you achieve your unique healthcare marketing goals.