Even when it isn't November—the month for expressing gratitude—I know my dental practice appreciates me. They are happy to see me when I arrive. The office staff is friendly and knows my name. My family has been going to the same practice for years, so they often say things like, "We enjoyed seeing your dad last week," and "We can't believe your daughter is already old enough to drive!"
People like to feel appreciated and welcomed, especially at healthcare practices. Gratitude should be part of the overall patient experience all year long, not just during the holiday season. If you don't already let your patients know how much you appreciate them, November is the perfect time to create that new tradition. 
In that vein, we'd like to express our gratitude for all the healthcare professionals, practices, and people who selflessly dedicate their time and talents to caring for others. We are grateful for you! We understand the power of gratitude—it literally rewires the brain to make you happier—and we want say thank you to healthcare professionals and hope you feel appreciated every day of the year. 
The regular practice of gratitude correlates directly with more happiness
Gratitude is something we can all practice more. The benefits are twofold, as both recipient and giver of gratitude feel the positive effects, physically and emotionally. Practicing gratitude affects our health, our career, and our social well-being. 
Expressing and receiving gratitude:
Makes us feel happier long term

Increases psychological well-being

Enhances positive emotions

Boosts self-esteem

Improves personal relationships

Strengthens family relationships during stressful times

Increases optimism

Makes us more effective managers

Reduces impatience

Improves decision-making

Helps us find meaning in our daily work and career path

Improves work relationships

Reduces stress

Improves mental wellness

Reduces depression

Improves sleep

Helps lower blood pressure

Improves overall physical health

Facilitates recovery from health issues
Clearly, for anyone in the healthcare industry, gratitude plays a very important role. If you're looking for ways to express gratitude and show appreciation for your patients and healthcare practice family, here are some ways to do just that.
Just say, "Thank you!"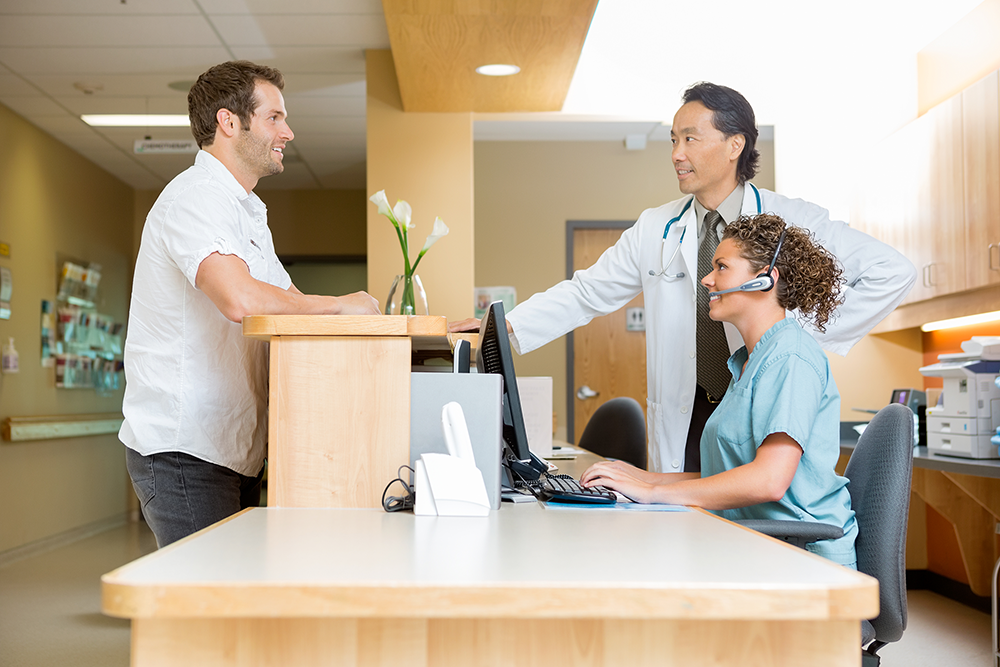 It's easy and everyone at your healthcare practice can do it. Say thank you to patients at any time during their appointment. "Thank you so much for arriving on time, Mrs. Jones!" lets a patient know that you truly appreciate their punctuality. 
You can thank patients for choosing your practice, by saying, "John, we're so happy you chose our dental practice. We know you have many options, but the fact that you entrusted us with your dental care means a great deal to us. We appreciate you."
And, you can thank them as they check out at the front desk. "Thank you, Sheila. We are happy to see you today and look forward to your next visit with us."
Acknowledge patient referrals
A great way to express gratitude to your most loyal patients who refer their family and friends to your practice is through an email appreciation letter. Each time you get a patient referral, send an email to the patient who recommended your practice thanking them for conveying your positive reputation. 
You can write something like, "Thank you for sharing the love with your friends and family! Another patient joined our practice, thanks to your kind words of recommendation."
Let your patients know how much you value their feedback
Part of expressing appreciation for others is listening to their needs and requests. Take the time to really talk to your patients. Ask them about their experience at your office from the ease of scheduling, to how they are greeted, to the level of care they receive. Improving patient satisfaction conveys to patients that you are listening to their needs and you're willing to make adjustments when necessary.
Valued patients become happier, loyal patients who leave five-star reviews and are one of your biggest assets when it comes to new patient referrals. 
Sending surveys to gauge patient happiness is another way to check in with them and let patients know how much you appreciate their feedback.
Thank you healthcare professionals, from the bottom of our hearts
In our case, we're choosing to express our gratitude to healthcare practices and SocialClimb customers through this blog. We appreciate the service you provide on the front lines of our nation's health, and we wish you and your families a happy, healthy Thanksgiving. We hope you feel the many positive effects of gratitude, both from the giver and receiver perspective, all year long. 
Thank you healthcare professionals!