Dominique broke her hip and needed to find an orthopedic surgeon. Her son turned to the internet to find the best surgeon possible. He read online reviews that popped up for doctors in his mom's area and made a decision based on the trends he was seeing. He didn't realize he was looking at their Google My Business (GMB) listings; he just put the information he found to good use. 
Martin needed to make an appointment with an ophthalmologist but didn't know where to start. He asked on Facebook for some recommendations from friends and received four. He looked into the online reviews for each doctor and read through what people were saying about them. He trusted his friends, but he also wanted a more objective view. He decided to go with the doctor who had the highest star rating out of the four suggested. 
Mary's daughter, a tennis player, was experiencing pain in her shoulder. Mary did a Google search for "orthopedic doctors near me." She clicked on the top result, which happened to be an ad. She saw that Dr. Hansen had over 100 online reviews, most of them positive, and that was good enough for her. She called and scheduled an appointment.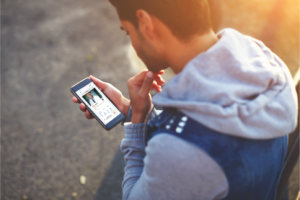 Consumers turn to the internet to find everything from dinner recipes to sports equipment. It's no wonder they also turn to online searches to find a doctor. They've become comfortable with doing their own research, and they expect to find all the information they need simply by doing a quick search. 
When it comes to making a decision, consumers crowdsource information and trust the hive mind to steer them in the right direction. Yesterday's "ask your neighbor" is today's Google search—word-of-mouth has caught up with the digital revolution. 
The Proof Is in the Numbers
The data confirms this view of information gathering in the digital age. According to a 2019 BrightLocal survey, 76% of consumers trust online reviews as much as personal recommendations. And when you look at just 35- to 54-year-olds, that number bumps up to 84%.
The same survey found that on average, consumers read 10 reviews before they will trust a business. That means as doctors and practices, you can no longer get by with two or three great reviews. Medical consumers want to see that you are consistently seen in a positive light by your patients before they put their health in your hands. 
It's not just the number of reviews you receive that is important, though. Roughly 84% of internet users believe that reviews older than three months aren't relevant. So you need to continually bring in online reviews to stay in the game and be trustworthy to those in search of healthcare. 
Another survey by Software Advice found that 90% of patients use online reviews to evaluate doctors. And for 71%, looking at online reviews for doctors is the first step they take in finding care. 
Here's another interesting statistic: According to StatCounter, 92% of online searches are performed on Google's search engine. So not only do you need reviews, you specifically need Google reviews. In fact, Google pretty much runs the show with online search these days. Read more about what healthcare marketers need to know about Google and the importance of Google My Business (GMB) listings here. 
More Positive Reviews Anyone?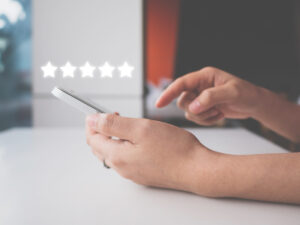 Strong emotions will drive people to leave a review. Especially a strong negative emotion. When a patient is angry—whether justifiably or not—they are more likely to leave a review and vent their frustrations. It's not uncommon for a doctor to get a very bad review for something they had no control over whatsoever. That will unfairly drive down their star rating, giving too much weight to one person's experience.
You need to be actively soliciting reviews just to keep things fair, giving voice to your silent but happy majority of patients. We have found among our clients that about 10% of patients will leave a review when asked. A simple, one-time text, automatically sent to each of your patients, gives them the opportunity to share their experience with no hassle. 
Over time, your volume of reviews will increase. The more reviews you have, the more authentic that sentiment will feel to those reading your reviews. When dozens—or hundreds—of patients are happy with the care they received, that speaks volumes. Getting those reviews consistently coming in will attract the patients you need to grow your practice and put you in a position to target the patients you want. 
One thing to keep in mind as you think about pulling in reviews is to make sure you use a CRM that will integrate with your patient management system. Doing so will allow the system to automatically send review requests to your patients. It should also provide a centralized dashboard where you can view and respond to online reviews from various platforms from a single location. 
With a good review management system, you should also be able to set up notifications so you know immediately when you get a negative review. It's important to respond quickly to negative reviews to maintain the trust of your patients. 
Online Reviews for Doctors Are Essential
If your online reputation does not accurately reflect the level of expertise you provide for your patients, you will miss out on the increasing number of patients, like Dominique, Martin, and Mary, who use online search to find a provider. In today's digital world, online reviews for doctors are essential to compete and win. 
Taking charge of your reputation will also position you to target your ideal patients, but that's a topic for another post. Give us a call at 866-338-8270 to start attracting patients effortlessly.
Additional Reading
This article on the importance of online reviews is the second in a series of five articles on how SocialClimb and GMB marketing will impact your bottom line. To read the other articles in this series, please click on the links below: 
GMB series article #1: Google Game Changers Healthcare Marketers Need to Know
GMB series article #2: How Important Are Online Reviews for Doctors? 
GMB series article #3: Google Posts for Healthcare
GMB series article #4: Start Up Your Boost Ads
GMB series article #5: Are You Measuring Your Marketing ROI?