SocialClimb provides marketing metrics for practices to prove the value of your marketing efforts.
You've heard it before. If you're not measuring your results, you're wasting your marketing dollars. With technology at your fingertips, you should be able to measure performance and see the value of your efforts—we can help with that. 
When you use SocialClimb, you have access to incredible marketing metrics in our reports. For many of our customers, the reports are one of the main reasons they chose us—and why they stay with us. So, what's so great about SocialClimb's reports? A lot. 
Here's a list of our reports.
Marketing Report Card 
View a performance summary of how many website clicks and phone calls you received from your reputation and your Boost Ads. The report gives you a rundown of how your marketing dollars were spent and includes your estimated revenue and your calculated Patient Acquisition Cost (PAC).
Patients are listed individually, so you can see when they called, their appointment date, and if they were attracted through your GMB listing (reputation) or from a paid advertisement (Boost Ad).
Provider Report Card
Receive a monthly report for each physician in your practice that shows their current monthly and overall rating on various platforms. The report shows the number of invites that were sent in their behalf, the click through rate (CTR), the response rate, and monthly trends.  
You'll also see a compilation of both public and private comments from reviews, survey results, and open-ended responses so your physicians can keep track of how they are doing—and so can you.
Executive Report
See a review summary of all your GMB listings on a single report. The report shows the current overall public star rating, total number of reviews, top performers, and low performers. 
The report also includes the impact of various keywords commonly associated with the reviews.
Negative Word Report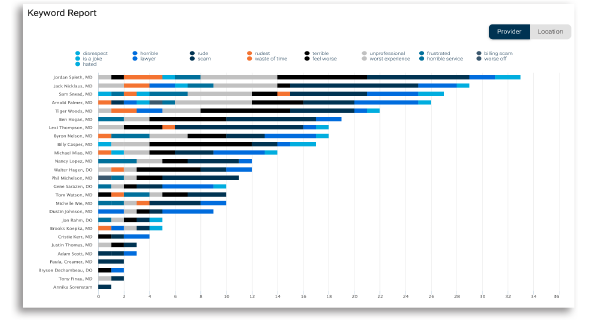 View the incidence and rank distribution of negative words from reviews and surveys. You'll know which physicians are consistently getting negative comments so you can address issues before they get out of control. You'll also be able to keep tabs on their improvement over time.
Recovery Report
Monitor and manage your team's efforts to respond to and mitigate negative reviews in a timely manner in order to facilitate prompt and efficient service recovery. 
Studies show that 45% of consumers are more likely to visit businesses that respond to negative reviews. 
Survey Summary Report
Get instant notification of any reported issues and weekly summaries showing monthly and quarterly trends to help you evaluate your improvements over time and improve customer satisfaction. This report shows the total number of respondents and the distribution of answers for each survey question.
Location Report Card
View a monthly compilation of public and private comments, survey results, open-ended responses, and current rating for each practice location.
Provider Impact Report
Track the impact of managing your individual provider reputations by comparing the increasing number of reviews, average ratings, and current ratings with what they were before working with SocialClimb.
Location Impact Report
Compare the increasing number of reviews, average ratings, and current ratings of your various locations with what they were before so you can see the impact of your marketing efforts.
Our reports let you prove the power of your marketing spend. Please reach out to our team for further explanations of all our reports or to watch a demonstration of what we can do for your medical practice and your physicians.