Google Posts are an important part of automated practice marketing.  Google continually adds new features and adapts its search engine to better meet real-life consumer preferences. When your medical practice uses the Google Posts feature, you create content that displays right in your Google Business Profile results page to attract new patients. As Google tracks real interactions online, then Google can provide better search results.  Google Posts can help your practice to rank higher in these results.

The Google Posts feature is one of several recent features added for Google Business Profile pages.  Not only do these features help local businesses, but they also help searchers and Google itself. By tracking real people's interactions with the GBP pages, Google's search engine can provide better search results.
Today's medical customer searches online even when they have a doctor name recommended to them.  In this competitive market, medical practices need to use Google Business Profile features to engage potential clients online, especially as these features become the "standard of care" in online search results.
When medical practices use Google Posts and other GBP features, they also cause the Google search engine to notice them and take them seriously.  Google Posts are one of the best new ways to get the attention of patients and the attention of the Google search engine.
What are Google Posts?
Google Posts are one of the many options businesses can use in their Google Business Profile pages to add value and interest to what people see when they search online.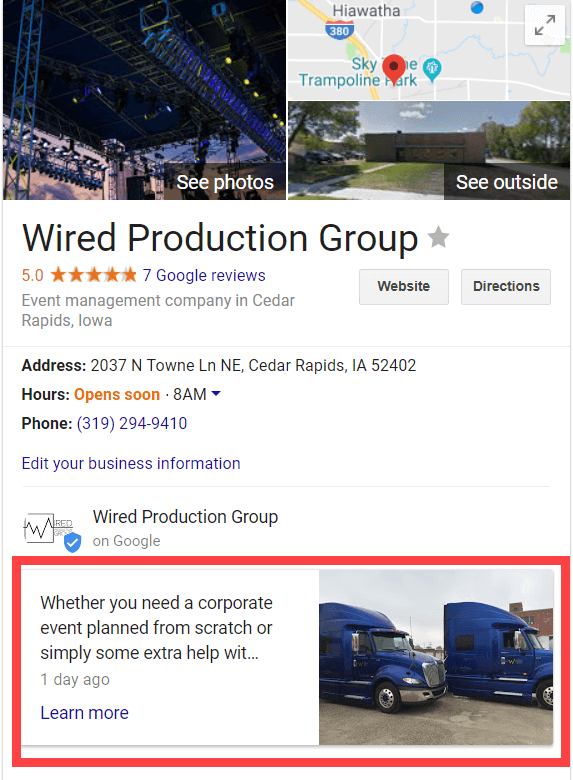 Google Posts are a small advertisement for your practice. You create short content: 80-100 words is a great length, with a 300-word maximum. You can include a photo or other visual. And the best posts include some kind of suggested action, such as inviting the reader to RSVP to an event, to call for an appointment, or visit your website for more information.
When someone searches for your practice or for one of your doctors, your Google listing gets displayed, and a small part of your Post appears with your listing.  If the searcher clicks on the small version of the post, then it expands to fill their entire screen to show the full post.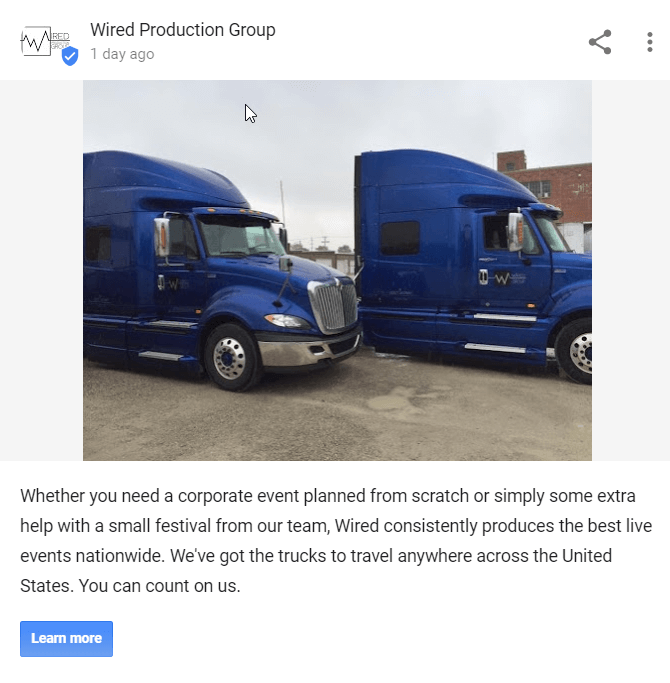 For example, if someone clicks on the red-outlined teaser post at the bottom of this listing page for the Wired Production Group, it expands into the full post, filling the entire screen.
Posts last for seven days. Practices can update their posts then, or whenever they want to continue to engage searchers.  You can advertise a new location, promote a new physician, share new and interesting medical information, or invite people to an event.
Why you should use Google Posts to promote your medical practice
There are three main reasons to use Google Posts to promote your medical practice. All of these are important in today's ever-more competitive medical market.  Especially as people turn to internet searches to choose their physicians, it is important to do all you can to show up and attract patients online.
First, use Google Posts to promote and gain trust:
Like any good advertisement or even a simple flyer, Posts create interest and attract people to your practice.  And with Posts, these promotions now show up right in online search results.  Because Posts are online, you can change your content easily and without a big investment.  Currently, most Posts tend to be informal and reflect the general personality of the business.  For a medical practice, this means you can focus on simple and interesting information that highlights your practice and your doctors, without worrying too much about a high-end design look.
Especially in medical marketing, promoting a personal presence makes a big difference in attracting new clients, because people want to trust those who care for their bodies.  You can regularly use posts to show photos of your physicians and help create that sense of trust to draw people to your practice.
Second, use Google Posts to stay current online:
Using Posts is a growing trend for local businesses. Remember that people adapt quickly to new technology, and they will quickly expect to see posts as a sign that your practice is worth a look. People want doctors who are current in their training.  Even though internet search knowledge is different from medical knowledge, patients–especially younger patients–equate all kinds of knowledge together.  As people start to expect to see posts, they will see you as current or not depending on your online presence.
Third, use Google Posts to get search engine attention:
As people interact with your posts, their real engagement also attracts attention from search engines, giving you a greater chance of higher visibility in Local Search results.  Medical searches now are all local searches, and for people to find your practice, you must pay attention to how the internet's search system prioritizes local businesses (including medical practices).
Experts in local search systems assert that it has become ever more important to use Google Business Profile features to create Local Search authority and relevance.  As recently as February 2019, these experts saw snippets from Google Posts showing up in the Local Search 3-pack. Google was displaying these snippets to verify that they had chosen good-match results for the searcher.
Google Posts add authority and relevance to your practice's listing pages in these three ways:
Posts signal to Google that you are optimizing the GBP page. Google just really likes to reward practices and doctors who optimize and use the Google features, because when you do, you help the Google search scans to do their job.
Google tracks all action on your GBP page, and Posts invite action. More real-person actions, especially actions that go deeper into your page, show Google's machine that your practice is interesting to real people.  This feedback makes Google want to show your practice to even more searchers the next time.
If your Post also includes keywords that potential patients usually search for, then your Post gives an extra message to the search engine. For example, if your Post includes terms like "hand surgery" or "walk-in clinic," then that verifies your authority and relevance to the search engine.
Automated practice marketing tools will help you create and track your posts
With all the tasks facing modern medical practices, office staff don't have to feel like Google Posts is just one more frustration.  If you use a system like SocialClimb, which is designed specifically for Automated Practice Marketing, then these tools simplify the Google Posts process right alongside your other practice marketing needs.
Medical practices need a separate listing page for every physician at each of their different office locations, and smart automated marketing systems like SocialClimb make it easy for you to quickly duplicate Posts and other content across chosen groups of doctors in your practice.
If you aren't using Google Posts already, make a plan to start soon, so that you can stay competitive.  Check out our big list of great Google Posts Ideas for medical practices, plus our general guidelines for effective posts. Use our ideas to quickly integrate Posts as part of your automated practicing marketing–to attract new patients, show your relevance to Google's search engine, and increase your practice revenue.
To learn about how SocialClimb makes it easy to publish posts across all your listing pages, see our Listings product page, including the section on Google Posts. Learn even more about SocialClimb's full-featured approach to attract the patients you want and automate the process.