SocialClimb's proven solution will help you keep your schedule full even in difficult times.
How vulnerable is your medical practice to unexpected disruptions, reduced reimbursements, economic fluctuations, lower payer mix, and other internal and external factors? As difficult situations arise, it's more important than ever to keep your schedule full with patients that are ideal for your practice. SocialClimb can help you take charge of your growth under any circumstances with a healthcare marketing strategy that has achieved proven success for our clients. 
Now is not the time to stop your marketing efforts. 
Medical consumers are turning to online sources to choose a provider in record numbers, and you need to take steps to be seen in their searches. We can help you with that and so much more. Our three-tiered approach to medical marketing starts with reputation management, but unlike other companies, we don't stop there. Here's an overview of our patient acquisition strategy: 
Most reputation management companies do a pretty good job of getting you to level one, but they can't move you beyond. We have the tools and analytics in place to take you all the way to practice marketing excellence. Read more about our healthcare marketing strategy.
Real Clients, Real Results
Our clients have achieved some stunning results since they started working with us.
We had been working with Desert Orthopaedic Center for several years when they chose to move to the next level in their medical marketing plan. They were already at the top of Local Search results and were receiving over 150 5-star reviews each month thanks to their improved reputation. In addition, their inbound calls and clicks from their GMB page have increased dramatically over time. Turning on targeted ads In January 2020 has led them to their best first quarter on record.
"We've been using SocialClimb's Boost feature since January 2020, and the results are off the charts. With the increase in patients we've experienced, this has been our best first quarter on record."


Michael Pendleton, Desert Orthopaedic Center CEO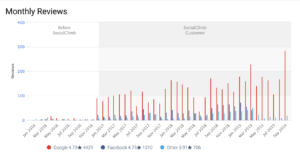 OrthoCarolina was known for their high standard of care and excellent patient experience, but their social medica reviews did not reflect actual patient satisfaction. They turned to SocialClimb to help them capture more reviews. With a 400% increase in reviews, their average online rating naturally jumped from 3.3 to 4.7 stars.
"SocialClimb's ability to solve these social review challenges for a practice as large and complex as OrthoCarolina has been refreshing. . . . At a reasonable price point, and with very little effort from our staff, they have truly helped us transform our social media reputation."  


Blair Primis, OrthoCarolina CMO
Wanting to improve their social media rating, Texas Orthopedics partnered with us and experienced dramatic improvements right away. They quickly moved from 200 to over 1,000 reviews and improved their star rating from 3.9 to 4.7. In addition, they began to appear in the top three search results when medical consumers searched for local orthopaedic care.
"SocialClimb has been the key component for us as we have worked to improve our social media presence. We knew it would help us with our social reviews, but we have been pleasantly surprised with SocialClimb's ability to help us better connect with our patients for all types of feedback. I would recommend SocialClimb to any practice."


Jennifer Kinman, Texas Orthopedics  Chief Development Officer
Orthopedic + Fracture Specialists was not showing up in Local Search results and didn't have much of an online presence. They made the decision to partner with us and in the first month alone, they received more reviews than they had received the previous 18 months, jumping from 400 to 2,800 reviews. Their star rating on Google jumped from 3.36 to 4.77, and they quickly began showing up in the #1 spot on Local Search results. Their inbound calls and clicks from their GMB page improved by 45%.
"The SocialClimb product and team have been great to work with, and the results for our practice are exactly what was promised. The improvement in our practice reputation at the social media level has helped us continue to grow, and SocialClimb reporting keeps our surgeons and team informed of all patient-reported issues."


Sheila Kisor, Orthopedic + Fracture Specialists CEO
Lone Peak Dental Group supports over 55 independent dental practices across the United States. Since most of the practices only had 4 or 5 reviews, they wanted to focus on reputation management. After partnering with us, they saw a 75% increase in new patients and a 120% increase in inbound calls from their Google My Business listing. Their number of reviews overall has increased by 191%.
"Despite the unique challenges each of our practices face, SocialClimb has helped us improve across the board. Not only has this platform boosted each practice's online reputation, but it has also increased our bottom line. SocialClimb has been a dream to work with."


Julia Falk Mulhern, Lone Peak Dental Group marketing manager
The 45 doctors affiliated with Southwestern Eye Center were not getting as many reviews as they wanted, so they turned to SocialClimb to help them jumpstart their reputation. Auto-sending review requests has brought in over 250 reviews a month, their average online rating has improved from 3.64 to 4.64 stars, and they now dominate Local Search results.
"Increased positive reviews and occasional private critiques of our service have enabled us to improve our search ranking and our practice." 


Melissa Pipkin, Southwestern Eye Center director of marketing
Take a Proactive Stance
With our healthcare marketing strategy, you can maximize your revenue and patient acquisition no matter the disruption that comes your way. This is definitely not the time to pull back from your marketing efforts. Rather, it's a time to be proactive with a plan that has proven results. It's a time to target and bring in your ideal patients. It's a time to closely monitor your ROI and fine-tune your marketing spend. 
Make the best decision you can make for your medical practices patient acquisition and set up your free demo today!